A.J.'s first 12 or so haircuts at local barber shops did not go well.
He cried. He squirmed.
He compared the sound of hair clippers near his ears, to the sound of bumble bees.
Here's what he looked like at almost every barbershop visit from the age of two to five.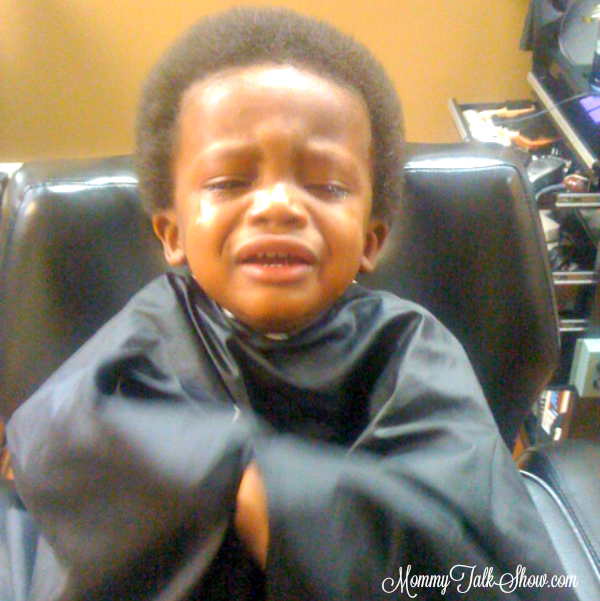 I was afraid that one of the national chain barbershop's in our neighborhood was going to ban us for life.
Our sweet boy was not a fan of getting his hair cut. It took a lot of pep talks and convincing before almost every salon visit to get it over with.
We recently took a break from professional barber shops and my husband started cutting A.J.'s hair at home every few weeks. At-home hair cuts get the job done, but they're not always the most precise or stylish cuts. So when a salon that caters to every age from babies to adults asked us to experience their Cookie Cutters Haircut services, the timing was perfect.
Disclosure: We received complimentary services to share an honest review of our experience at Cookie Cutters for Kids Tucker location.
When A.J. walked into the Cookie Cutters for Kids Tucker location, he zoomed in on the salon chair with his favorite character, Spiderman. His stylist helped him into the seat, asked me about cut we'd like and handed him the Nintendo device. The seven-year-old was in heaven with his old school Nintendo games. Among the game selections are Excitebike, Donkey Kong, Super Mario, and Final Fantasy.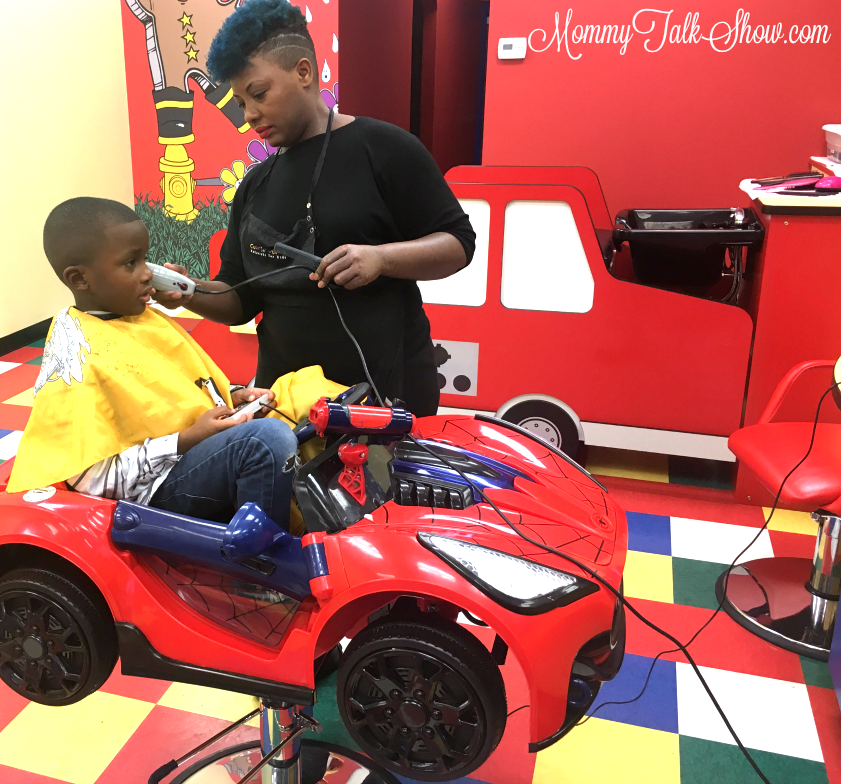 If your little one isn't into video games, there's Netflix at each Cookie Cutters for Kids station for them to watch while they get a haircut. You can also select a different barber seat including kid-sized John Deer trucks and Princess cars. All hair types and lengths are welcome at Cookie Cutters.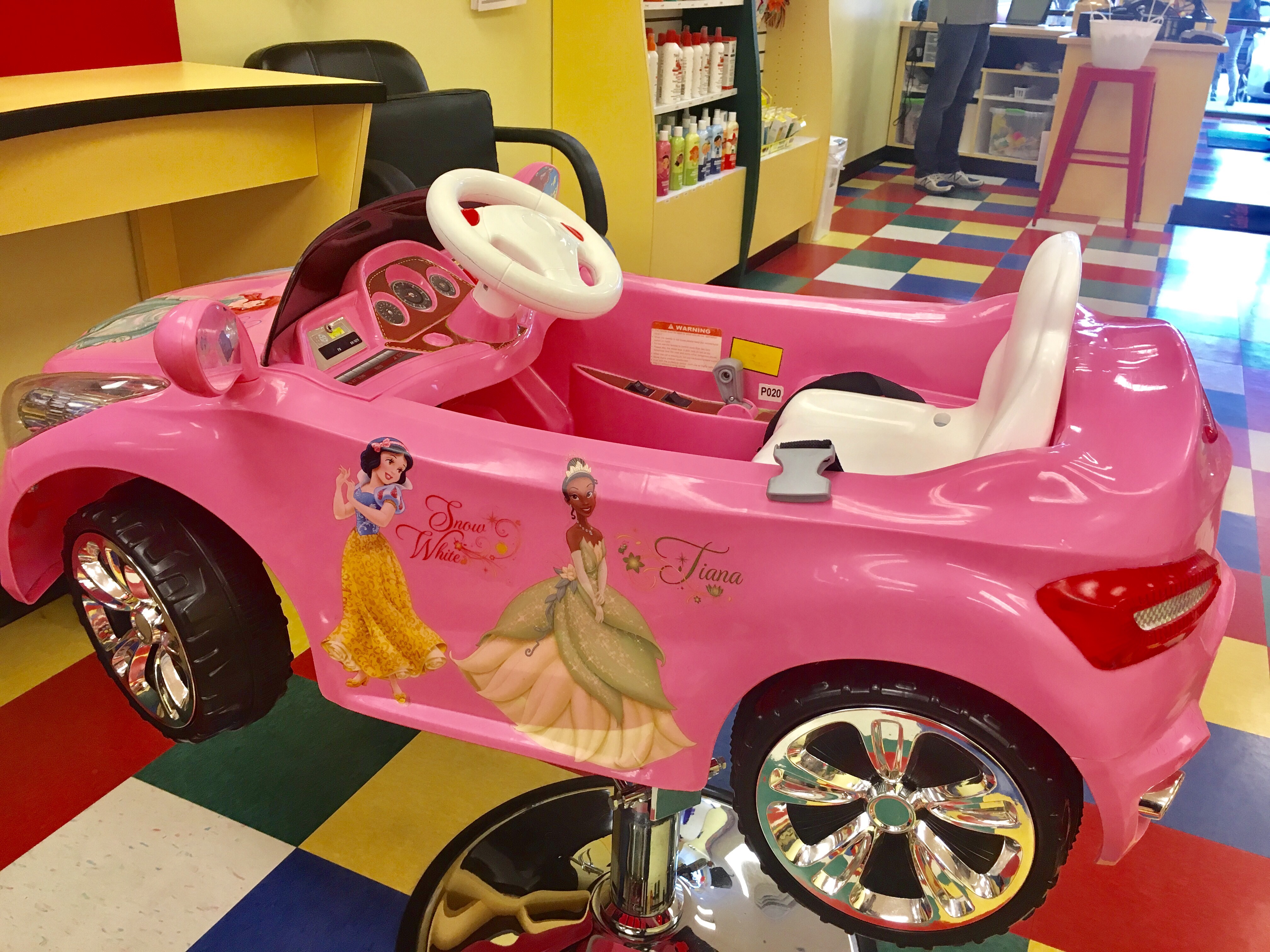 It took less than 30 minutes from start-to-finish for Filinda to finish A.J.'s haircut, thanks to the electronic distractions and fun atmosphere.
The bold, welcoming colors and the play areas within the salon are ideal for children. If you have more than one child with you, they can all keep busy. Choose from the salon products and hair accessories to keep your children stylish. Many of the products are paraben-free like kid-friendly lines Original Sprout and Fairy Tales haircare. Check out the selection that's also designed to prevent hair lice, which is incredibly inconvenient from what I've heard.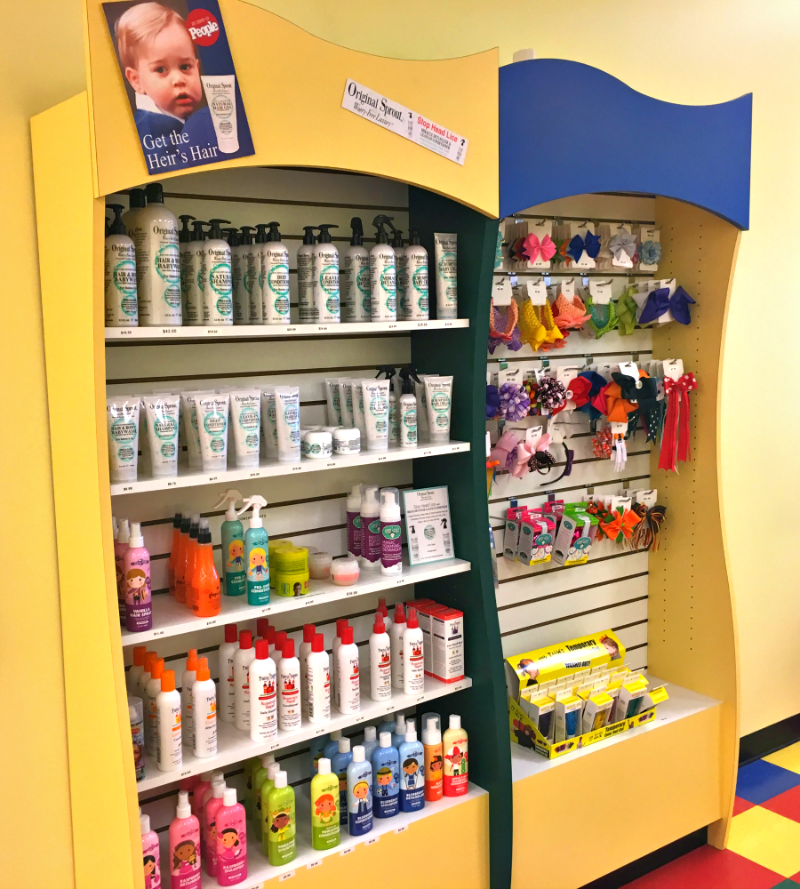 As soon as we got in the car headed home, A.J. asked when we could go back to Cookie Cutters. More importantly, he got a stylish "fade" cut we loved.
What do you think of A.J.'s cut? What's your kids salon experience been like?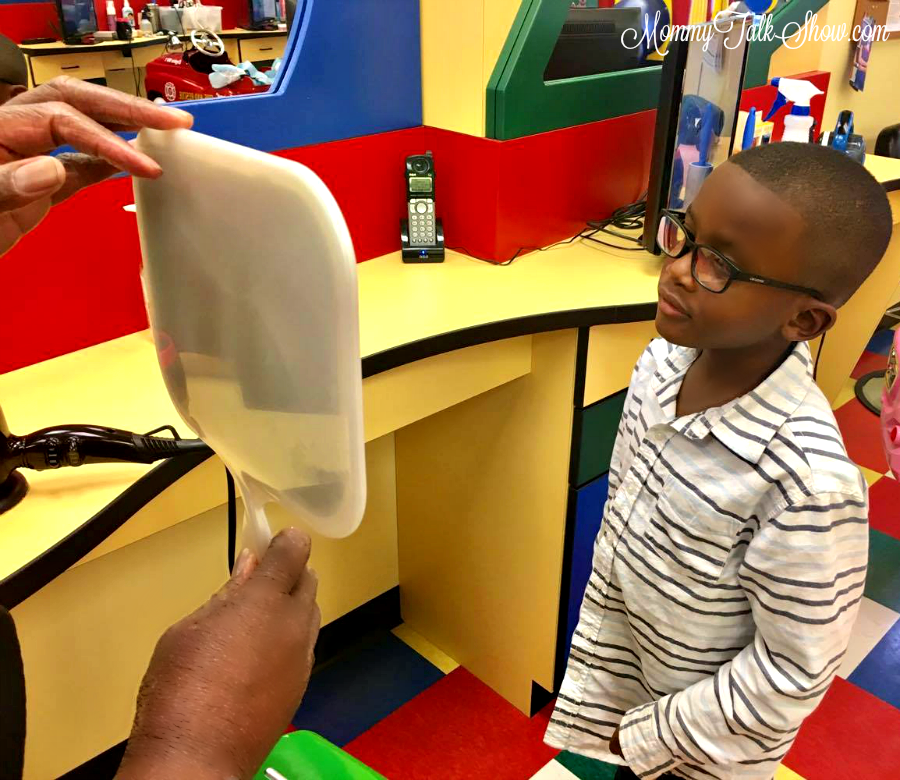 Are you ready to take your little ones for a fun, tear-free haircut? Here are 3 Easy Ways to Book a Cookie Cutters Haircut for Kids.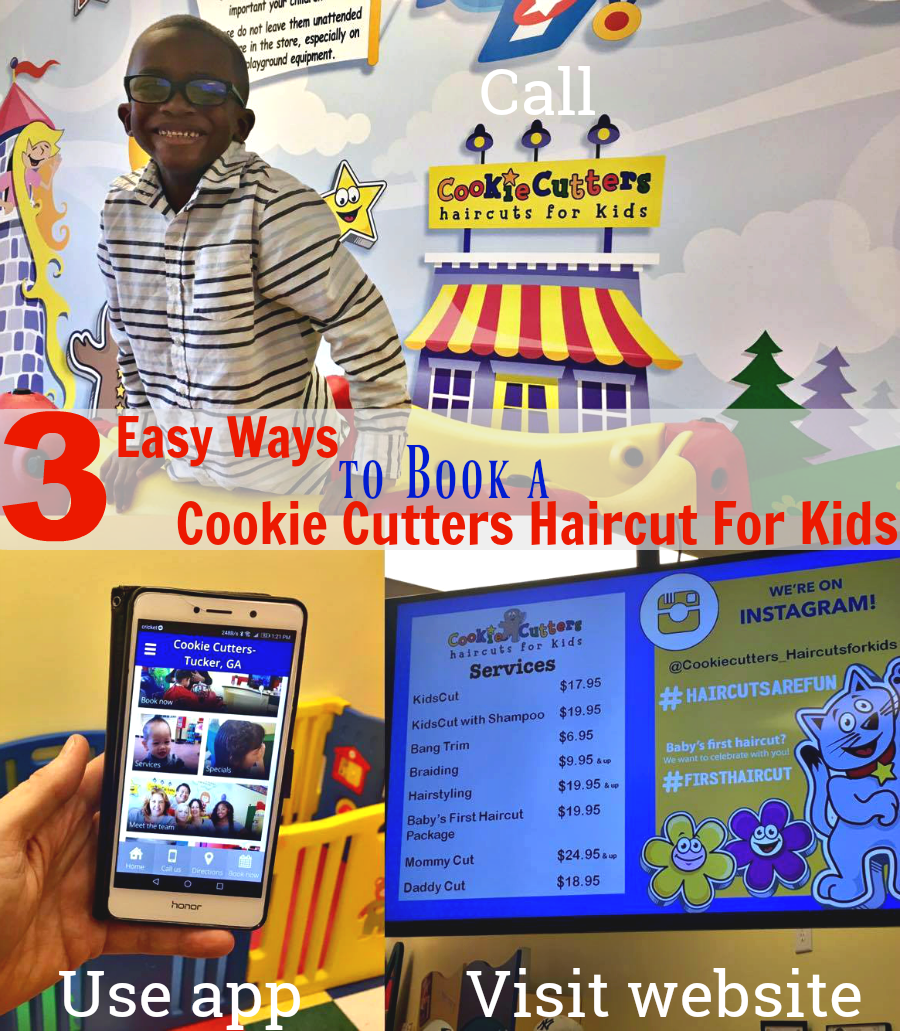 3 Easy Ways to Book a
Cookie Cutters Haircut For Kids
1. Call your local Cookie Cutters location
There are three Atlanta-area locations: Tucker (open 7 days a week), Kennesaw (open 7 days a week) and Alpharetta (open 6 days a week). There are salons in more than 20 states. Use the Cookie Cutters store locator for the one near you.
Call to book a convenient time for your children's hair cuts. Mom Cuts and Dad Cuts are available too, so you can book for the entire family.
If your child has sensory issues, request to visit the salon before hours, after hours or stop by for a tour during salon hours so your child can get familiar with the salon experience.
2. Visit website
Visit the local site for your closest Cookie Cutters location. Book a convenient time online.
Get to know each location's stylists by visiting their website bios.
Each of the stylists have received training for cutting kids hair, making accommodations for autism and sensory issues. The Tucker location owner said the Autism Society of Atlanta consulted with its stylists.
3. Use Cookie Cutters App
The Cookie Cutters App is available for iPhone and Android. Find the closest location and book your children's haircuts.
[Tweet "Experience a fun, tear-free kids hair cut in #ATL #haircutsarefun"]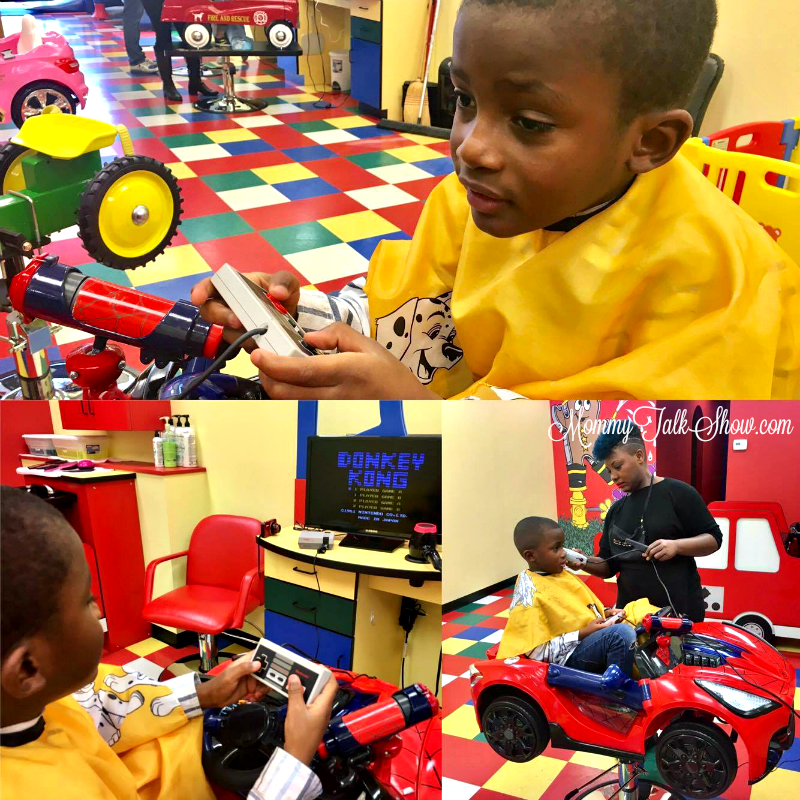 Ways to Save at Cookie Cutters Salon
The Tucker, Georgia location is running a promotion for 50% off the first Cookie Cutters haircut for new customers.
For Cobb County parents, the Cookie Cutters Kennesaw location has a promotional discount through November 30, 2017. I'd love it if you shared the discount from their Facebook page.
Ask about the loyalty program so your entire family can earn points, which leads to discounts and free cuts!
Grace Small owns the
Cookie Cutters for Kids Kennesaw location
and answered these FAQ's:
Tell us about the training hair stylists receive to accommodate kids who squirm and kids with special needs of sensory issues.
"We have training that walks through how to recognize and work with kids with sensory issues. We ask the parent specifically what the child does not like and we try to work around it. I have a big "blankie" in the store for one boy who likes to snuggle."
How does Cookie Cutters take of the needs of an entire family?
"We had a foster family come in with 4 kids. That was one of the best moments, as none had been to a kid's salon before and we had a blast making everyone, including Dad, feel really special with their haircuts."
Visit Cookie Cutters Website | Follow Cookie Cutters Tucker on Facebook | Visit Cookie Cutters Kennesaw on Facebook