Although I've rocked out to a few Maroon 5 songs on the radio, I earned even more respect for its lead singer, Adam Levine, once I started watching The Voice on NBC. I was glued to the screen all of Season 1 and I've checked back in from time to time to see the judges joke with each other and find unknown singing talent. Although I'm not watching as regularly this season, I have noticed Adam Levine's clear dramatic hair change: he went from brown to blonde! Talk about resilient hair. Granted, he's got professional hairdressers and a glam squad within reach at all times. What about the rest of us who want healthy hair?
Great hair starts with a clean scalp.  CLEAR SCALP & HAIR™ is designed to start there and give your hair the nourishment it needs. I've noticed the contestants on The Voice have gone though amazing changes with their hair too. They start the competition as their regular, everyday selves. They hit the stage as rockstars with big, bold hair.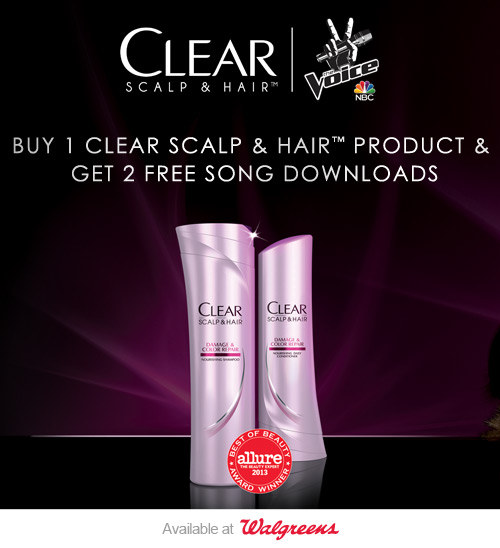 So back to Adam Levine. Comment below:  Is his hair a "go" or a "get outta here?"
To me, he can do no wrong. I'm all for the hair color change because that's what music is about: self-expression, bouncing back and being resilient. Enjoy the best of both worlds with healthy hair and music. You have until July 27, 2014 to  get a free two (2) free song downloads at  Walgreens when you buy one CLEAR SCALP & HAIR™  product. Follow  CLEAR SCALP & HAIR™  on Facebook,  @ClearHair on Twitter and visit ClearHairCare.com.