Since I went natural in 2009 and stopped relaxing my hair, I haven't been visiting a hair salon regularly. I got my "big chop" to cut the relaxer out of my hair when I was pregnant and had maybe two professional trims since then. In March, I noticed a request for a female hair model on the Sweetgrass Salon and Wellness Spa Facebook page and decided to go for it. I've never been a hair model. I typically take the approach that "it's just hair, it'll grow back," so I was ready for anything. My usual excuse for skipping the salon is  juggling child-care, but since my Mom was here visiting for A.J.'s 4th birthday, I could finally step back into a professional Aveda concept salon.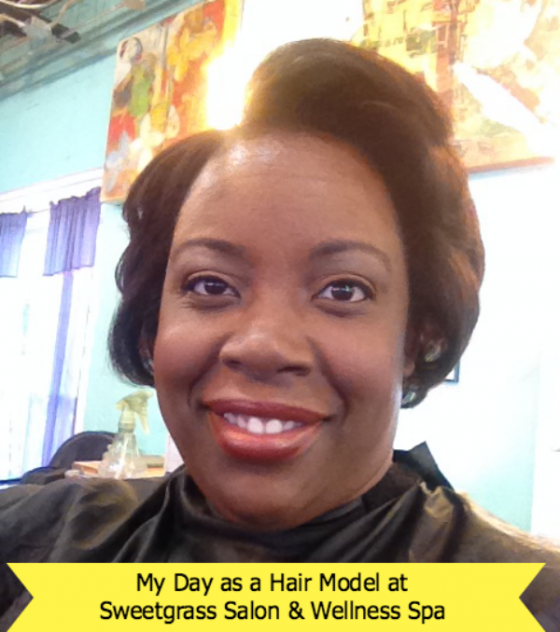 I arrived at the Candler Park Sweetgrass Salon location and was greeted by the staff. Evelyn, the recent Aveda Institute graduate was "auditioning" for a full-time gig, sat me at her station and started asking about my hair. I explained that I've been coloring my own hair to cover the grey. Usually I shampoo and condition my hair once a week, twist it, let it air dry overnight and wear it in an afro. I hadn't flat ironed it or done true length check to see how long it was in a straight condition. I explained to Evelyn that's what I wanted. After figuring out the logistics, Evelyn added a demi-color to my hair, shampooed, conditioned, blow-dried, flat-ironed, trimmed and styled it.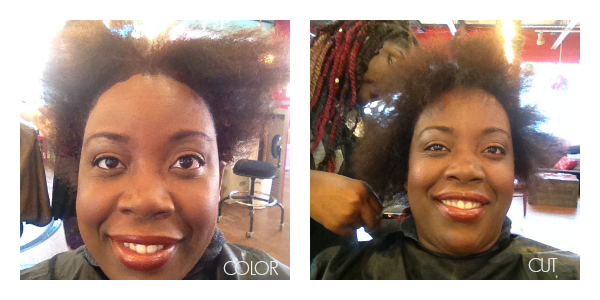 By the end of my appointment, my naturally kinky and curly hair was silky. I could run my fingers through it. It made me feel like I had a relaxer again. I was amazed that my hair didn't revert to being kinky and curly even after a few days. I got about a week's worth of a straight look after my hair salon appointment.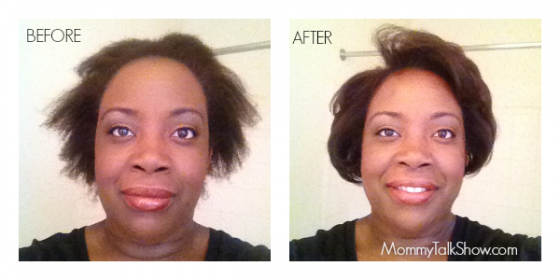 I'm happy to say Evelyn also got the full-time job at Sweetgrass Salon in Little 5 Points. I hope to go back and see her for my color from now on. Boxed color does not do the trick anymore. The Aveda color Evelyn applied has the most beautiful red undertones. When I'm in the sun, it looks great.  My hair color has never looked like this when I sprung for a $10 box of color at the drug store. Talk to me in the comments: What differences do you noticed when you "DIY" your hair vs. going to the salon?  Do you consider a visit to the salon a necessity or a splurge? Let me add, I wasn't obligated to share my review of Sweetgrass Spa. I've been a paying client in the past for massages at the Little Five location and I'm a Facebook fan of the salon's page. I just thought it would be a cool experience to tell you about. Follow Sweetgrass Spa on Facebook, visit http://sweetgrassspa.com/ and follow Sweetgrass_ Spa on Twitter.
Click to Tweet:
See Before & After Photos of @MommyTalkShow's hair cut & color #ATL #salon @Sweetgrass_Spa #ATL http://t.co/hVQ41o8YOL

— Joyce Brewer (@MommyTalkShow) May 22, 2014