Think about the champions of care in your community. It could be your child's school nurse, the child care worker at your house of worship or a friend who gives an elderly neighbor a ride to the doctor each week. They are all health heroes who work to make sure wellness is a community priority. This video explains more about Health Mart's Champions of Care Challenge, then I'll provide a link where you can nominate someone in your community to help bring as much as $30,000 in donations to their favorite non-profit organization.
Champions of Care Challenge
To honor these unsung health heroes, the Independent Health Mart pharmacists are showing their gratitude by awarding $50,000 in grants to community health non-profits to recognize them for improving health and well-being in their communities. Think about how far $50,000 can go for a non-profit. It may be able to buy a vehicle, hire new staff, start a small clinic, vaccination program or give an employee a much needed bonus.
Nominate yourself or someone you know by sharing their hard work and dedication with the Health Mart Champions of Care Challenge.  Share an emotional story about the good deed they performed. Remember to attach a photo of the nominee. Leave your name, address and e-mail address so Health Mart can follow-up with you.
If the person you nominate wins the Health Mart Champions of Care Challenge, they'll win the right to select a non-profit to receive as much as $30,000 to continue critically important work for the health of the community. Smaller grants are available too, so don't worry about your nominee's chances.
TODAY: Go to http://www.healthmartcommunity.com/ to tell their story.
March 17, 2014: Public voting begins and lasts two weeks. Go back to the site and support the champions you think deserve the following awards:
 A $30,000 grant chosen by the grand prize winner
A $3,000 grant chosen by the 2nd place winner
A $2,000 grant chosen by the 3rd place winner
A $1,000 grants chosen by each of 15 finalists
Comment below: Is there someone you can think of who supports their neighborhood and community? Are they a member of a non-profit that would benefit from a large grant?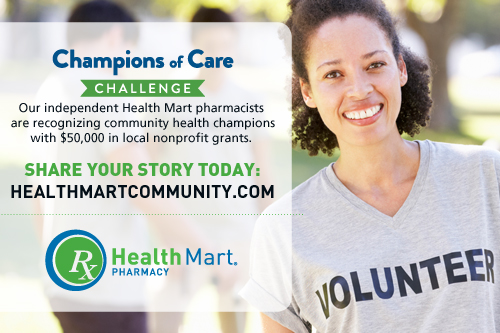 Click to Tweet:
Nominate Local Health Hero for Champions of Care Challenge: http://t.co/ZSzstU4mAm #HealthMartCares via @MommyTalkShow

— Joyce Brewer (@MommyTalkShow) March 2, 2014
Disclosure: This is a sponsored post with the Niche Parent Network & Conference. All opinions are my own.