We're so close to Christmas –  it's scary! If you haven't booked your family's holiday photo session (like me) so the annual greeting cards get in the mail ASAP, you need to keep reading. I asked some of the best Atlanta family photographers for their holiday family photo session advice. Be sure to share on Facebook, tweet and pin this great advice about fashion, fidgety kids and last-minute sessions.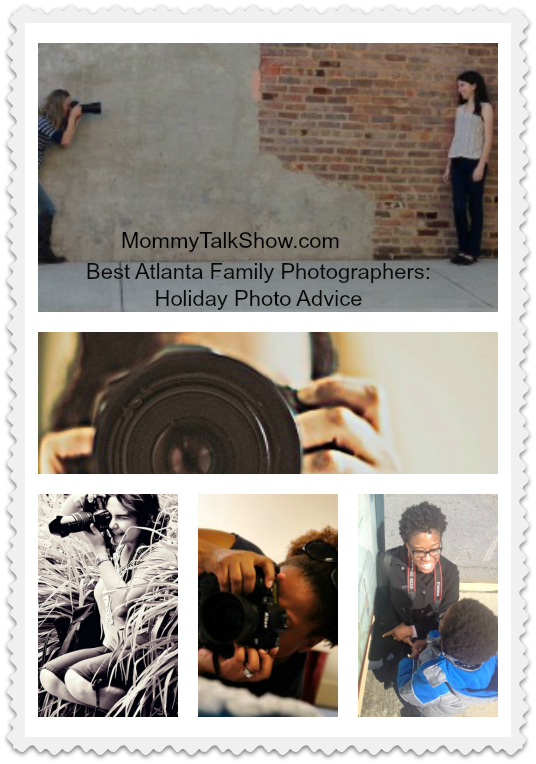 Best Atlanta Family Photographers
Here's some insight from the best Atlanta family photographers to get picture perfect photos for your family this holiday season:
What's one of the biggest mistakes families make when planning a holiday photo shoot?
"One of the biggest mistake families make when planning a holiday shoot is over scheduling. Trying to tack on a photo session at the end of a long day of shopping or holiday parties often results in tired children (and adults) who may not be at their best."             ~ Tiffany Powell of www.tiffany-powell.com
What's your advice for family wardrobe? Do you like matchy-matchy Christmas sweaters or a little creativity?
"Families should not strive to wear the exact same color. A family uniform can appear too artificial, and would not result in an image that speaks about who you each are at this time in your lives. You can choose clothing with hues that go well together without being identical, and allow each person to still be unique and true to their style. Please avoid overly formal clothes (especially on children), and lots of white." ~ Oana Hogrefe of www.shutterview.com
"When planning your family wardrobe, I suggest LAYERS, LAYERS, LAYERS! Scarves, belts, cardigans, layered shirts, jackets, accessories all help give the image much more interest and texture. Stick with a general color family. For instance, all earth tones (sages, creams, browns) or a combination like cream, teal, mustard, chocolates. Make sure there is a combination of some solids but also a mix of patterns…nothing too bold or overpowering, but enough pattern to give the image some pop. Patterns can be used in the actual clothes or even just a scarf. Steer clear of matchy matchy, but make sure that everything "goes" together." ~ Erin Bankston of www.erinsatticphotography.com
When children act-out or cry during a photo shoot, what are the best things parents can do during a photo session to make your job easier?
"I like to let the kids wander off and let them collect themselves and I try to talk them back into the photo all the while taking their photo. You can get some unbelievable shots doing this candid approach. Sometimes the Photo works out that if the child is off doing something then the family can work around their child. I'm a pretty patient person so I usually wait it out and work fast within the child's mood swings." ~ Andrea Mages
"It helps to even enlist their children's help in the planning by giving their children options for what they will wear or asking them if they want to incorporate any fun props into the shoot. Parents often worry about getting "THE" shot and sometimes get frustrated during the shoot and fuss at their children to "behave." Thus, sometimes children cry during a shoot because they sense the tension. In those situations, it is ideal for everyone to just relax, take a few deep breaths, and enjoy the time they get to spend together." ~ Kimberly Murray
It's two weeks before Christmas and I just realized I forgot to book you for a session? Can I still get photos on time?
"Given the amount of custom work I put into my sessions, I will not guarantee images to be ready by Christmas with less than a month to go. However, we can definitely plan on New Year cards, or even Valentine's — receiving images in the mail when not flooded with many others may be a special treat for your friends and family. (given how busy I am around the holidays, my own family's cards are always going out sometime in late January)." ~ Oana Hoagrefe
"Absolutely!!! I always offer my clients the ability to purchase the High-resolution image for their use. I try to edit the images as fast as I can so they can choose the one they want. I have found that most people like to order their own cards. If not I use several Labs that can get photos to me in plenty of time." ~ Andrea Mages
As photography professional, what's the best thing about holiday shoots?
"The best thing about holiday shoots is getting to meet so many different families and witnessing the love they have for each other. Documenting families' relationships and chatting with them about their lives truly puts a smile on my face. Plus, it warms my heart that I get an opportunity to play a role in ensuring that families will always have a visual reminder of how they were at a given point in time and have photos that can be shared with future generations. When I leave, I always reflect on my own family relationships and appreciate them that much more." ~ Kimberly Murray
"I have always loved the holidays and fall time, so it's mainly the anticipation that Christmas is coming. I see it on the kids' faces when they see Santa for the first time that year at their Santa shoot, or when they are interacting with their siblings or parents and those sweet faces and emotions that are captured during this time. It just brings home the feeling of family." ~ Erin Bankston
"Families don't get together in front of the camera often enough. With cameras so readily available on our cell phones etc. and technology making it increasingly easier to take a good photograph we see more and more family snapshots of the children and fewer family portraits including the entire family. The Holidays provide a perfect opportunity to get everyone together for pictures in a fun and relaxed environment." ~ Tiffany Powell
Save on Christmas Photo Prints
Once you have your proofs from the Best Atlanta Family Photographers, you'll need prints for cards and calendars. Consider these offers to save with Tiny Prints Holiday Cards. For the holidays, products are more than 25% off site-wide at Vistaprint.
Best Atlanta Family Photographers on Facebook
Check out the Facebook pages for each of the photographers to see more samples of their work and upcoming shoots.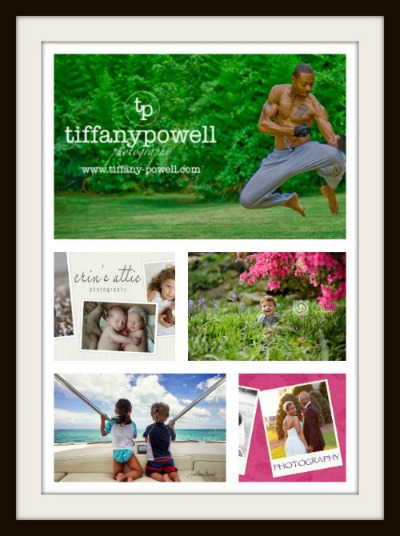 When you children rip open their Christmas & Hanukkah presents from friends and family, remind them to say THANK YOU! Here's why Thank You Cards need to be on your shopping list this season.