Sunday Brunch in Atlanta is as serious event. Major decisions must be made long before Sunday morning.  As soon as 11 a.m. Sunday church service lets out, Atlanta restaurants are packed and parking becomes a pain. City Winery Atlanta in Ponce City Market opened in June 2016 and just launched its Sunday Brunch.
Disclosure: I attended a blogger brunch at City Winery Atlanta where we enjoyed a complimentary meal to facilitate an honest review.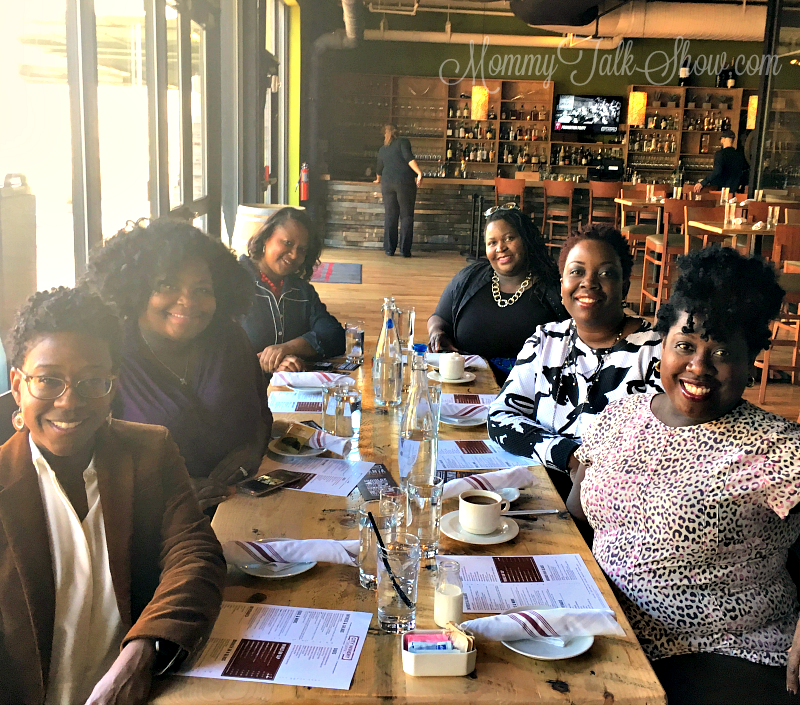 Atlanta Sunday Brunch Idea
Atlanta wine lovers, did you know there's an Intown winery with lovely decor, meeting space, concert venue and it serves Sunday Brunch?
You can enter City Winery from the Ponce City Market parking lot on the second floor or from the street.
We sat right near a window looking out on the patio area. On a warmer, less windy day we could have sat on the patio.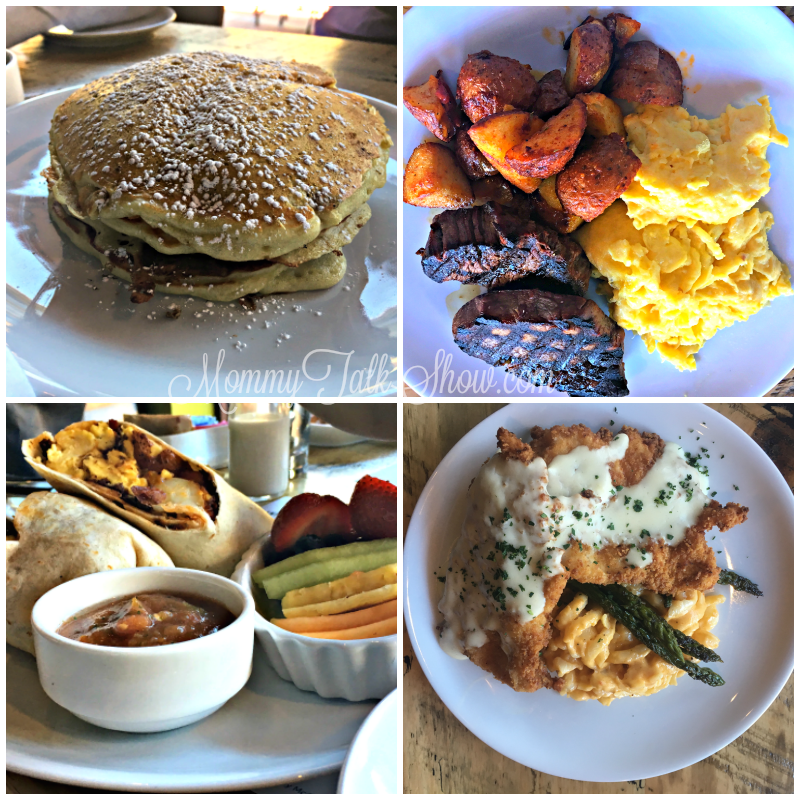 What I ate: Steak & Eggs with potatoes and two glasses of house wine; Grenache and Meritage. I wish I'd ordered the steak medium instead of medium well, although it was still easy to cut and tender none-the-less. Thanks to the manager's recommendations I sampled two red wines I wouldn't normally drink. I was beyond impressed by the light, fruity taste. It complimented my meal instead of overwhelming it.
The rest of my blogging buddies enjoyed the shrimp & grits, breakfast burrito, fried chicken with mac & cheese, and buttermilk pancakes.  See the rest of the City Winery Brunch Menu.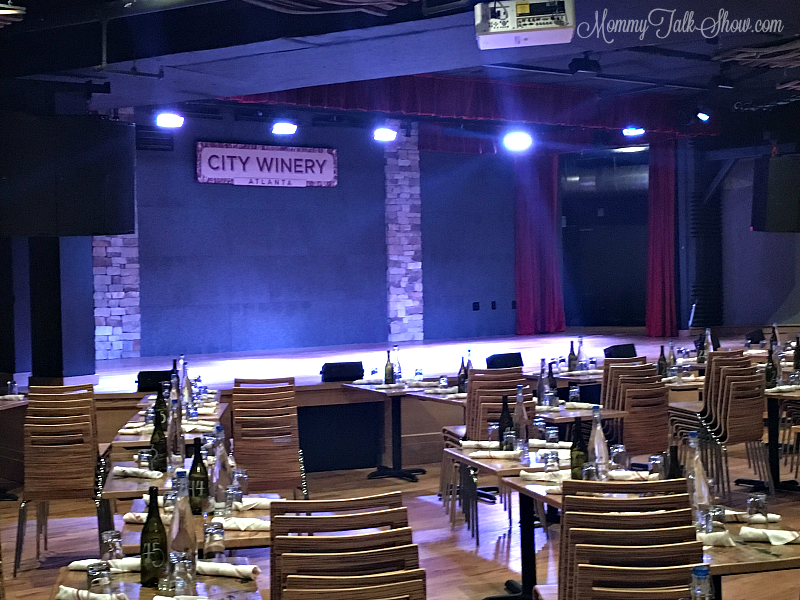 Atlanta Date Night Idea
As much as I loved brunching with my friends, I can't wait to take my husband back to City Winery Atlanta for a date night.
We'd get a sitter to stay late, take Uber there and back, arrive early by 6 p.m. before a live concert there that starts at 8 p.m. (If you seated before 7 p.m. you get 20% off your food order for the night). Start with dinner in the dining level.  Venture to the lower level before the 8 p.m. live show. We'd order a selection of house wines and enjoy the show. Here's a look at upcoming concert dates and tickets to City Winery's live shows.
Tucked away behind the 300-seat concert venue with VIP and Premier seating options, there's a private speakeasy. You'll find memorabilia from the old Sears & Roebuck building where Ponce City Market stands now.
Read what Daphne from MushyMamma.com shared her date night and concert experience at City Winery with her husband.
What would you order from the Atlanta Sunday Brunch menu at City Winery?
Would dinner and a concert in one venue make a fun date night for you and your spouse?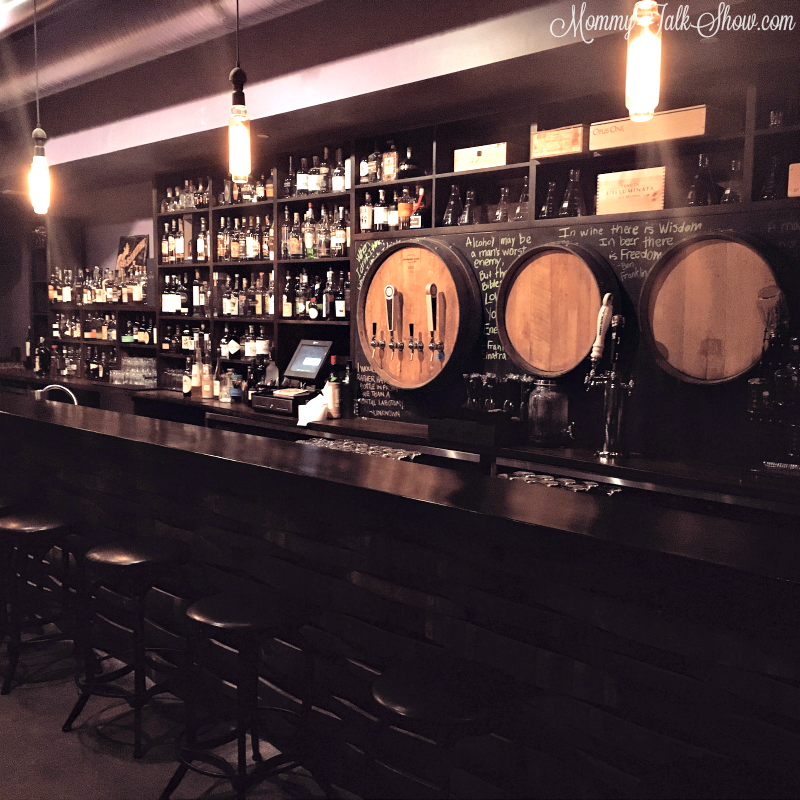 Connect with City Winery Atlanta
Like City Winery Atlanta Facebook Page | Tweet @CityWineryATL | Follow City Winery Atlanta on Instagram
Address: Ponce City Market |  Paid Meter Parking
There are also City Winery locations in New York City, Nashville, Chicago and Boston. Be sure to visit them when you're traveling.
[Tweet "Atlanta Sunday Brunch Idea: @CityWineryATL w/ in-house made wines "]