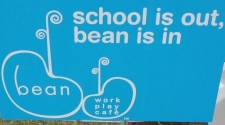 My favorite words this season are: summer camp. It's an opportunity for children, like my son A.J., to keep their skills sharp during the summer, play outside and meet new friends.
For Bean Work Play Cafe in Decatur, summer camp offers Atlanta-area families a preview of its preschool offering, The Nido School in the fall. The Nido School at Bean will offer three month themed sessions of learning. Bean allowed me to go behind the scenes and create a video showing how the teachers and staff are are preparing for the upcoming months of summer camp.
For Bean Work Play Cafe's summer camp each month has a theme: June is to "Imagine", July is "Create" and August is "Explore."  See the weekly activities and registration information on the summer camp flyer.  "Water Wednesday," when children cool off thanks to the sprinklers and water hoses, is back my popular demand.
Keep an eye on summer camp and drop-in care availabilities on Bean Work Play Cafe's Facebook page. Your early learner (2-7 years old) can enroll for an exciting day or week of summer camp from 9 a.m. to 1 p.m.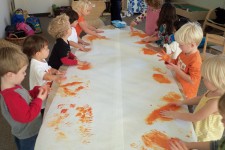 Behind the Scenes Video
Disclaimer: This post is sponsored by Bean Work Play Cafe.
I was compensated to produce this video. All thoughts and opinions are my own.