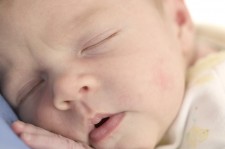 Before I became a Mom, I didn't know new families could hire an Atlanta baby nurse to help them adjust to round the clock care of a newborn. Looking back now, I could have really benefitted from a few nights of solid rest once. This post is sponsored by Mothers Helping Hands. All thoughts and opinions are 100% my own.
Mothers Helping Hands in Atlanta offers postpartum care during the day, overnight newborn care, sleep training and  a variety of services to support growing families. Below you'll find glowing testimonials, links to follow Mothers Helping Hands on social media and the special offer it has just for Mommy Talk Show viewers.
What is a baby nurse and newborn care specialist?
To help moms, dads and older siblings adjust to life with a newborn, a baby nurse or newborn care specialist can be an amazing addition. They're professionals who offer in-home services for feedings, diaper changes, breastfeeding support and postpartum care. Meal planning and care for older siblings can also be handled. According to the Mother's Helping Hands website, "We have experience working with traditional, single by choice, same sex, and adoptive parents."
A baby nurse is ideal for families who are
expecting multiples
helping an older sibling adjust to a new baby
experiencing postpartum symptoms
returning to work and need a good night's rest
Testimonials
Rosalee Henry is the CEO of Mothers Helping Hands. She works with a team of experienced Atlanta-area doulas and newborn care specialists. She also shares her newborn and infant care expertise on Facebook and Twitter.
"Rosalee was a lifesaver after the birth of our second son last spring! We used her for ten weeks after he was born and only stopped then because he was sleeping through the night. She was punctual, professional and allowed me to get the rest I needed to take care of our new baby and his older sibling. I would highly recommend her to anyone looking for a night nurse." ~ Leigh B.

"Rosalee was our night nurse and was instrumental in getting our daughter on a sleep schedule, as well as helping me with learning to properly breastfeed without pain.  She was a great help." ~ Elizabeth T.
Special offer
This offer is ideal for expectant moms, a great baby shower gift or to help a friend who's suffering from postpartum issues.
Mention "Mommy Talk Show" for 10% off Baby Night Nurse and Infant Care for a minimum three (3) days or nights per week if reserved by November 30, 2013. Call Mothers Helping Hands at 678-770-2313 or use the contact page for a consultation.