With all the 2017 political angst and health care concerns about the Affordable Care Act's future, it's a relief to tell you about an affordable option for allergy families. You may recall in 2016, EpiPen maker Mylan Pharmaceutical, was widely criticized for its skyrocketing price. Even with insurance through my husband's employer, a new set of EpiPens in case our son had an allergic reaction –  would cost more than $600. Thankfully, an Epipen competitor, AUVI-Q is coming back on the market in 2017 and promising a zero out-of-pocket cost even for families with high deductible commercial insurance. Keep reading for information from the prescription drug manufacturer, Kaléo, and be sure to share this on Facebook!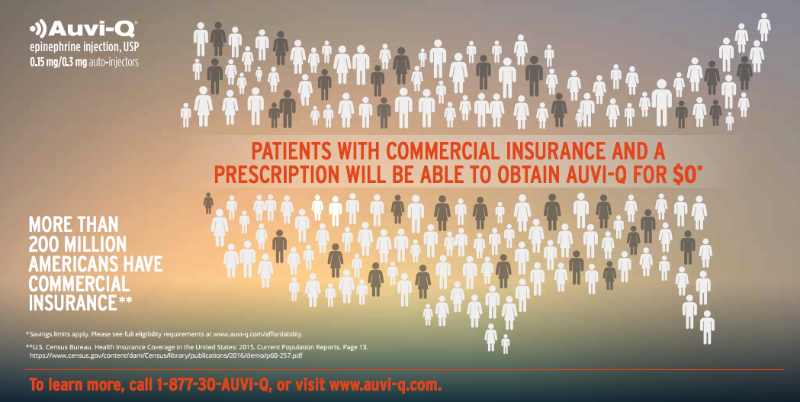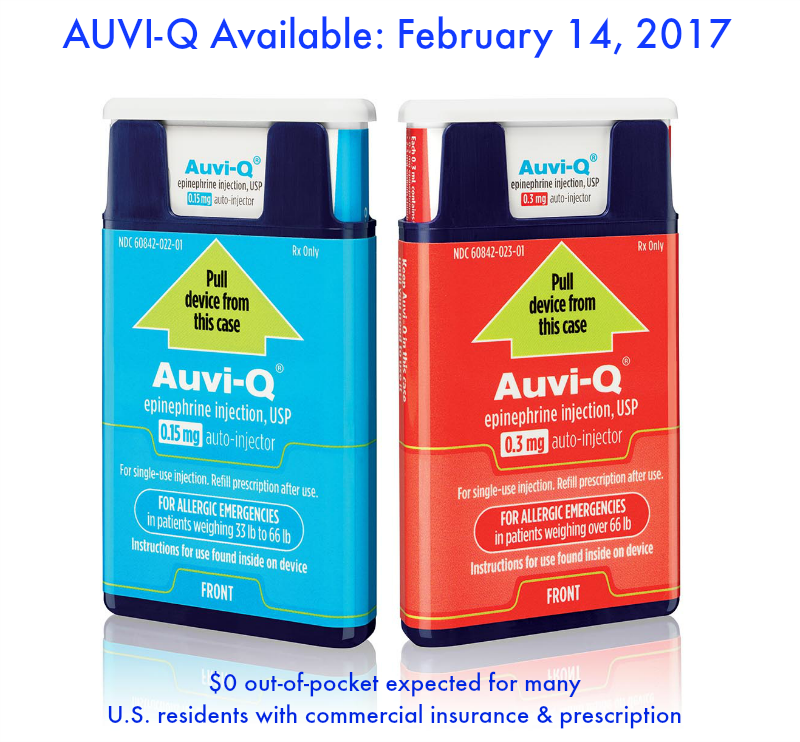 AUVI-Q Availability Date: February 14, 2017
"AUVI-Q will also be available via a direct delivery service to a physician's office or a patient's home within 48 hours in most cases. The direct delivery service option helps ensure the best expiration dating for AUVI-Q."
AUVI-Q Affordability:
If you have commercial health insurance through your employer or that you pay for yourself, AUVI-Q, should cost you $0.
"Through this new program, more than 200 million Americans with commercial insurance, including those with high deductible plans, will be able to obtain AUVI-Q for a $0 out-of-pocket cost. For eligible patients who do not have government or commercial insurance, and have a household income of less than $100,000, AUVI-Q will be available free of charge."
If you pay cash for your medical expenses, with no commercial or government insurance, the cash price for AUVI-Q is $360.
[Tweet "Allergy Families: Order @AuviQ for $0 out-of-pocket w/ insurance."]
How to get AUVI-Q prescription filled:
Ask your prescriber/physician to complete it.
Fax it to the direct delivery service option.
I've already printed out enrollment form to take to A.J.'s pediatrician this week. I'm hoping that if I get it submitted on time and request two cartons of auto-injectors and two trainers.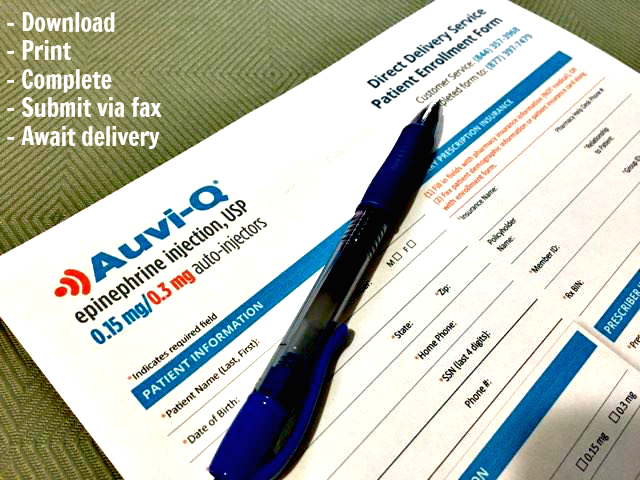 Contact AUVI-Q
Website Information: www.auvi-q.com/affordability.
Call: 1-877-30-AUVIQ for questions regarding eligibility .
Connect with Auvi-Q on Facebook | Tweet @AuviQ with questions about eligibility.
How will the Auvi-Q zero out-of-pocket price affect your family?
In case you're not familiar with the
difference between an EpiPen and an AUVI-Q pen
for allergy emergencies, here's a break down of some of the obvious differences.