In 2016, I was delighted to be selected as a Braves Blogger where I shared many behind-the-scenes experiences with the team. We attended Braves games at their final season at Turner Field, A.J. experienced Braves Baseball Camp which allowed me to provide a discount code for my readers, and we previewed the move to the Atlanta Braves New SunTrust Park in Cobb County. From traffic to tickets to experiences for your kids, here's 10+ Things You Need to Know About the Atlanta Braves New SunTrust Park.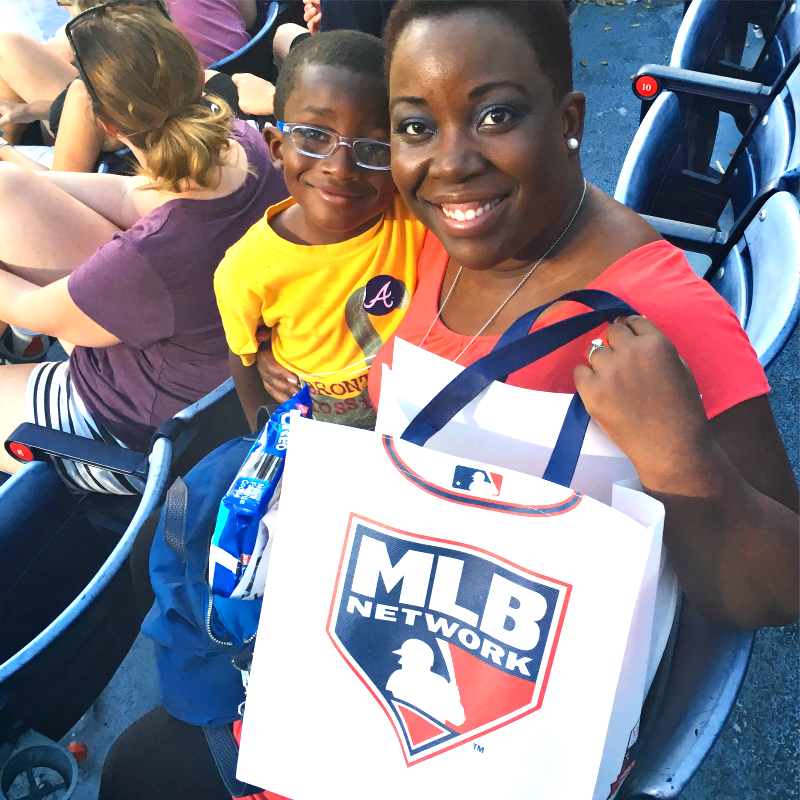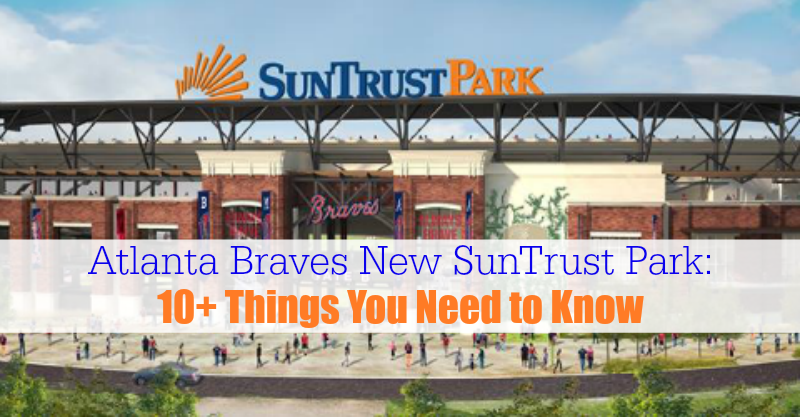 1. Opening Day single tickets are sold out. Season-ticket packages are still available if you'd like to attend opening day.
2. Kids Opening Day is Sunday, April 16th. "Join us for Kids Opening Day at SunTrust Park! The FIRST EVER Kids Run the Bases after the game, pre-game activities in The Plaza, a zip line, climbing tower and more!"
3. Pay to park ahead of time. SunTrust Park parking is spread out among several nearby lots in the Cumberland area. You're encouraged to pay to park ahead of time. Here's how to pay for Braves home game parking online for single day tickets.
4. Use Waze, Uber and Public Transportation to get to SunTrust Park. For all your transportation questions, including where the Uber Zone is for pickups and drops offs, visit the Braves Transportation page.
Back in March, the Braves invited Uber drivers to the park for a transportation briefing.
Excited to welcome hundreds of @Uber_ATL drivers to #SunTrustPark! This crew will get you to-and-from the game safely and efficiently. pic.twitter.com/9V4ayoM5X0

— SunTrust Park (@SunTrustPark) March 27, 2017
5. A-List Season Ticket Holders get to experience SunTrust Park up close. You can also upgrade to Premium A-List Memberships. Here's where you can see the benefits for Braves season ticket holders  including "private access to an exclusive club, inclusive food and beverage options, premium parking, and fully padded seats."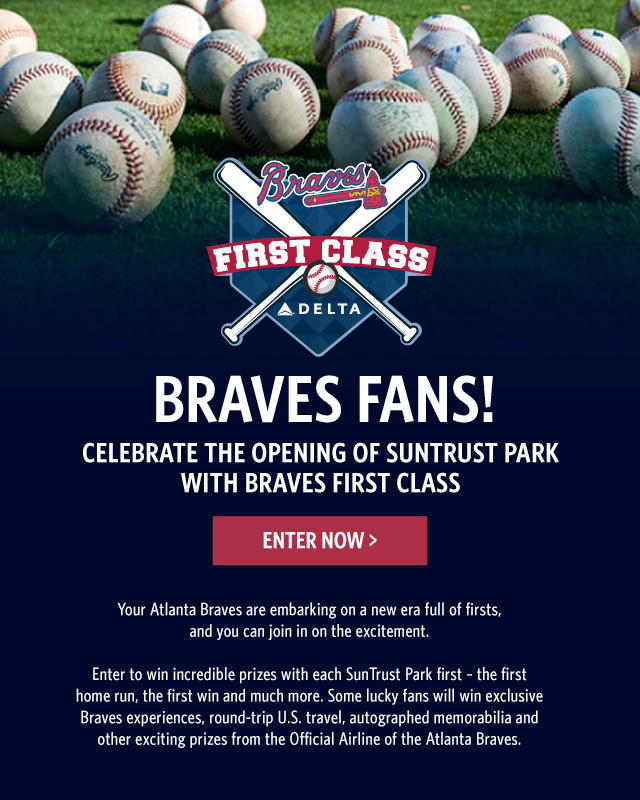 6. Celebrate Braves First Class and win prizes. Thanks to a partnership with Delta Airlines, each time the Braves experiences a first, a prize will be unlocked. For example, a first Home Run, Stolen Base, or win means one fan gets Dansby Swanson autographed item. Prizes go up from there including a fan throwing the first pitch. You must sign up on the website to be eligible for Braves First Class.
7. Lactation/Nursing Room is available. Breastfeeding moms can feel comfortable attending the home games without missing out. "SunTrust Park offers a lounge that is a fully dedicated space for nursing mothers staffed by a Guest Services ambassador. Located on the Terrace Level near the Left Field Gate – Section 141, the air-conditioned nursing lounge is equipped with comfortable rocking chairs, a diaper changing station, and a play area for toddlers." If you have any questions, ask a guide in the park or visit an information desk.
8. Take your children to the Kids Zone  – "Hope and Will's Sandlot."  As much as we'd like our children to sit still and watch the Braves game, that doesn't always happen. They need to move around and be active. The kids area at Turner Field was always A.J.'s favorite.
The new Kids Zone at SunTrust Park "features a zip line, climbing tower, batting cage, and other baseball-themed activities for children of all ages. The Sandlot also offers kid-friendly food options and carnival style games."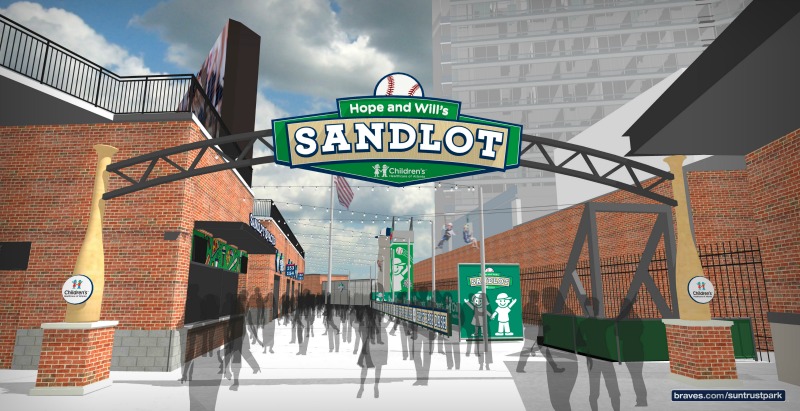 9. Girls Night Out is Friday, May 19th for Braves vs. Nationals.  $49 Ticket Package includes Homerun Porch Game Ticket, Pre-game Party at the Coca-Cola Roxy Theatre, Girls Night Out print and a Feather Boa. Purchase the Girls Night Out tickets online.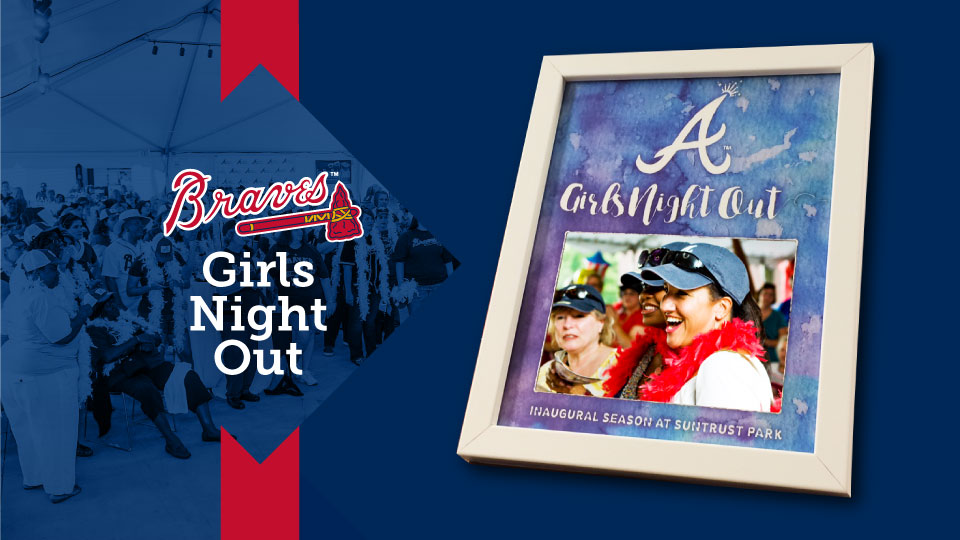 10. Visit the The Battery Atlanta near SunTrust Park. Even before the Inaugural Day I've noticed news coverage of many people visiting the area. It's a "1.5 million square foot mixed-use development, featuring boutique shopping, chef-driven restaurants, an Omni Hotel, The Coca-Cola Roxy Theatre, 550 residences and One Ballpark Center, Comcast's regional office headquarters."
11. Enjoy weekday events at SunTrust Park. There are "Coca-Cola $12 Tuesdays when fans can sit in the Vista Reserved section for just $12," and Friday Night Fireworks are presented by Georgia Lottery. See a full list of 2017 Atlanta Braves Promotions.
12. Enjoy Papa Johns Savings.  When the Atlanta Braves score five (5) runs in a game, you can enjoy 50% off online orders for regular priced menu items.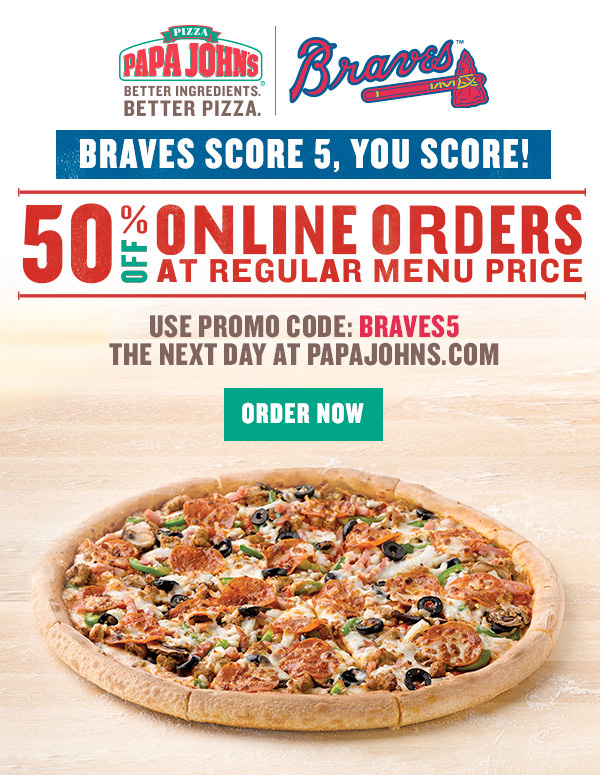 13. There's an A-Z Guide for all of your questions about SunTrust Park. Bookmark it on your mobile device so you can find answers to your questions. Keep your eye on the SunTrust Park Facebook page too for special announcements.