Gift Cards are one of the most popular items for the holidays. You don't have to do any "real" shopping or worry whether the gift fits. Just find a store you love, get a gift card, add value to it and bestow it upon the receiver. No muss. No fuss. No returns. You can even skip standing in a checkout line all together –  if you buy the gift cards online. So where do Amazon Gift Cards Rank on the 2017 Best/Worst List? I'm really interested because they're my favorite to receive and give, second to getting a Starbucks gift card! My Amazon affiliate links are below.
Every year, studies come out about the best and worst gift cards for the year. LendEDU sent me its results and I wanted to share with you in case you're buying Amazon gift cards this holiday season.
"LendEDU conducted a poll of 1,000 adult American consumers on a series of questions pertaining to their usage of gift cards this year. "
Factors in the LendEDU survey for the best and worst gift cards included:
1. Popularity by Google Search (25 points)
2. Purchaser discounts from third party sites (25 points)
3. Average secondary resale value (25 points)
4. Happiness of gift card receiver (15 points)
5. Free shipping (10 points)
All five factors were added up based on the survey where McDonalds (#1), Game Stop (#2) and Olive Garden (#3) ranked in the top 3.
Where do Amazon Gift Cards Rank on the 2017 Best & Worst List?
Surprisingly, [eafl id="35270″ name="Amazon Holiday Gift Cards" text="Amazon Gift Cards"] ranked – #15.
Not even in the top five or top 10!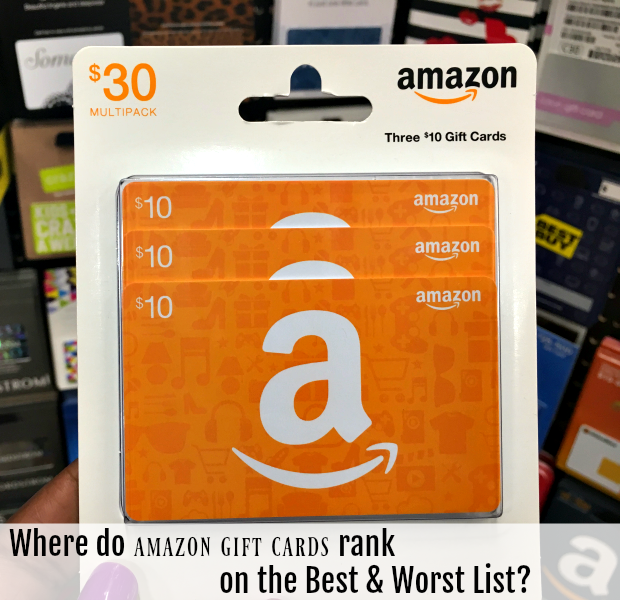 That shocked me because I've received Amazon gift cards as a payment for projects, as gifts and as prizes for Twitter parties. I find them so useful to get popular household items delivered to my front door as an [eafl id="35253″ name="Amazon Prime Trial" text=""] (2-day free shipping included).  On days when I have no energy or time to make it to the grocery store, I'll use an Amazon Gift Card to purchase through Amazon Prime Now. I can get groceries delivered to my hour in two or more hours.
Right above the [eafl id="35270″ name="Amazon Holiday Gift Cards" text="Amazon Gift Card"] on the LendEDU list –  were Best Buy(#12) , Netflix (#13) and Target Gift (#14) cards.
One buying tip: I also buy Amazon & Starbucks Gift Cards at my local Kroger store, especially when it's running a promotion for 4x the fuel points.
For example, if I buy a $15 Starbucks Gift Card I earn 60 fuel points to help me get closer to 100 points = 10 cents off per gallon.

This is the perfect time to try a [eafl id="35253″ name="Amazon Prime Trial" text="30-day free trial of Amazon Prime"] ($99 yearly) or to give it as a gift. If you're ordering physical products from Amazon, get 2-day free shipping on select items, unlimited music and access to streaming TV shows.
Talk back to me in the comments: Are you surprised Amazon Gift Cards rank #15 on the list? Let me point out that although McDonald's gift cards ranked first on the list, the happiness factor for people who receive Amazon Gift Cards are happier!
Buy other brand gift cards on Amazon:
[Tweet "Before you buy an Amazon gift card as a gift, see where it ranks on the best/worst gift cards of 2017! #gifts #giftideas #HGG"]
See the full report by Lend Edu to see where other popular gift cards rank for the best/worst gift cards of 2017.