My husband has been admiring my electric toothbrush for a while. Honestly, my rechargeable toothbrush is by another brand and cost me about $100. So when I got the opportunity to review the Sonicare Power Up Toothbrush that retails for about $20, I thought it would be a great dental tool for him to test out.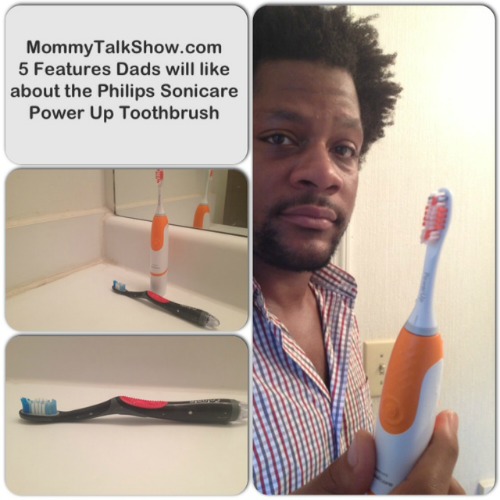 Here are 5 Features Dads will like about the Sonicare Power Up Toothbrush:
1. Power/ strength. My husband noticed that even though it was a battery-powered toothbrush, it had adequate strength. In fact, "Power Up even removes 2X more plaque in hard to reach places than a manual brush can, improving gum health and reducing cavities."
2. Toothbrush head size. It's adequate enough to reach your back teeth.
3. Shuts off after two minutes, which lets you, know you've brushed long enough without wasting your battery. When the bristles fade, you'll also notice that it's time to replace the brush head.
4. The handle. Like most guys, my husband doesn't like a flimsy toothbrush. He noticed how well the Sonicare Power Up felt sturdy in his hand.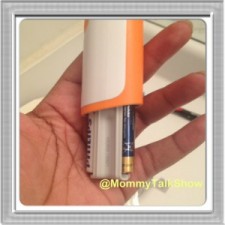 5. Battery-included. We go through batteries like crazy around our household. So knowing the Power Up Toothbrush came with AA batteries included was a relief because it could be used out of the box.
Buy Sonicare Power Up
Find the Sonicare toothbrush in the dental aisle of your grocery or drug store. You can also purchase it online through Amazon.com and read other reviews. It retails for under $20, which is pretty affordable.
Comment below: Does your family use battery powered or electronic toothbrushes? Do you notice a difference in how they clean your teeth?
To learn more about the Power Up and get dental health news, like Philips Sonicare on Facebook and follow Sonicare on Twitter. Also visit Philips.com.
Would you like to know how the Sonicare Power Up sounds? Listen to the Mommy Talk Show Instagram video I shot: