My mind has been on overload because for the last three weekends I've been attending conferences and events. Two national blogging conferences #TypeACon and #Blogalicious5 were in Atlanta. I wanted to share this video: 10 Blogging and Business Lessons I learned that would be useful whether you're a blogger, work at home mom or aspiring to work for yourself. Plus if you attended one of the events, link up your wrap or review below:
1.
Be honest
and go back to the original reason you started your blog or business. Blog or write about what you're passionate about or pissed off about. The competition and drive for sponsored posts shouldn't be your only motivation.
2. Relationships make all the difference. The people who are selected for campaigns, opportunities and contracts usually have a relationship with the decision maker.
3. Getting paid is great short-term. Being respected is better long-term.
4. It's OK to be multi-passionate. So often we hear about the benefits of being a niche blogger. But it's OK to mix things up once in awhile. Yes, I'm a blogger. But I also produce professional videos for clients and manage social media. One doesn't have to be exclusive of the other.
5. Work with your strengths. No one is a better you – than you. I'm not the funniest mom or the "frugalest" mom. But I've got an Emmy award, hot husband (who also has an Emmy) and a cute kid. Some brand or business is looking for me and maybe you too.
6. Write balanced reviews. Tell the good, bad and the ugly. I'm most proud of my reviews of L'Oreal BB Cream and the Doc McStuffins Atlanta event because I didn't have the best experience. But I found balance by sharing other bloggers' experiences and offering suggestions to improve the event. Thanks to the #DocMobile review, I also got a reply from Disney Jr. that they'd taken my observations under consideration.
7. Short and sweet may be better than long and drawn out, especially when it comes to video. I've done a few Mommy Talk Show Instagram videos (that are 15 seconds) and plan to attempt some with Vine (6 seconds).
8. Compete with yourself and no one else. I repeat: Compete with yourself and no one else.
9. Know your worth and ask for what you need. Several bloggers spoke of asking for double their usual rate and the answer was overwhelmingly, "Sure."
10. The fortune is in the follow-up. Email, call and tweet the bloggers, brands or business connections you met.
Comment below: Did you attend #TypeACon or #Blogalicious5? Share your recap or review links below!
Would you like more blogging advice? Check out my "Best Blogging Advice Around" Pinterest Board.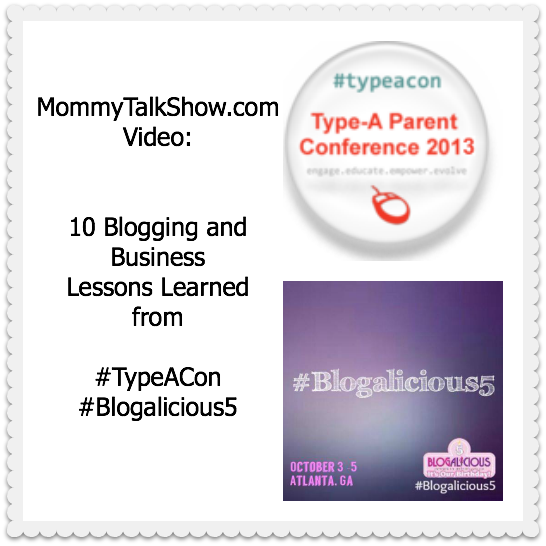 Conference Linky