The last few months I've noticed that on some days naps are hit & miss now that A.J. is 4 years old. I've adjusted his schedule quite a bit as a results. Although he wasn't always the best sleeper, I hear we are lucky since some kids stop napping in the afternoon as early as 2 years old. Thankfully my 4 year old naps from time to time and I consulted my experts: two nannies, a family physician and a sleep coach to see if we're doing the right thing. You'll want to use the social sharing tools below to share this on Facebook, Pinterest and Twitter if you know someone with a toddler or preschooler.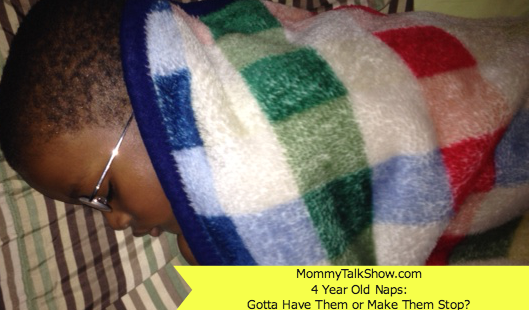 4 Year Old Naps
I noticed that although A.J.'s naps are irregular, since he goes to preschools three mornings a week he usually needs them on those days because he's been running around a lot. Or – if he wakes up extra early around 6 a.m., I notice by 1 p.m. he needs a nap. But if he's had a great day and we have afternoon activities, I'll skip a nap, try "quiet time" in his room and just put him to bed at 7 p.m. On those days, he does a great job by sleeping from 7 a.m. to 7 p.m. It's the first time in his life he's slept 12 hours!
Family Physician Dr. Deborah Gilboa, better know as Doctor G, suggests following a 3 or 4 year olds lead (just like I am) to determine whether they need a nap. She said "A lot of families have too structured a schedule (or too many kids!) to do that. However, letting his actual fatigue guide you teaches him how to check on and respond to his own body – that is really helpful!" Find more of her advice at AskDoctorG.com. Check out her book that I just reviewed: How to Get the Behavior You Want..Without Being the Parent You Hate.
Signs that Naps are Ending
You child may "fight" a nap, lay in their bed or crib for hours without falling asleep, or fall asleep so late that it throws off their bedtime. Nanny and newborn specialist Natalie Akpele of Slumberosity.com says kids have a "biological sleep time" between 12 noon and 1:30 p.m. where it's ideal for them to take a nap. If you miss this time, she recommends that you skip naps and move up bed time. Natalie was also a guest when we tackled sleep training advice for babies and toddlers.
Nap Strike
Don't be deceived by a nap strike. They're usually temporary. Atlanta Sleep Coach Kate Gardes told me "Sometimes a 3-year-old (and even some 2 year olds) will go on a nap strike.  A nap strike can last anywhere from a few days to a few weeks. It can be difficult to discern the difference between a nap strike and truly being ready to drop the nap.  There have been several times my own husband was ready to throw in the towel on our youngest daughter's naps!"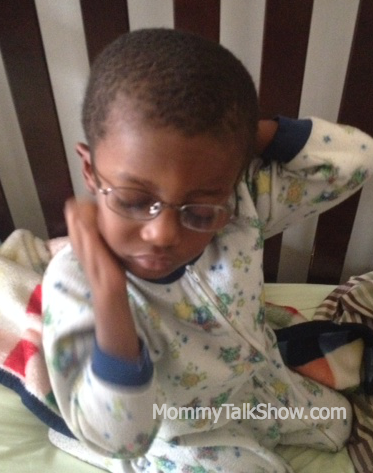 Just because your child fights a nap doesn't mean you should throw in the towel easily. The holidays, a move, vacation or change from a crib to a bed may throw a nap schedule out of whack. Gardes didn't give up on her daughter either: "During each of those nap strikes, we kept our same routine, and after an hour, I would go in and do a big "dramatic wake-up" to signal the end of naptime. Keeping the routine allowed those naps to come back!"
From Nap Time to Quiet Time
As a work at home mom, believe me, it's been a big adjustment for him to drop his afternoon nap. I used to be able to schedule calls and consultations from 2-4 p.m. That rarely happens now and we're adjusting to quiet time activities in his bedroom by himself. Jessica Course is an experienced nanny and doula who recommends that "if they like to read puzzles, let them know quiet time won't be as long as nap time. Create a space each day where they go to do books, puzzles, a calm video – nothing to get them overstimulated."
To let kids know when quiet time is over, Doctor G recommends that you display a digital or analog clock where they can see it. If the child can't tell time yet, place a picture that shows what the hands on the clock will look like when it's OK to wake up.
I've found that once or twice during quiet time in his bedroom A.J. asked to go to sleep, so we obliged him. For the first time, I feel like we've turned the corner on his sleep issues where he would wake as early as 5:30 a.m. and be ready to start his day.  My biggest parenting regret is not reading any books about sleep training before A.J. was born or when he was an infant.
Comment below: How did you know your child was ready to stop napping? How did you transition from nap time to quiet time?