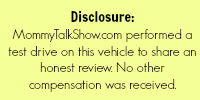 Toyota Rav 4 XLE Review
We had the pleasure of taking the 2014 Toyota Rav 4 on a spin around Atlanta and for a longer trip to Charleston, South Carolina to see my family. The crossover SUV was ideal for our family of three with plenty of space in the cargo area. For our long distance drive, the fuel economy was among the best I've seen and makes me really want to upgrade to a new car. Check out my video featuring the 2014 Toyota Rav 4 XLE review and comment below if you have any questions about it.
Sam Butto with Toyota's media relations office in California answered my questions about lighting in the rear of the vehicle and pointed out there is an additional light on the left lower side of the hatchback. But from a parenting perspective I'd suggest more lighting in the back like I've seen in at least one other crossover SUV I reviewed. Mr. Butto also told me there are no additional lighting packages or upgrades available.
In case you're wondering, the color on this Toyota Rav 4 is Blue Crush. I loved it. It was definitely eye catching.
For our family of three, there was plenty of space for A.J. in the back seat, along with all the travel accessories needed when you're traveling with a preschooler. He had plenty of room for games, his portable DVD player and snacks within reach.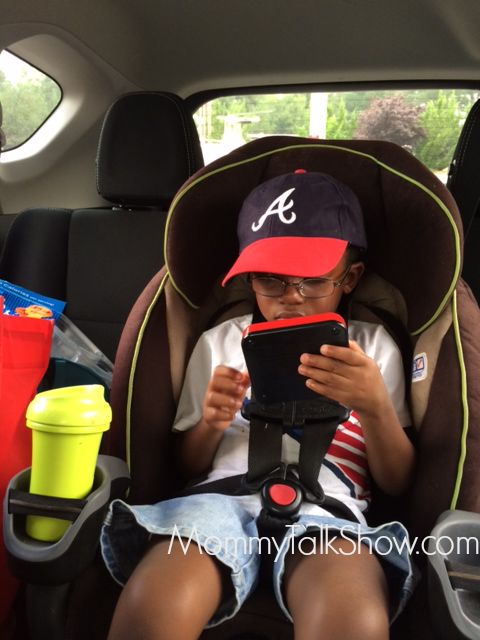 While we were at a shopping center in South Carolina, a woman pulled up next to me and asked how the crossover SUV drove because she was considering buying one. I bragged about the mileage for our trip. For Atlanta folks, with a long commute and kids to transport, I'd recommend you test drive it and see what you think. Here are some additional stats about the Toyota Rav 4 XLE.
Toyota Rav 4 XLE Stats
MILEAGE: 25 MPG Combined City/Highway (22 MPG City/29 MPG Highway)
SAFETY: Anti-lock brakes, back-up camera, LATCH lower anchor and tether, child protection for rear door locks, Bluetooth and AWD
COMFORT & STYLE: Dual Climate Control, Power Moonroof, Privacy Glass, Premium Navigation & Audio Suite
PRICE: $28, 463
Here we are taking the Toyota Rav 4 XLE to Sunday service:
Connect with Toyota
You can connect with @Toyota on Twitter (where the brand was nice enough to answer my questions) on the Toyota Facebook page. 
Vehicle Reviews
I've had the pleasure of reviewing several vehicles as part of my travel coverage on  the show. Here are some past videos you'll want to check out:
2014 Kia Sorento and Kid-Friendly Features
2014 Kia Soul with Primo Package
Perks of Driving to a Blogging Conference
Would you like me to review your brand's vehicle, to cover an automotive or travel event? Email [email protected] with the subject line: Travel.