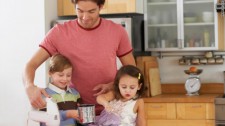 The "Dads Edition" guests were quite honest when they answered "Would you want to be a stay at home dad?" like 159,000 other American men.
In Part I, Rich Yelton of Bean Work Play Cafe said he could be a stay at home dad for a short period of time. Craig Phinn of the Phinn Group admitted staying at home would not be his "cup of tea."
Now here's part II where Harlan Bradford explains the challenges of working from home while balancing the demands of his twins, while Jim Novak reveals his time limit for being a stay at home dad.
Location sponsor Bean Work Play Cafe is a flexible option for working and stay at home parents. It offers play care and classes for children with a drop off option for parents. Or parents who have work to do are welcome in the comfortable work space pictured below.