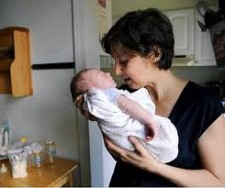 Everywhere I look someone is talking about breastfeeding and breast milk. Maybe it's because I follow KellyMom.com on Facebook or because I'm unsuccessfully weaning my 16 month old son. (I'd like my body back. But he's allergic to cow's milk and refuses to drink rice, almond or goat's milk.)
This story about a new milk depot in Kentucky by Babyology grabbed my attention because it's a huge debate for me.
Would you give donated breast milk to your child?
Although I'm a breastfeeding supporter and have faced my own challenges of proper latching and sore nipples early on, I'm not sure that I would have given him breast milk from another mom. Don't get me wrong, I understand and appreciate the screening and pasteurization process the donated milk undergoes. For preemies and NICU babies, research shows breast milk has amazing benefits. It's just that I'm not sure I could wrap my brain around him drinking another mom's milk.
At the same time, I believe milk depots offer much safer ways to give babies breast milk. I'm so shocked  when I see posts on parenting sites and e-mail groups where moms ask strangers to sell them unused breast milk. Talk about stranger danger! I've also read how some moms ask for their friend's breast milk or share within a lactation group because donated milk can cost more than $4 an ounce when you go through a milk depot or bank.
Watch this CNN report on a new milk depot in Kentucky reported by one of my former students at the University of Missouri-Columbia, Valerie Chinn, and share your thoughts below:
Donated breast milk is also available through the Indiana Mother's Milk Bank and the National Milk Bank.
Earlier this year here in Forest Park, Georgia a proposed public breastfeeding ban grabbed the headlines. City officials said it was to prevent public nudity. Watch the the "Dads Edition" guests explain it was a waste of time and money. The ban later failed after a well-attended, organized nurse-in by moms and lactivists.