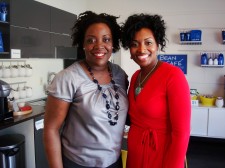 As a former TV news reporter, it's very weird to be on the other side of the camera and have someone interview you. But I was put at ease last week when I was interviewed by Tacoma Perry from My Fox Atlanta.
I connected with Tacoma on Twitter a few months ago after another TV news colleague suggested I pitch my story and my Business Idea Guide for Moms e-book to her. It ended up being a perfect fit since Tacoma is a new mom who's adjusting to full-time work post-baby, but she also cloth diapers her daughter like so many of you.
Fox 5's Good Day Atlanta came out to cover my book signing event last month at Bean Work Play Cafe, but Tacoma couldn't make it due to some breaking news. Then a technical issue came up and Tacoma was able to reschedule the story and do the interview herself last week at Bean.
Not only was I excited about the news coverage for my business and my book, but it was great for me to reconnect and talk about the news business with Tacoma and the photojournalist who came to shoot the story. Sometimes as moms, we get so caught up in our children, we forget there's still a working professional brain inside our heads that needs to be stimulated from time to time.