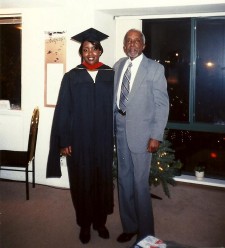 One year ago today, my Daddy's pain ended. After an almost two year ordeal where lung cancer and other illnesses took over, he passed away at our home in New York.
I dedicated my e-book, Use What You Know: A Business Idea Guide to Moms, to my Daddy since I completed it on what would have been his 79th birthday.
Free download
To help me honor my Father, I'd like you to access the free download of the introduction and dedication of my e-book here.
In a loved one's memory
I'm signing up to volunteer at the local Veteran's Hospital since my Father served in the U.S. Army during the Korean War. He also attended a program for veteran retirees. I'd love to hear other suggestions. How have you honored a loved one's memory?