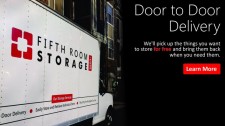 UPDATE: This company is no longer in operation in Atlanta.
When I moved to Atlanta, I rented a storage unit to hold most of my furniture and clothes. I went from living in a a two bedroom condominium with a two car garage in Mississippi to a one bedroom apartment in Midtown Atlanta, so I had a lot of stuff.
But every time I needed something from our storage unit I had to drive there, unlock the unit, dig through everything to find what I needed, hope it fit into my car, then drive it back home. Keep reading to hear about an innovative storage service that eliminates all the hassle and is offering a discount to Mommy Talk Show viewers.
Fifth Room Storage offers an easier way to
store your stuff
only pay for the storage space you need
get a reliable company to pick up your storage items for free
see an online inventory of every item you stored
make an online request to have what you need delivered when you need to use it
The full-service alternative to self-storage is based in Marietta and provides next day delivery on items you'd like retrieved from storage. So you won't have to borrow a friend's truck or rent one yourself. Moms, imagine getting your stuff from storage with just a few clicks on your computer vs. getting someone to watch the kids so you can do it yourself.
Follow Fifth Room Storage on Facebook and Twitter for money-saving advice on packing, storing and moving your belongings.
Watch how Fifth Room Storage works
Testimonial from Yelp.com:
"Fifth Room Storage is the perfect solution for my families' needs!  We live in town, in a house with very limited storage space.  We have several items that are very important to us, but we simply can't fit them in our house… I don't have to pay for space that I'm not using and we can also remove only the items we need when we need them.  Their model makes so much sense, and they are friendly and incredibly easy to work with!" ~ Katie. C