When the live-action Aladdin Movie remake was announced, folks lost their minds about the idea of Will Smith as the famed genie, originally portrayed by Robin Williams in the Disney animated movie. I can see their point. The initial artwork and posters looked a little weird with the Will Smith moviegoers know and love –  looking like a bloated smurf with a high ponytail, hovering above Aladdin and Jasmine. It was just unexpected and jarring for a photograph. As someone who's never seen the original animated film from start to finish, only a few clips like the flying carpet scene, I was blown away by Smith's 2019 interpretation of the loving character. I attended an advanced screening of the Disney film at Regal Cinemas Atlantic Station.
Here's Will Smith explaining how he put a personal hip hop spin on the Disney classic character.
The 2019 live action Aladdin movie was a beautiful interpretation of how Will Smith made the genie –  his own.
He put a "Big Willie" vibe on the fun and fantasy of having a genie grant Aladdin's wishes to find himself worthy of the love of Princess Jasmine. Just like Will Smith did in Shark Tale and The Fresh Prince of Bel Air, he has loads of fun on camera.
When he appeared on Good Morning America, Will Smith told the morning show hosts that "the hip hop angle would be my `in' vs. trying to do what Robin Williams did with the character. "I could honor the nostalgia. I could pay homage to Robin and also be able to add my new flavor."
During the Aladdin movie, when the genie was happy, the audience laughed out loud and guffawed from his jokes. In the pivotal scene where Prince Ali (Aladdin) met Jasmine and disguised his real intentions – the audience laughed so much and so often – I missed a bit of the dialogue.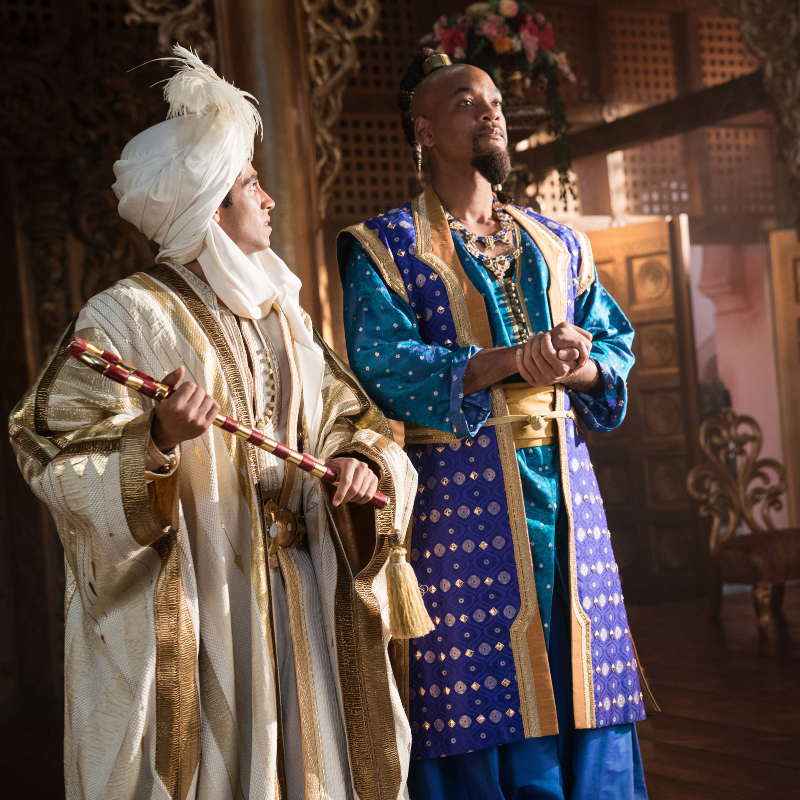 I love how the genie & Aladdin show a healthy, affectionate male relationship. These guys love each other. The also disappointed each other. Most importantly, they forgive each other.
The elaborate dance scene where the genie was the star felt like a mix between the dances in Coming to America and Michael Jackson's Remember the Time music video. It was almost too much to take in with all the camera movements, but the payoff was worth it.
There's a reason why the Aladdin movie made more than $100 million opening weekend.
Special shoutout to Nasim Pedrad who I knew from Saturday Night Love for her Kim Kardashian impersonations. She was absolutely delightful in the Aladdin movie as Jasmine's handmaid, Dalia.