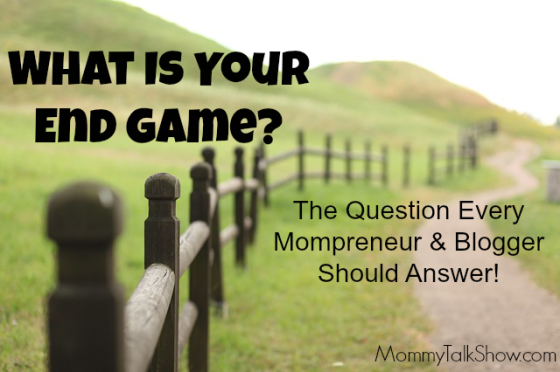 "What Is Your End Game?"
That was the battle cry of the Bloggy Bootcamp I attended in Atlanta earlier this month. It was presented by Sway Group and SITS Girls, a blogging network I've worked with for at least the last two years. One of the founders, Tiffany Romero, asked the question several times and it's been ringing in my head ever since. I'll explain why.
WORK
I have no problem telling you as a blogger I've participated in campaigns where I've been paid as little as $50 to more than four figures. Of course, I'd like more to come my way in the four figurevariety. In fact, someone called me about an on-camera TV project a few months ago that paid even more than that, although I wasn't selected. But I know now how much to ask for when a similar opportunity pops up.
"Joyce, What Is Your End Game?"
My end game isn't crystal clear at this point in terms of what I want do to, but I know what DON'T want to do. Many of the opportunities I feature on the show are because a brand or business sent me a gift card to participate. I use it to buy their product, and then I share my experience. While that's what a true review is – it doesn't equate to money. Gift cards don't pay utilities, private school tuition, grocery bills, car insurance or mortgages. Cash does.
I'd much rather be a position where I'm working on the brand's behalf as a brand ambassador, spokesperson, event host or even write for their blog like I do for Family Dollar. These are paid opportunities.
End Game Question
: Is what you're doing
financially worth it
?
My end game is…. to position myself better based on my 15 years of on-camera experience, I want to be hired to host more in-person events. I want to be in a position that if someone called and asked me to BUY Mommy Talk Show, if the money was "right" – I would.
That doesn't mean I'd go away from the blogosphere. I could create something else. Something bigger. Even something better.
Because when I'm 50 (in nine short years) I'm not going to be staying up until midnight and waking up at 5 a.m. to write, edit and shoot videos for you. Nothing personal. Just ain't happening.
I've got a million options…and an Emmy award…and a Master's Degree…and myself.
I just know that I don't want to be worrying and stressing about the same things a year from now. I've got to do better and BE better.
LIFE
This weekend I'm taking a "digital diet." No Facebook, Twitter, Pinterest etc. The easiest way to do this is just delete the apps from my iPhone. I've told my clients who hire me to manage their social media. Thanks to apps like Hootsuite I'm able to schedule much of my work on Facebook and Twitter ahead of time.
I owe this break to myself, my husband and my child. I spend most of my waking hours either sitting in front of my laptop or with my iPhone in my hand. Alerts come across every few minutes when someone tweets me or sends me a Facebook message. Social media is a very fun job, but it's also a 24/7 job where people expect to have access to you at any hour of the day.
They don't deserve it (at least for a weekend). But my family does.
Both my husband and son have heard me say "one more minute" far too many times while I sent out an email, replied to a tweet or pitched a company. Those minutes add up, turn into hours and days and leave The Antoines at the lower part of my priority list,  instead of at the very top.
End Game Question:  How are you spending time with the people who matter most?
"Joyce, What Is Your End Game?"
I'm working on my end game, probably not as fast as I should, but at my own pace. No matter where you work (even if it's at home caring for your children because that IS a job, you know?) you should ask yourself, "What will the end of this look like?"
If you a mom who's considering starting a business, I'd love for you to read the rave reviews for my e-book, Business Idea Guide for Moms.
"So, What Is Your End Game?"
My title says it's a question that every mompreneur and blogger should answer? I point out these two categories because they make up the largest part of my audience. We're the ones who stress-out about the time we spend with our children. At Bloggy Bootcamp, fellow video Danielle Smith, talked about balance…and that it's really a myth. She described it as more of a juggling act. I concur. In the end, I want to be in control of where the balls I'm juggling land.