My husband looked at me like I'd just given birth to squirrels when I told him I was riding to Orlando with someone I'd never met in real life.
"We're bloggers. It's how we roll," I assured him.
Little did I know that my soon-to-be-real life buddy, Charlotte, had a similar conversation with her husband. He too, questioned why she'd agreed to let another blogger she'd never met ride with her to BlogHer17. She calmly answered his questions.
Charlotte and I had already "met" on Facebook, chatted about logistics and such.
Early Thursday morning when Charlotte pulled into my driveway, we met for the first time. My husband greeted her, loaded my luggage into her truck and kissed me goodbye.
I had cash in hand to cover my portion of the gas, which we never discussed by the way. But I wasn't about to expect her to cover everything.
Over our six hour drive down to Orlando we chatted about spouses, children, health and I learned Charlotte was a cancer survivor. With the thick hair that cascaded over her shoulders, I could never imagine her bald or balding from cancer treatments. She's spunky, up beat and talked non-stop about her husband and children.
About an hour south of Atlanta, it happened.
You see.
There comes a time in every budding friendship between people of different ethnicities that race comes up.
I've been Black for 44 years now so I'm speaking from my experience.
Charlotte and I started talking about race and racial issues. I don't remember exactly how we started.
But what was a relief was because  I didn't have to be the Black friend who informs my new White friends on what it's like to be Black or deal with racism. She has a Black mother-in-law and other Black family members.
The hours passed. We arrived in Orlando. Charlotte dropped me at my hotel and proceeded to the host hotel for the conference.
As BlogHer 17 went on, I hardly saw Charlotte. We were on totally separate tracks.
I was creating content and social shares for my part-time gig for The Network Niche influencer agency. I chatted with blogging buddies and attended workshops.
Charlotte's husband had met her there, so it was a business and mini-vacation experience for her.
By Sunday, it was time to head back to Georgia. First, we dropped off another blogging buddy Michele from Midlife Healthy Living in another part of Florida.
It drizzled off and on for most of our return trip.
Then it happened again.
About two hours away from Atlanta, we somehow broached the topic of politics.
There comes a time in every friendship with a friend from another race  – where you brace yourself to hear whether their favorite candidate was recently quoted on CNN or Newsweek for their opinions that damage the lives of Black people.
I braced myself and knew that even if this conversation went bad, I had two more hours before I could get out of the car.
But it didn't go bad.
Although Charlotte and I voted for different presidential candidates, I respected her explanation for supporting Bernie Sanders. And I asked her my burning question for the 53% of White women who voted against Hillary.
Race and politics are sensitive topics to broach even with people you know and love, let alone with someone you're meeting for the first time.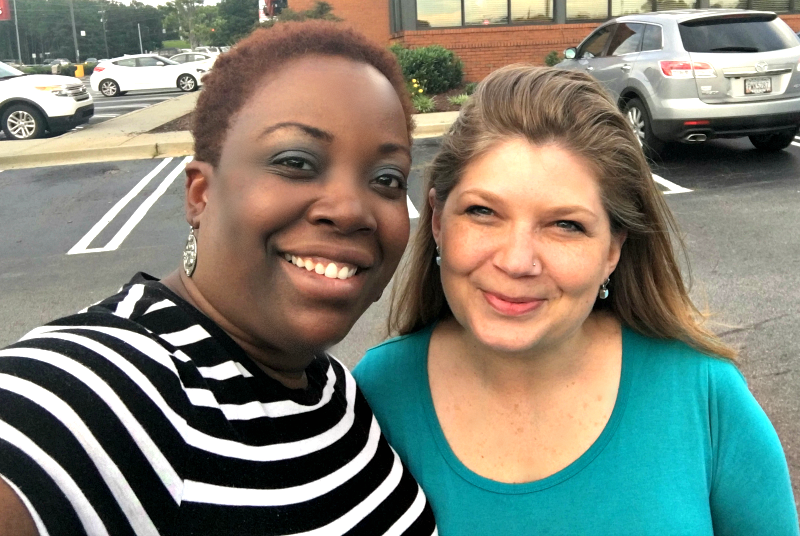 I could have made a dozen assumptions about Charlotte as a White woman from Georgia – and most of them would have been false.
She could have easily done the same about me – a Black woman from Long Island, New York – and most of them would have been false.
By the end of the trip I knew I'd made a good friend. She almost-successfully-convinced me to go camping in North Georgia with her family. Even if I don't go, I'd send The Antoines with her family.
I'd love for you to connect with Charlotte online through her Disney Nerds Podcast (Pirates of the Caribbean Review & Printables) & her Twitter feed (@ThePeachQueen_).
Note: I asked Charlotte before I published this post if I could share her cancer journey, interracial in-law journey and political leanings before I pressed publish.
RELATED TOPIC: Tired of the Election Coverage, Watch These Exciting Shows Instead