I'm interviewing three amazing e-book author moms on the show Wednesday, March 20th live at 9 p.m. EST.
If you love to read new books or want to write a book, this upcoming webcast is a must watch! Two of the guests have recently released books you can download and read at your leisure.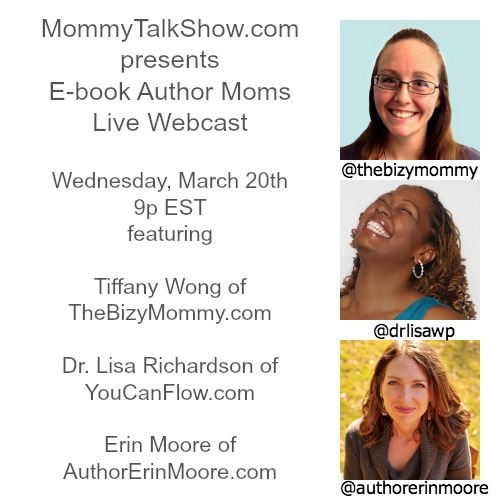 I wrote Use What You Know: A Business Idea Guide for Moms in 2012 as a way to answer the question everyone kept asking me – how did you come up with the idea for your show? It features in-depth interviews with six Atlanta mompreneurs (including me) who turned their skills into a business. There are also lists of  more than 40 business ideas moms can start based on their interests, education and expertise.
Guests:
1. Tiffany Wong of The Bizy Mommy (@thebizymommy) is a wife and mother six children. She runs a small business with her oldest son and blogs about her life. Tiffany just released The $5.00 Cookbook.
2. Dr. Lisa Richardson (@drlisawp) is a single mom of two boys who is a WordPress and business efficiency pro through You Can Flow! Her e-book, The WordPress Therapist, is a must-have for bloggers and business owners who like a DIY website.
3. Erin Moore (@authorerinmoore) is a wife and mother of two. Her book Kissed by Moonlight will be released this week.
How can you get involved?
1. Share this link with bloggers, writers and voracious readers. Share, like, and pin this post using the buttons below.
2. Join in the conversation live via webcam Wednesday by, signing up for the live Spreecast event.
3. RSVP on the Facebook event so you can stay up-to-date in case we have any technical issues.
4. Tweet "Watch @MommyTalkShow E-book Author Moms 3/20 at 9P EST http://bit.ly/authormoms #authormoms"
Are you an author?
Would you like learn how to write an e-book or know how to get a publisher?
What questions do you have for the guests?