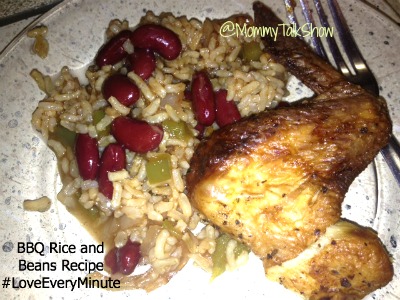 I'm not a cooker. I'm more of a preparer. That's why you won't see many recipes on my show that require more than five steps. So I put a little twist on the BBQ rice and beans recipe I found on the Minute Rice recipe page. I thought it would be the perfect side dish for the already prepared rotisserie chicken I purchased at the grocery store. I also chose it because our son loves BBQ sauce, he'll get much needed protein from the kidney beans along with vegetables from the onions and green peppers.
BBQ Rice and Beans Recipe
Ingredients:
1 small onion, chopped
1 small green pepper, diced
1 Tbsp oil
1 can (15 1/4 oz.) kidney beans, drained
1 1/2 cups water
1/2 cup barbecue sauce
1 cube chicken bouillon (of beef)
1/4 tsp garlic powder
1 1/2 cups
Minute®Brown Rice, uncooked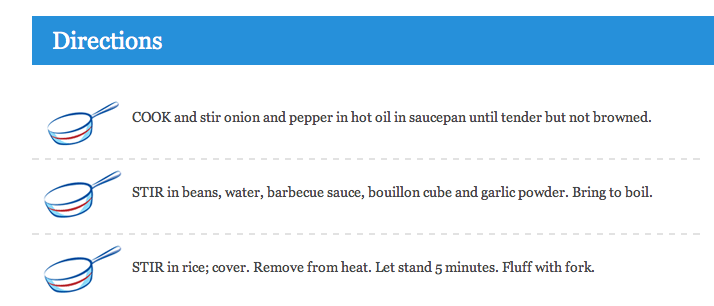 Recipe Reveal
I wish you could have smelled the onions and peppers as they sautéed in the skillet. I almost wanted to eat them without the rice. From start to finish, including chopping the onions and peppers, this Minute Rice recipe took less than 15 minutes. As a first timer, I made it during my son's afternoon nap. This way I didn't have the stress of cooking with him holding on to my legs – like toddlers love to do.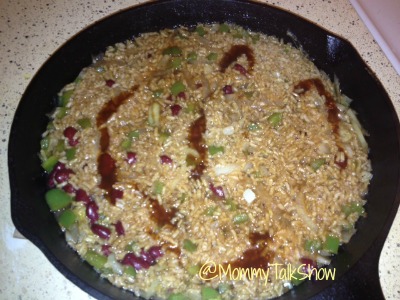 Thanks to this recipe, we had enough for leftovers which is another time saver. I also added a little BBQ sauce across the top so my son could see it! For some reason he didn't believe that there was BBQ sauce in the recipe.
Have you tried Minute Rice as a side dish or main dish?
Do you think it can help you fix meals faster?
Minute® Rice is so quick and easy to prepare and is great pantry staple. When meal time seems like a hassle, Minute® Rice is a go-to ingredient your whole family will love and allows you to have more quality time doing what your want with your loved ones.

Leftover rotisserie chicken or veggies from a meal earlier in the week? Minute® Rice can easily be paired with some of your leftover ingredients to make a quick, easy and wholesome meal your whole family will love in just a matter of minutes.

Visit http://www.minuterice.com/ to create a great main meal or side dish for your next family get-together or potluck.
Disclosure: This is a sponsored post written by me on behalf of Minute® Rice.