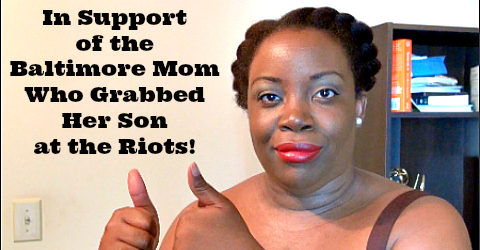 As the parents of a Black son, we are guarded and careful to make sure that he behaves. Not just because good behavior makes it easier on us, but because one day A.J. will go out into the world as a young Black man. He'll be stereotyped and judged and racially profiled. It's just the reality. Even though we have a Black president and I've had a successful career as a Black journalist, we don't put our heads in the sand. Neither do Trayvon Martin or Mike Brown's parents. So when I saw the Baltimore Mom who grabbed her son from the streets and tried to slap some sense into him because he was throwing rocks at cop cars, I applauded her. And I sympathized with her. And I understood her. I would rather spank A.J. now to keep him in line, than for a school district or police officer to get involved in disciplining him. Watch my video in support of the Baltimore Mom, then read even more about how I was raised to be scared to death of my parents.
Video:
In Support of The Baltimore Mom
Who Grabbed Her Son at the Riots
It pains me to have to write topics like "He's Cute at 4, But Will You Call Him a Criminal When He's 14? about our son.  Or to remind folks that our son is not automatically a suspect as I did with this Essence Magazine campaign, #HeIsNotASuspect in 2013 after the shooting death of Trayvon Martin. It also pains me to know that my husband has changed the way he drives. He no longer puts his wallet in his car's glove box –  out of fear that a police officer would misinterpret him reaching for his ID, as him reaching for a weapon.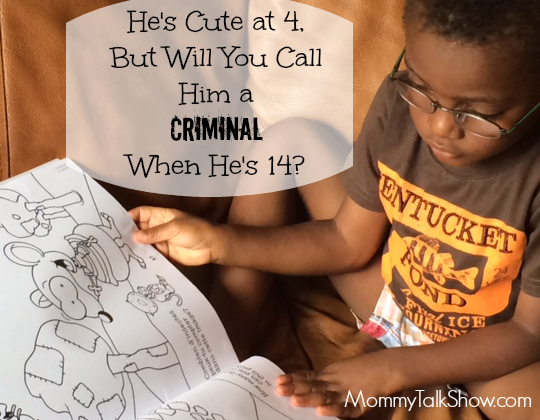 When my husband and I were growing up, we were far more afraid of our parents than we were of the police.
My Mother was quick to warn us, "I'll slap you so hard – your head will be rolling down the street saying `I ain't got no body!'" Now if that's not a threat, I don't know what is.
Our son will be raised with the old school discipline we hated at the time, but embrace wholeheartedly now that we're parents. Most of the Mommy Talk Show Facebook fans agreed with me in support of the Baltimore Mom, except I'd be praying for Jesus to withhold my strength to keep me from killing him for putting himself in danger.
I DO NOT believe in child abuse. But if I ever saw/heard/felt like A.J. was out committing a crime, I'd do the exact same thing as this Baltimore Mom (without the profanity) who saw her son on TV rioting!

Posted by Mommy Talk Show on Tuesday, April 28, 2015
In fact, there's a movement on social media to award the Baltimore Mother, #MotherofTheYear.
This mother is giving me LIFE. https://t.co/ScLToyLZbC

— Steve Osunsami (@SteveOsunsami) April 28, 2015