I recently attended an Atlanta blogger event and tour at Emory Point retail center on Clifton Road. I received gift cards and attended a luncheon at Tin Lizzy's. Here's a recap of what we learned about the mix of local brands and national chains Emory Point offers, a video of our tour and an opportunity to win a $60 gift card shopping spree.
Video: Emory Point Tour
See those ladies and cute kids in the photo? Many of us are members of Georgia Social Media Moms, a group of moms and dads who blog and work in social media. When we get together for events like the one at Emory Point, you can expect a lot of tweets, photos and videos documenting our experiences. Plus, they're all really cool. I just thought you'd want to know who they are. You'll see them in the video below.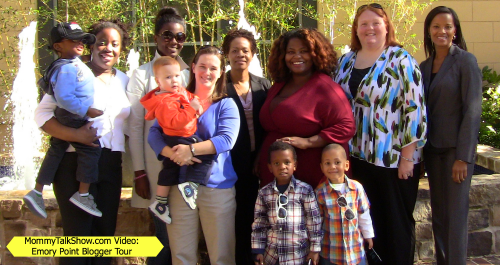 Emory Point
Before this event, I've dined at Marlow's Tavern twice for date nights with my husband. We always enjoyed it. The service was great. The food was amazing. We felt safe at Emory Point at night and there was plenty of garage parking. Enjoy two hours free garage parking before 5 PM and three hours free garage parking after 5 PM.
One of the places that I look forward to visiting again is The General Muir, created by the same folks who own the West Egg Restaurant. I love Starbucks, but I also support local coffee shops too. I can't wait to try the breakfast dishes there or go back in the evening with my husband. Hear from one of the owners in my video tour.
We enjoyed an array of tacos and quesadillas at Tin Lizzy's restaurant. A.J. enjoyed it as you can see from the Instagram photos below. I've even been back to redeem my gift cards for margaritas and they were amazing!
Connect with Emory Point
See the selection of restaurants, shops and apartments available at the Emory Point website. Like Emory Point on Facebook and follow @EmoryPoint on Twitter. Keep an eye on the Emory Point Special Events page too.
Emory Point Gift Card Giveaway
I've teamed up with Barbara of Atlanta's Frugal Mom and Yolanda from Seeing It Their Way to share our gift cards with you to go on a $60 shopping spree at Emory Point. Qualify to win $10 gift card to The General Muir,  $25 gift card to Paradise Biryani Point Restaurant, Two (2) $10 American Threads gift cards and a $5 Jazmin Spa gift card. Good luck!