I received a Gift Tree Box to review and share my honest opinion. Besides fruit, there were delicious blueberry filled cookies, Teatulia Tea and an assortment of nuts, jelly candies and crackers in our fruit basket. We had to keep the nuts away from A.J. though due to his fruit allergy. Overall, it was a great gift to snack on right before the holidays while we watched Christmas shows and cooked dinner. I decided to share the 5 types of moms who'll love to receive a gift tree fruit basket for Christmas since I'm sure there's someone on your list who fits these categories. Note: The last day for ground shipping by Christmas is today – Friday, December 20th.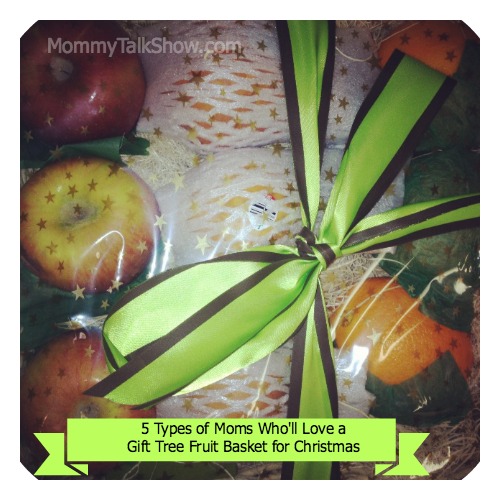 Gift Tree Fruit Basket
1. Postpartum Mom
When I first had A.J., I remember dreaming that someone would bring fresh food to my doorstep. Postpartum moms are tired, hungry and if they're breastfeeding – healthy foods are a must-have. Send your friend with a newborn a Gift Tree Fruit fruit basket and she'll probably name her next child after you.
2. Toddler Mom
Speaking from experience, I can tell you toddler moms are charged with entertaining people who are about 3 feet tall and have a 3 second attention span. A new box with fresh fruit and other foods in it will be a hit. Plus the toddler can play with the basket and box for about 45 minutes. Here's an Instagram video showing how my 3 year old squealed when I opened the box.
3.
Working Mom
After working all day, fighting traffic, coping with her boss and navigating the drop-off/pickup lines at school, a working mom may have forgotten to shop for appetizers for the guests who are stopping by. She can whip out her Gift Tree Fruit Basket, add some crackers and cheese to the spread and be done!
4.  Teenage Mom
Her job is to keep the pre-adults in her home from killing each other, while keeping a fully-stocked pantry. Teenage mom needs the healthy protein found in nuts to keep her energy level up. Besides, if the teenagers eat what's inside the gift tree fruit basket, maybe they'll stop trying to kill each other for 5 minutes.
5. Retired Mom
She should expect guests to drop by at any friggin' time of the day now that she stopped working. There's the assumption that retired mom has a lot of time on her hands.
Comment below: Can you think of another type of mom who'd love to receive a Gift Tree Box of fruit, nuts or candy for the holidays or any occasion? How have friends and family reacted when you sent assortment gift boxes.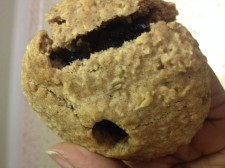 Connect with GiftTree.com to see the assortment of wine, fruit, chocolate and floral gift boxes it offers. Be sure to Gift Tree on Facebook for the latest promotional offers.
See the other items I've featured in the 2013 Holiday Gift Guide including;
7 Holiday Gifts for Teachers under $30 and how to get dressed for a holiday party fast. For the gadget person in your family consider the Chargestik mobile battery.
Use the sharing tools to share them on Pinterest, Facebook and Twitter.