Here's the video I produced for Music Together Miss Wendy, Atlanta music classes for children, featuring the educational and social benefits of music education. Keep reading to learn how to register for her Fall 2013 classes in North Decatur, Georgia and enjoy a complimentary music event for your family. Registration is open now for classes beginning September 9th.
Comment below: Have your children taken music classes? What role do you think music education has in building skills for babies, toddlers and preschoolers?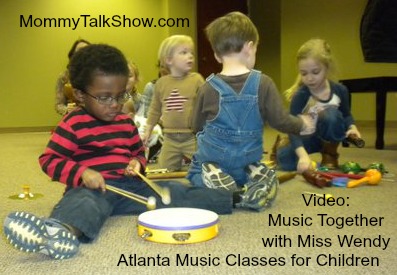 A.J.'s Music Skills
A.J. loves to dance and make music. He got a drum for his first birthday that he still loves.
In Miss Wendy's class he's been exposed to more instruments, new types of music and new friends.
He's learned to take turns and the difference between up tempo and classical music
Register for Music Together with Miss Wendy
Fall 2013 Schedule: September 9 – November 11, 2013
Location: Clairmont Presbyterian Church on Clairmont Rd in North Decatur, GA
Pick a date/time that works for you
Mondays:  10:00a – 10:45a
Wednesdays:  10:00a – 10:45a
Thursdays:  3:45p – 4:30p
Cost: $40 registration per family includes two (2) cds. Tuition: $120 ($100 for 2nd sibling; $80 for 3rd sibling)
Suggest another date and time by e-mailing Miss Wendy: [email protected]
Visit the Music Together with Wendy website. Follow Miss Wendy on Facebook to get updates on classes and demonstrations.
Eat Pizza Together, Make Music Together
"Miss Wendy will lead families in a free, fun-filled music and movement experience. Expect finger plays, chants, moovin', groovin', instrument play, & a rollickin' good time!"
Wednesday, August 28th
11:00 – 11:30 a.m.
Sapori di Napoli's patio at 314 Church St. in Decatur, Georgia.
Tell them Miss Wendy sent you and get $1 off your meal
Use the social sharing tools below to Like, Tweet and Pin this story
so more Atlanta parents see it and learn about the Music Together with Miss Wendy classes.