When we pulled up to the Fernbank Museum of Natural History, A.J. yelled "Dinosaurs! Mommy, I see the dinosaurs!"  They're on display at the Fernbank's entrance. But what he didn't know was that we were going to see the Extreme Mammals Exhibit.
Here are four reasons your toddlers will love it. The Extreme Mammals exhibit starts today  (March 2, 2013) through August 18, 2013. We brought our friends R.J., Aaliyah and their mommy Nailah along because we hadn't seen them in a long time. We knew they would have a lot of fun too.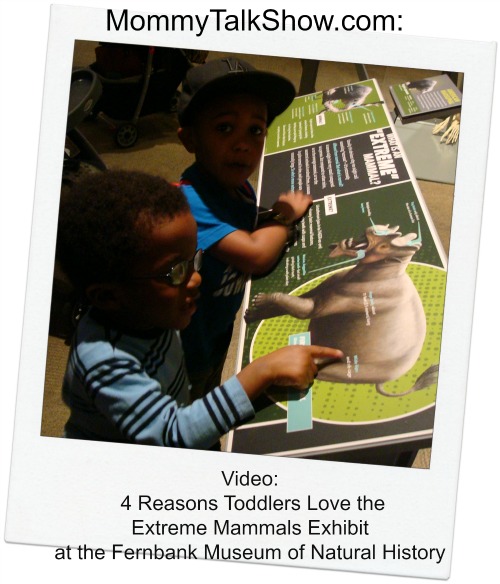 4 Reasons Toddlers Love the Extreme Mammals Exhibit
It's spacious. As much as A.J. and R.J. liked to see the exhibits they also like to run. They're boys. The Extreme Mammals Exhibit had displays that had a lot of space between them.
Video screens. We saw at least two videos about mammals, how they reproduce and survive. There were benches near the video screens too so kids can sit down and watch.
Height appropriate activities. Nothing frustrates a toddler more than NOT being able to do something they see everyone else doing. But you can see

in the video below

how A.J. and R.J. could easily reach the display information for the mammals and touch them.
Interactive displays. Speaking of height, there's a cool display on the ground that A.J., R.J., Aaliyah and another little girl could crawl inside. It's

in the video below

too!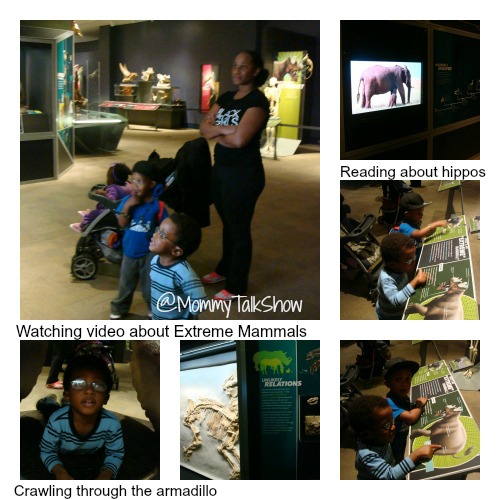 Video Interview: Fernbank's Animal Programs Manager
Visit the Fernbank Museum of Natural History
"Admission to Extreme Mammals is included with Museum admission and free for members. Museum tickets are $17.50 for adults, $16.50 for students and seniors and $15.50 for children ages 3 to 12 (ages 2 and under are free). Purchase tickets in advance onlineor at 404.929.6400."
Disclosure: We received complimentary entrance to the Fernbank Museum of Natural History for media day.
All thoughts and opinions are my own. No other compensation was received.