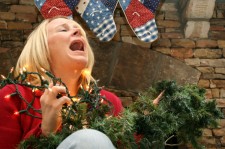 Did you have a Christmas spending plan and stick to it? If the answer is no, listen to the lessons from the "America's Cheapest Family" and consider making your own gifts next Christmas.
Their advice will help you spend less at Christmas without feeling guilty.
The Economides even make their own Christmas ornaments and wrapping paper!
I'm not crafty, but they made me consider some frugal and festive ways to decorate for next Christmas.
Visit msnbc.com for breaking news, world news, and news about the economy
"America's Cheapest Family" also shares their cost saving lessons in their books: