I've noticed that a reality for Black American families, known as "The Talk," reached a wider audience when several TV shows recently explored what it is and what it means. In case you don't know, "The Talk," typically focuses on the perceived threat that young Black boys and men pose in the United States. This is most often talked about right after an unarmed young Black man is killed by police. Think of the victims – Tamir Rice, Botham Jean and Trayvon Martin. In reaction to these tragedies, Black families have "The Talk" with young boys about how to take life-saving steps to avoid encountering police AND how to survive a police encounter. While this dangerous stigma is most often wielded at young Black men, young Black women have their own burden of perceptions to carry. Just typing those words gave me a headache because children shouldn't be burdened with this mental load of surviving the way others perceive them.
When I recently visited The Center for Civil and Human Rights here in Atlanta to discuss their upcoming children's programming, a volunteer asked me about my children and their ages. I told her we have a 9-year-old son. She responded that he may not be familiar with some of the racial history the museum curated inside. I promptly reminded her, "He's a Black Boy. He has to be aware. We have these conversations all the time." Her face shame showed a mix of shame and recognition. She replied, "You're right."
Maybe you're not as familiar with these deep conversations that go on inside Black and Brown homes, but these TV shows give you a good glimpse.
1. "Raising Dion"
The Netflix hit streaming show displayed "The Talk" with one of the youngest characters I've noticed on TV.
Dion is a 7-year-old boy who lives in Decatur with his mother, Nicole, and he lives with a secret – he has superhero-worthy powers. When Dion started a new school, he encountered a teacher who doesn't seem to give him a break. Dion is a bright, active boy. But the teacher doesn't see that.
In the show Dion's dad, Mark, was killed in a mysterious drowning, so "The Talk" is left to his mom in Episode 3. She must remind him that because of his skin color, some people, like the teacher, will assume that in school fights or disputes that Black boys are at fault.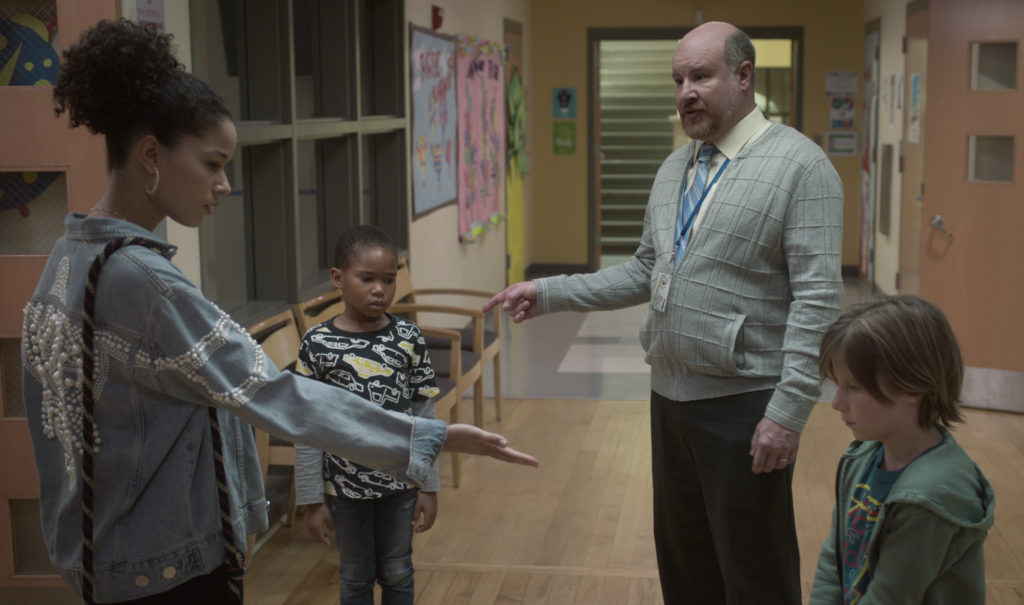 When Jonathan stole Dion's cherished watch from his dad, the teacher believed Jonathan and not Dion about who started the fight. Dion ended up staying after school for detention. Thankfully, Nicole was still on campus to intervene and advocate for her son.
Dion: "Why didn't Mr. Campbell believe me?"
Nicole: "He assumed you were a bad kid."
Dion: "Why?"
They're interrupted when Dion has to go back to class, led by his supportive Black male science teacher. (I see you Netflix writers!) But Nicole continued the conversation later with Dion, prompted by her sister who reminded Nicole, "He needs to know what he's up against!"
Before Dion's bedtime, Nicole tackled the topic with Dion again. She reminded him he's a smart, funny, handsome boy who people will still try to box-in.
Nicole: "You're incredible, but sometimes other people – they're going to be afraid of you."
Dion: "Because I have powers?
Nicole: "This isn't about powers. This is about people treating you differently because of the color of your skin."
Dion: "I thought Dr. King fixed that!"
Dion's light-hearted childlike perspective provided a much-needed break in the tension and emotion of the scene.
Nicole: "You have to be more careful than other kids. You can't give any reason for people like Mr. Campbell to try and hurt you."
I hope you watch this series, not only for this scene, but because "Raising Dion" is an amazing sci-fi family show filmed on-location in Atlanta. We noticed a few landmarks and familiar places when we watched the show. There's also a plot-twist that had us gasping for air and talking about it non-stop. You can easily binge-watch the nine exciting episodes of "Raising Dion" in one weekend.
Raising Dion Trailer
2. "Grey's Anatomy"
The long-running ABC show, "Grey's Anatomy," is known for tackling tough topics and controversies in medicine.
When an unarmed Black boy was shot while he tried to climb inside his house in a wealthy neighborhood because police assumed he was reaching for his cell phone, Miranda Bailey and her husband, Ben, decide it's time to give their teenage son "The Talk."
In the "Personal Jesus" episode Miranda and Ben give Tuck a long list of ways to stay safe if he encounters police. It's too much for adults to shoulder, let alone children. Nevertheless, here we are. Here's the video clip:
3. "Black-ish"
Another award-winning ABC show and its title is an indication that it tackles Black issues while pointing out privilege and wealth.
Dre led an advertising campaign at work about "The Talk" in collaboration with My Black is Beautiful with Proctor & Gamble.
Let's talk about The Talk. #blackish pic.twitter.com/fV5euCOBbQ

— black-ish (@blackishabc) January 22, 2018
Leave it to Grandma Ruby to add the comedic flair of "America hates you" in her continuous talks with Dre. As much as we don't want to admit it, it's essentially what Black parents have to remind our children about their interactions with police, store owners, or anyone in authority.

How do we handle "The Talk" in our home?
For us, "The Talk" isn't so much one deep conversation, but a series of conversations and observations throughout A.J.'s childhood. We have been talking a lot about privilege and gentrification as Atlanta neighborhoods get to be more expensive. He's had his own experiences with bias when he's been in public with our friends who are White. He's been asked by children in the park if he's a slave and if he's adopted. Those same kids who ask him ignorant questions will become adults who perpetuate false, dangerous assumptions about Black and Brown children UNLESS they're taught otherwise.