To be just four years old, our son has an amazing with with words. Just like tonight after bath time when I was getting his PJ's and lotion ready, he danced around the room and said, "I'm so glad I picked you as my Mom."
I was taken aback and asked why he picked me (playing along).
A.J. said, "When I was a baby I was just crawling around looking for a Mom and I picked you. I'm so glad I picked you as my Mom," followed by the biggest bear hug that a 35 pound four year old boy can muster.
He is priceless.
And smart.
And he picked me.
And he's not ashamed to say it loudly and hug me for it.
This is a day when having a four year old is breathtakingly sweet. So I'd like him to stay four years old forever. That's not much to ask, is it?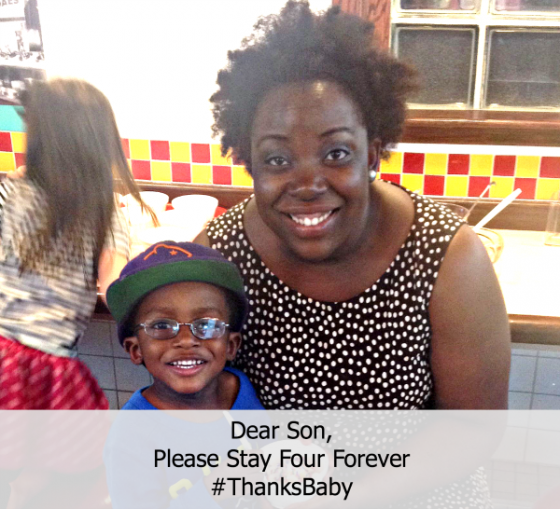 He must sense that I needed to hear this because this Mother's Day I won't be home with the two men I love. I'll be driving back from an out of state conference. Already the mommy guilt is kicking in. But when our son says sweet things like this, I feel assured that in my groggy, multi-tasking state of blogging and being home with him –  that he still thinks I'm worthy of being his Mother. And for that I say #ThanksBaby because Mommy often wonders if she's doing a good enough job.
On this Mother's Day, Pampers wants us all to remember that "when a baby is born, a Mother is born." These amazing creatures choose us (according to my son's philosophy) and take us on this journey we call motherhood. Be sure to follow @Pampers on Twitter and like Pampers on Facebook where you can share your #ThanksBaby moments.
Pampers Video
For every view this video receives, Pampers will donate one diaper and up to one million total to Feeding America. So be sure to watch and share!
Pampers Giveaway
Enter to win a giveaway worth approximately $100
Size 5 Pampers Diapers
Pampers Wipes
$75 Target Gift Card for a Family Photo
Picture Frame
Baby Play Book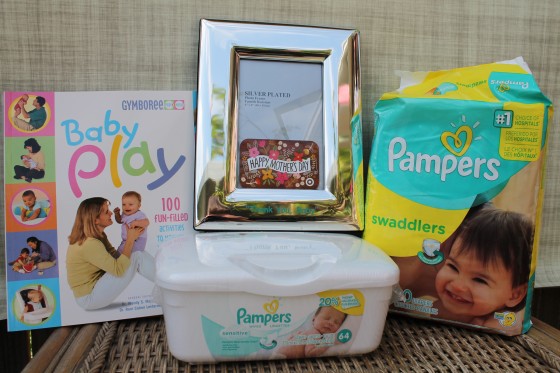 Enter by May 23, 2014 at 12 a.m. EST
a Rafflecopter giveaway

#ThanksBaby Twitter Party
Date & Time: Thursday May 8th at 9pm EST.
Follow & RSVP: http://www.twtvite.com/thanksbaby
Win: Swaddlers, plus gift cards from Sephora, Kohl's, Gallery Direct, Swaddlers and a BOB Revolution Stroller
Hosts: @DoubleDutyDivas @BridgetteLA @CeceliaMecca @AngieKcom @WhatMommiesNeed @RamblingChick and sponsor @Pampers
Disclosure: This review was made possible by Double Duty Divas.
I was provided the featured product free of charge to facilitate my review, but all opinions are 100% mine.