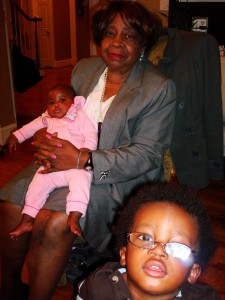 Last month, my Mom flew down from New York and stayed for nine days to help us with A.J. while I attended Digital Atlanta week. It was an amazingly restful and relaxing week for me because my Mom and A.J. were like "two peas in a pod."
Since the guest bed is in A.J.'s room, Grandma was the first person he saw when he woke up. They read books, had breakfast together, colored and talked the day away. (They're both quite talkative even though he mixes babble in with the words he knows). This was all while I grabbed an extra few minutes of sleep, ran errands, took a Ladies Who Launch incubator workshop and attended Digital Atlanta.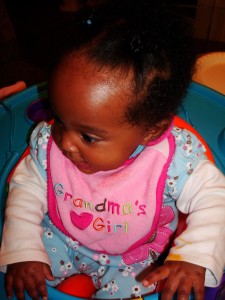 During my Mom's visit, we also stopped by to see my cousin Lisa's family and her new additions – twin girls. Lauren and Sophia are almost six months old and are absolutely gorgeous. My Mom had a great time with them too. I had to be careful about holding the twins because A.J. can get jealous.
Even though my Mom is in New York, it's a blessing for her to come when I need her to help with A.J. Since she left, he's asked me several time, "Grandma, coming back?" He'll see her in a few weeks at Christmas.