A.J. has been counting down to the day the Teen Titans Go Movie hit theaters. He's a huge fan of the TV show on the Cartoon Network. I admit I didn't know much about the show even though A.J. usually watches it in the afternoons. For our preview experience of the much awaited film, we invited A.J.'s best friend to join us.
Here's some background in case you're a Teen Titans Go "newbie" like I was.
Teen Titans Go Movie Characters:
Robin (Scott Menville)
Cyborg (Khary Payton)
Starfire (Hynden Walch)
Beast Boy (Greg Cipes)
Raven (Tara Strong)
Jade Wilson (Kristen Bell)
Slade (Will Arnett)
Movie Overview:
Robin (Batman's sidekick) goes to extreme lengths to pursue his own superhero movie including movie director, Jade Wilson. His crew (Cyborg, Starfire, Beast Boy and Raven) helps him along the way as they do almost everything from trying to change the past to eliminate all superheroes like Super Man and Wonder Woman.
Watch the Teen Titans Go Movie Trailer
I was initially skeptical of a TV show becoming a movie. Although the first Sex and the City movie was great, the sequel was atrocious. I was so bored that I could feel my hair growing. I hoped that A.J. wouldn't be disappointed by his favorite cartoon.
As a newbie, I like that the film set up who Robin's crew is – and what their superpowers are.
For the 8-year-old and his BFF, the film brought non-stop laughs. They considered it just as funny as the TV show for these key reasons:
Butt jokes
Teen Titans Go crew songs
Non-stop superhero antics
"Back to the Future" throwback
A supportive self-confidence message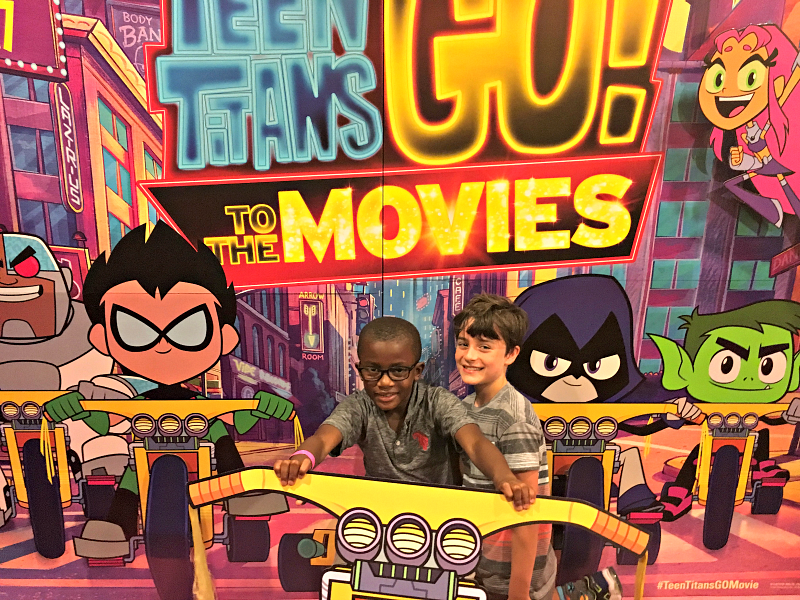 Kim from Beauty and the Bump experienced a preview in the Hamptons on Long Island with Teen Titans Go star Will Arnett.