Each year we've planned A.J.'s birthday celebrations we've been able to adjust to his new interests and his motor skills. First birthday parties are more for crawling and smashing cake. Now that he's six years old, playing games and anything active are his favorites. So an arcade, laser tag and bumper car party were ideal for him, his classmates and friends.  Thank you to Stars and Strikes Sandy Springs for partnering with us for A.J.'s birthday party. Keep reading of my full review of his "Arcade Bash Party" Stars and Strikes Birthday Party and how you can bowl free this summer at any of their seven Georgia locations.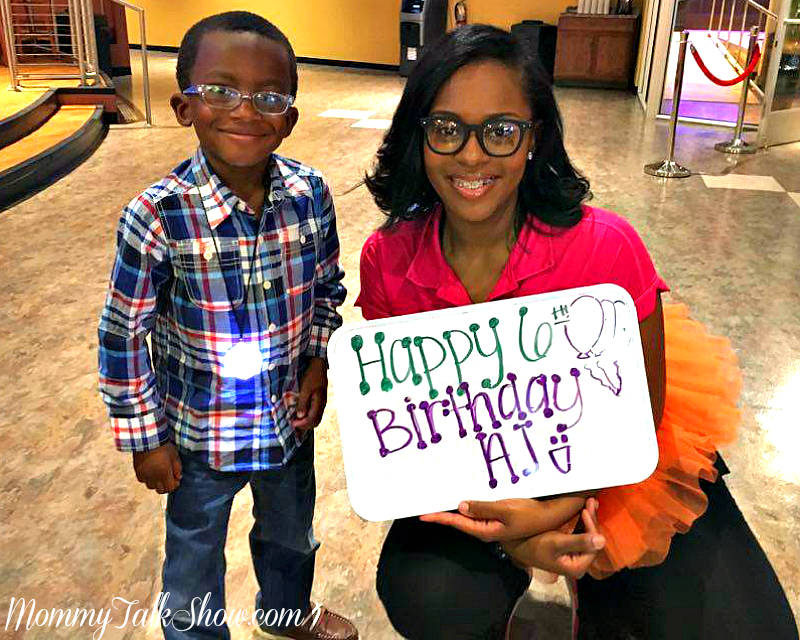 We were greeted by our party host, Taylor as soon as we arrived. As the Birthday Boy, A.J. got a large balloon hat to wear for the party. But you'll notice from the rest of my photos that it didn't stay on long because there was so much activity. My one regret is that we didn't get a "Family of 3" photo with me, A.J. and his Father. But I snapped a great photo with his Grandmama.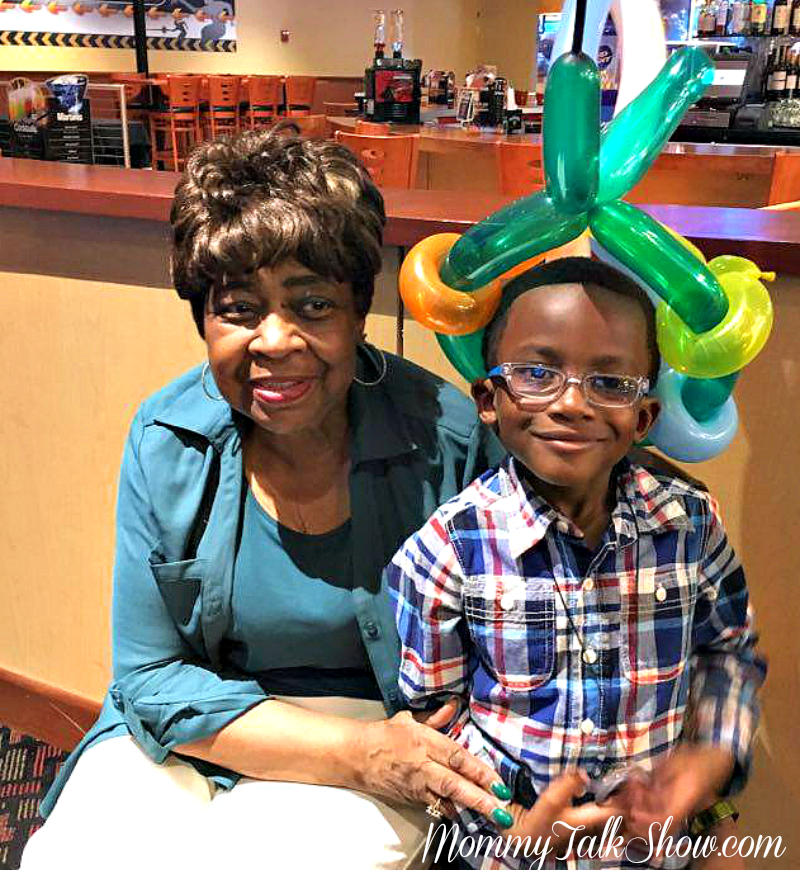 As our guests arrive were taken to our party room area near the bowling alley. Each guest got Arcade Action passes to head straight to the game area. The next phase was laser tag followed by more arcade time, a bumper car session and even more time in the arcade.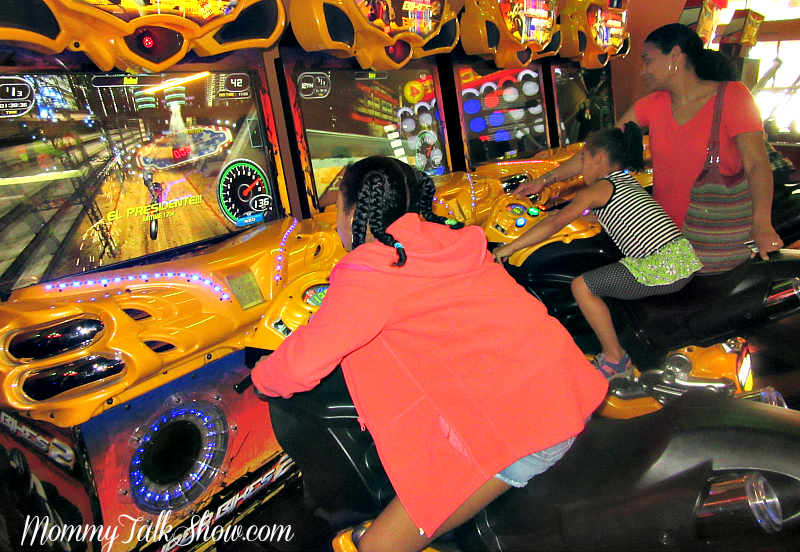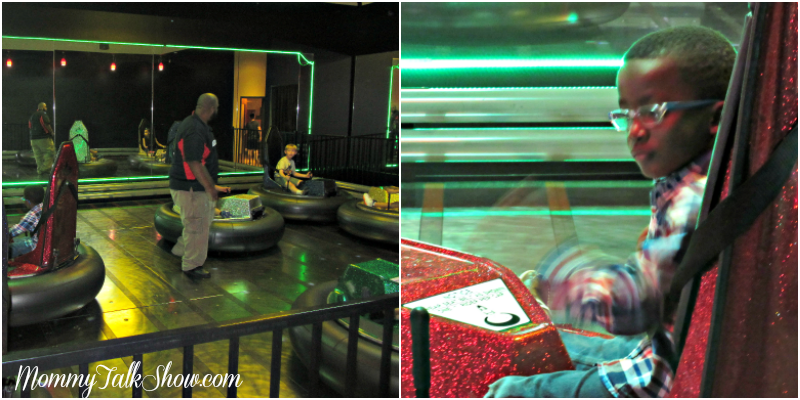 When it was time for bumper cars, each guest got time wit round of indoor driving. I admit, when there was extra time and space for adults I jumped at the opportunity. I took no mercy on A.J. and his classmates. You know there's no scores kept in bumper cars, but in my mind – I won.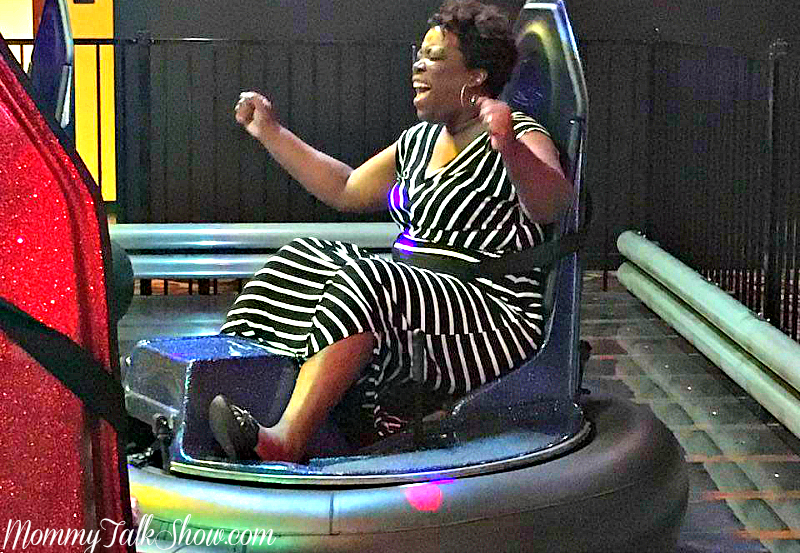 A.J. and his guests NEVER stopped moving at his Stars and Strikes Birthday Party. The only time we sat down was to eat pizza and cut the cake.
Taylor served that cheese and pepperoni pizza and drinks to our guests, then we enjoyed the custom superhero cake a friend made for us. I forgot the birthday candle AND a cake cutter,  but Stars & Strikes provided both –  in case you forget yours too.
Of course, if this party had been at home we would have had to set up, serve and clean up. In this case, Taylor handled it and a few mommy friends pitched in to be helpful.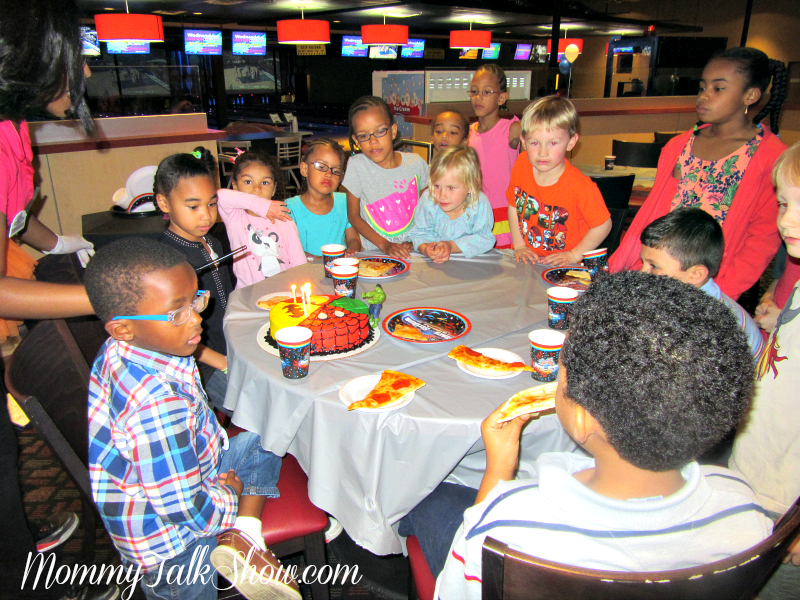 As a huge superhero fan, we looked on Pinterest to find an idea that included all of A.J.'s favorite characters: Batman, The Hulk, Spiderman and Flash. What do you think of the cake? At Stars and Strikes birthday parties, the cake is the only outside food allowed. For you guests, choose from pizza, burgers and fries, or a cheese quesadilla and fries.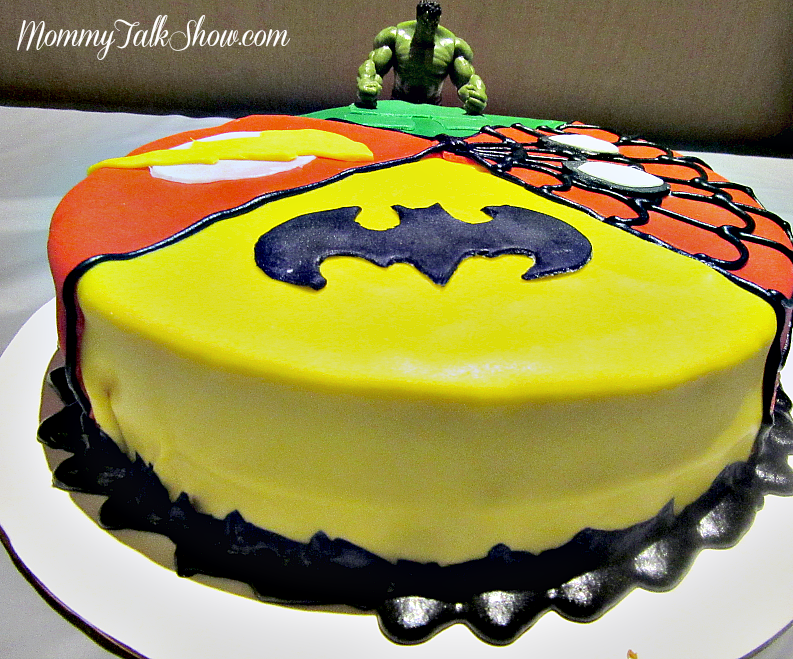 Like all arcade adventures, the better you do, the more points you earn and can redeem in the game center for prizes and candy. One week after our party, A.J. got a cute thank you card in the mail from Taylor which was an unexpected surprise.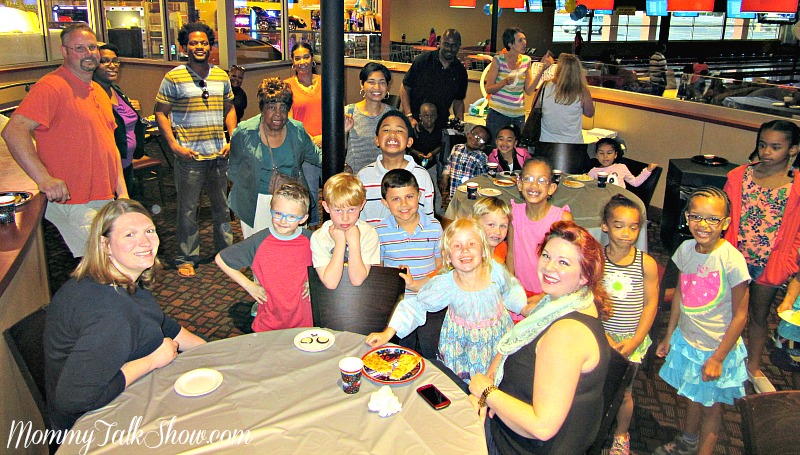 Are you planning an upcoming birthday party or group event? See the full selection of Stars and Strikes Birthday Party options. Book your party by calling your favorite location (Cumming, Columbus, Dacula-Lawrenceville, Sandy Springs, Stone Mountain, Dallas Woodstock, Buford/Mall of Georgia or Loganville) or when you stop by for a tour you'll see a kiosk station to reserve your party right in the lobby.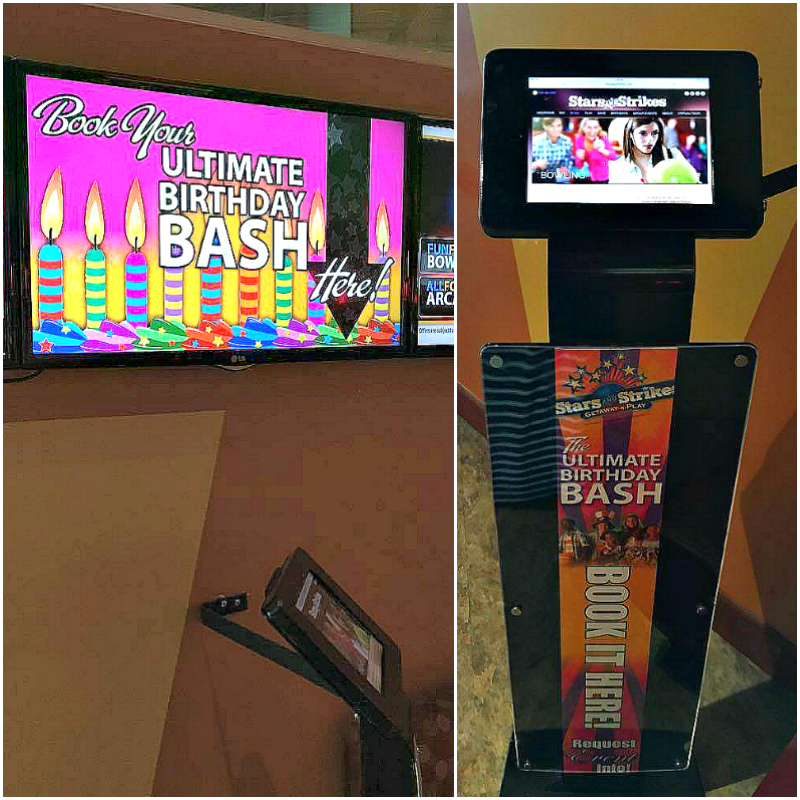 Several of our guests who'd never been to a Stars and Strikes location before said they plan to come back this Spring or this Summer. I found out about a free summer program that can make your visit a breeze.
[Tweet "Atlanta parents: Enjoy Kids Bowl Free this summer via @StarsNStrikesGa"]
2016 Stars and Strikes Kids Bowl Free Program
"Kids Bowl Free, is a nationwide program that offers kids 15 and under Two Free Games of Bowling per day all summer long. The program will run from Monday, April 18th through Friday, August 26th.  Parents and children must register at www.kidsbowlfree.com/starsandstrikes to receive this offer. Once the kids have been registered, they will receive weekly coupons that may be redeemed for their free bowling.  The guests may either turn in printed coupons or show the coupons on their phone/tablet for redemption.  In addition, we will be offering weekly coupons of our own to the guests who sign up for this program."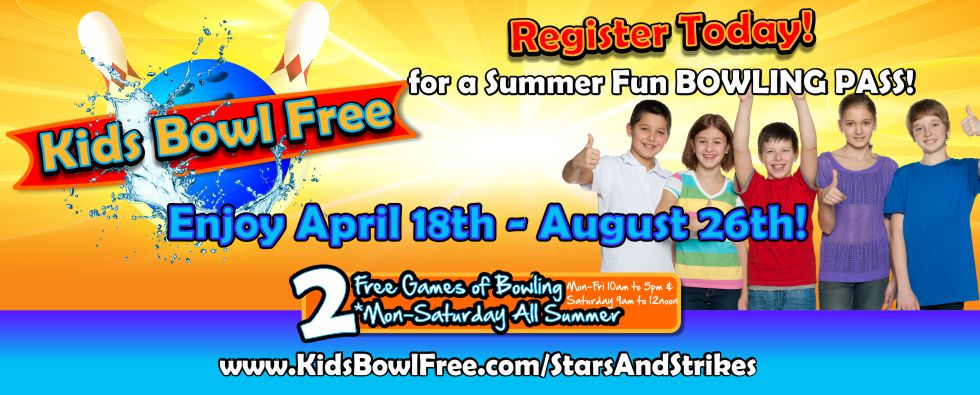 Kids Bowl Free is available at Stars and Strikes weekdays 10 a.m until 5 p.m.; Saturday: 9 a.m. until Noon; Sunday it is not offered. The program does not include shoe rental. 
Kids Bowl Free Family Pass
The Family Pass allows for 2 GAMES of bowling per day, per adult family member, up to 4 family members all summer long! This one-time payment of $24.95 (available only online at www.kidsbowlfree.com/starsandstrikes) is great for older siblings, parents, aunts, uncles, and even a babysitter. The family pass can only be used while bowling with the children.