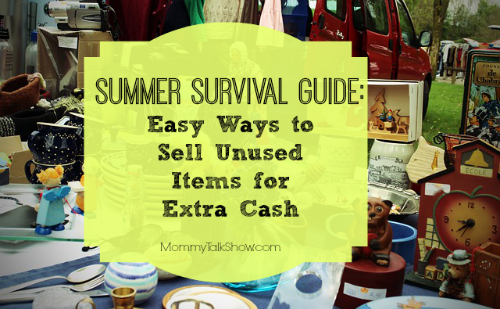 With camp costs and travel expenses, your summer budget may be pretty tight. I just had an emergency laptop repair that blew my monthly budget out of the water.  Thankfully, I've remembered to sell things I no longer needed, so I had a little more flexibility than usual. Here are my suggestions on where to sell unused items for extra cash. My affiliate links are below. Reminder: Use the social sharing tools to pin, Tweet and Pin this so your friends can see it and save too!
Sell Unused Items
Old devices: iPhones, iPods, MacBooks and Cell Phones
I just upgraded to an iPhone 5s because I needed more storage for videos and photos for myself and my social media clients. But I was left with a perfectly good iPhone 4s that I wanted to sell. I'd seen TV commercials about Gazelle.com where I could sell it online. The amount you receive depends on the devices condition and the market value. When I first checked online for the value it was $140. But it took me about a month to properly unlock my AT&T iPhone due to the sales return window (in case I wanted to return the iPhone 5s), I had to pay my bill so that my account was current and I needed to follow the instructions to unlock the device so it could be resold. By then, the price had gone down to $125. But Gazelle makes it super simple for you to mail the device in with a preprinted shipping label (at no cost to you). I got paid by Paypal in less than a week. You can also wait for a paper check or choose to get the value in a gift card. I picked Gazelle because it has an affiliate program. So if I refer my audience to sell their unused mobile devices there, I earn a small commission. This is ideal for bloggers and internet marketers who have an area of influence. Even if you don't have a website, share your own referral link and earn $10 when a friend signs up. You can also trade-in devices on Amazon.com. DVD players, TVs books and cameras can all earn you gift cards to shop even more!

Designer clothes and shoes
Tracy's Closet allows you to give potential buyers a "look" inside your closet for the items you'd like to sell. You earn points to redeem/shop in someone else's closet, plus refer friends for more points. No cash is exchanged, but this can save you from spending more at the mall!
Go to a traditional brick and mortar consignment shop to sell your clothes. Be prepared for them to make sure your items are in good condition and in style, which makes them marketable for re-sale. Some stores pay up front, but most pay you on a specific date once your items have sold.
Toys & Kids Items
We are tripping over A.J.'s old toys and I've had some success getting rid of them. Amazon and eBay are the most popular places I know to sell unused items whether they're new or used and in good condition.
Join or create a Facebook for parents in your neighborhood, zip code or county to sell/swap items. I'm a member of a dozen groups in Atlanta where I've bought and sold kids items. Message me on the Mommy Talk Show Facebook page if you'd like a link to any of the local groups. You'll still need to meet the buyer in-person to make the exchange so do it in a public place or offer to drop it in the mail only after you've received payment!
I learned how big the consignment sale business is when I moved to Atlanta, especially for baby/kids items and toys. Churches and schools host them each season to generate income. I usually post a calendar for the events in Atlanta each Spring & Fall. Subscribe to the Mommy Talk Show bi-monthly e-newsletter to stay "in the know."
Talk back to me in the comments: Have you had success selling your unused items online? Do you sell in-person or ship to the receiver?