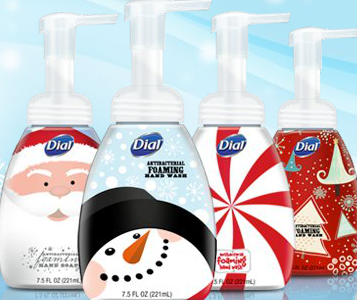 Twas a few weeks before Christmas and I hadn't lost hope.
For I got in the mail – Dial Antibacterial Soap.
The decorations were quite festive with trees and Saint Nick.
I was caught with the dilemma – which one do I pick?
My son wanted "Christmas Man" on his bathroom sink
In case his hands got covered in red and green ink.
I let him have the soap pump with the Jolly Old Elf
and kept the Christmas tree pump for myself.
Know that for flu & cold season you can keep your panache
with Dial Complete Antibacterial Foaming Hand Wash.
Visit DialSoap.com to learn more about soap products and follow Dial on Facebook.
Disclosure: Dial provided a free sample of its Holiday Foaming Hand Soap so I could review it.
All opinions expressed are my own.