I've spent the afternoon sobbing about the horrible shooting at the Connecticut elementary school.
Facebook is filled with posts from parents who want to bring their children home early from school, keep them away from TV news coverage and maybe even home school them to keep them safe.
But what's the healthiest way to help our children cope with what they'll hear and see.
Join me at 5 p.m. EST today on the Mommy Talk Show Facebook page when I interview Licensed Therapist Lea McLees (@atlcounselor on Twitter) where we talk about all the emotional fallout for our families.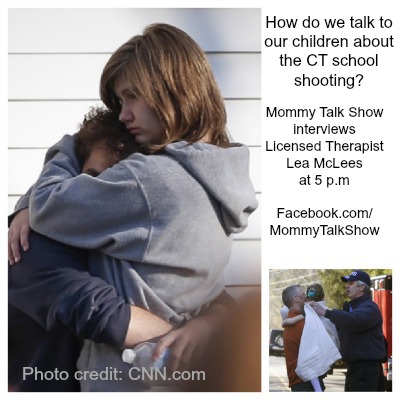 How do we talk to our children?
What reactions can we expect them to have?
How can we answer their questions?
Click Share, Tweet and LIKE below so more families see this and
can ask their own questions during the live event.
Please pray for the victims and their families.