I can't wait for the school year to end so we can chill and relax in the afternoons. For now, we're still running to a few after school activities and play dates. They're always right around the time that I suffer from an afternoon energy crash. The kind of crash where I want to crawl back in bed and get a do-over for my day. But motherhood allows very few breaks after school. So I stopped our neighborhood RaceTrac for a quick after-school snack we could both enjoy.
RaceTrac partnered with influencers such as me for its Pizza campaign. As part of this Program, I received compensation for my time. RaceTrac believes that consumers and influencers are free to form their own opinions and share them in their own words. RaceTrac policies align with WOMMA Ethics Code, Federal Trade Commission (FTC) guidelines and social media engagement recommendations.
Besides fuel for your car, fountain sodas and candy –  you'll be amazed at the new menu offerings at RaceTrac. First, I stopped by the coffee station for a midday pick me up. My morning caffeine had long since worn off. RaceTrac's "Crazy Good Coffee" bar lets you choose from an array of brews, add your favorite sweetener and cream. Stay tuned for new coffee machines in 2018 where you can be your own barista by selecting the beans, watch them grind, then brew for a fresh cup.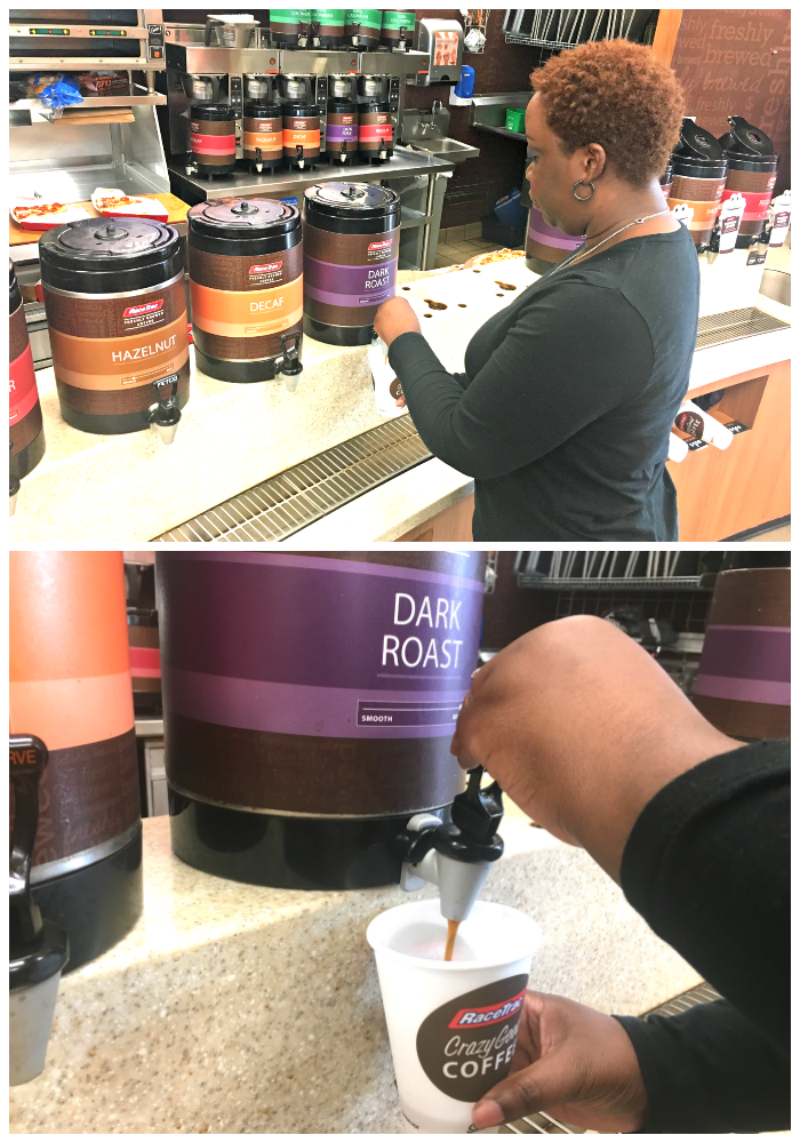 If the heat is getting to you, stop by Swirl World to cool off. Choose from ice cream, Italian ice, sorbet and frozen yogurt. From vanilla to a flavor I'd never imagined, ice cream sandwich – RaceTrac has you covered. After you've selected your flavor and cup or cone, choose from up to 40 toppings including everything from M&Ms to coconut.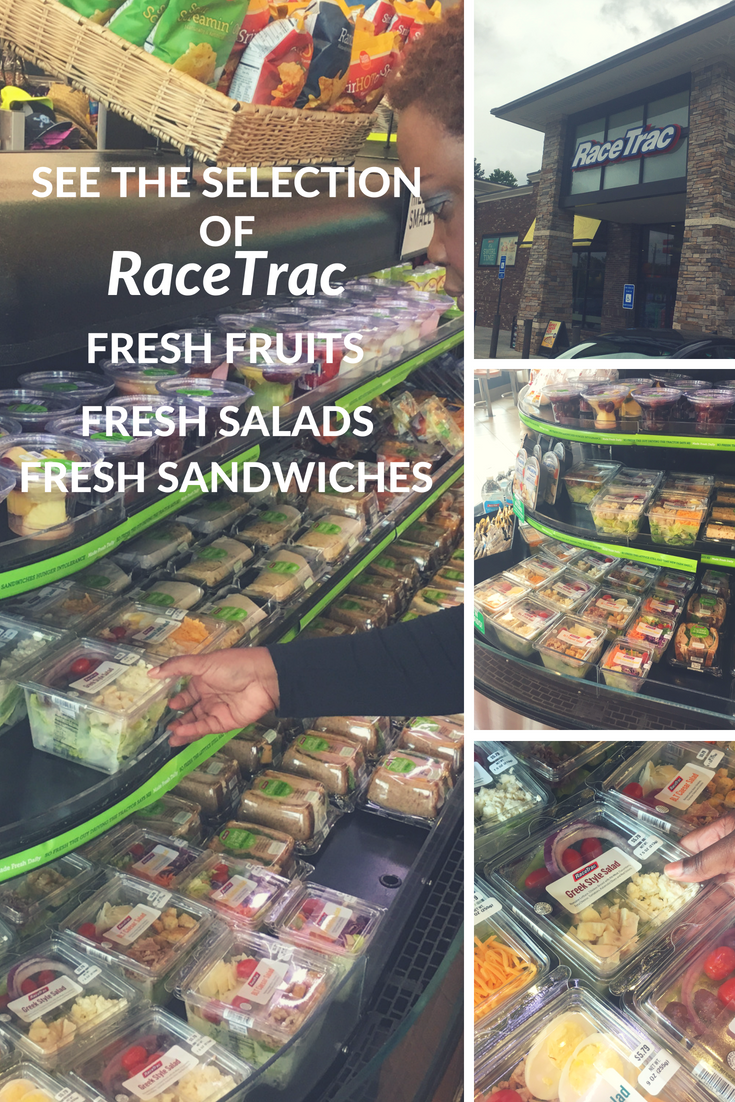 For anyone choosing a lighter fare, I was pleasantly surprised by the array of fresh foods in the cooler section as soon as you walk in RaceTrac. Choose from Greek Style Salad, BLT Caesar Salad, Cobb Salad, Garden Salad. Fresh fruits, veggies and yogurt are there too. Just grab them, checkout and go.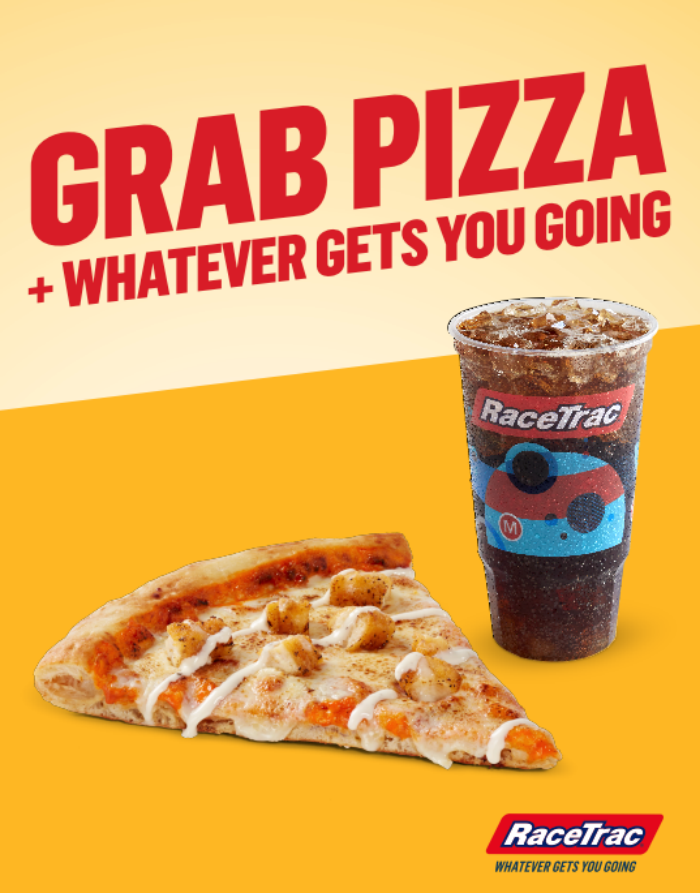 When I stopped by the RaceTrac grab-and-go pizza station, I noticed there was no pepperoni pizza ready. Since RaceTrac pizza is made fresh –  NOT frozen and reheated in the store – I only had to wait for few minutes to get a pepperoni slice for A.J. If you don't see your favorite topping in grab-and-go section, just give a RaceTrac staffer for your request. They made a fresh pepperoni pizza, sliced it and boxed it while I waited. It was ready by the time I needed to leave for the carpool lane. If you have spicier taste buds than me, try the buffalo chicken pizza with its key sauce ingredient – Frank's Red Hot Sauce. It's topped with 100% whole milk choose, crispy breaded chicken and ranch dressing.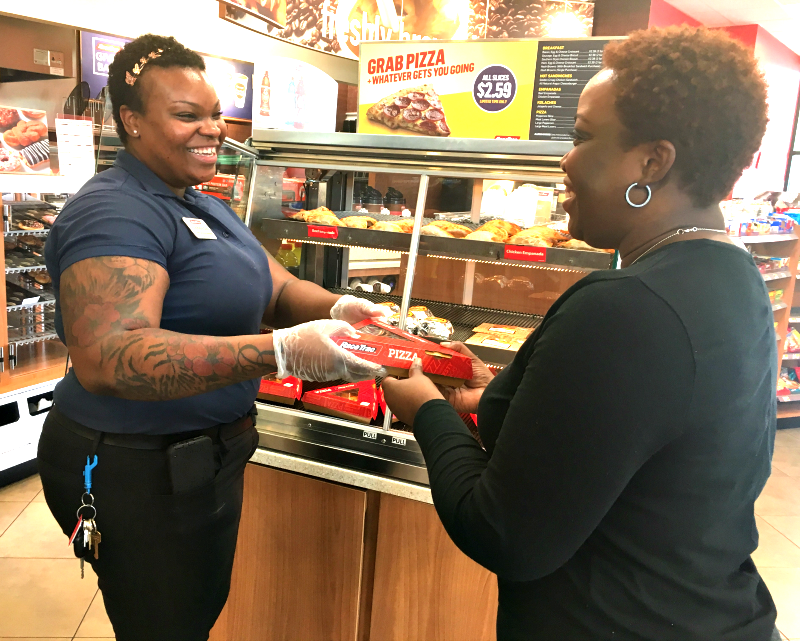 You should have seen the look on A.J.'s face when I served him a fresh slice of pepperoni pizza as an after-school snack. For the boy who tells me daily "Boys are always hungry, mama" it was as if I'd finally heard his pleas. I tried to get him to stop, take a breath and tell me how good the pizza tastes. He wouldn't. He inhaled it. The whole pepperoni slice!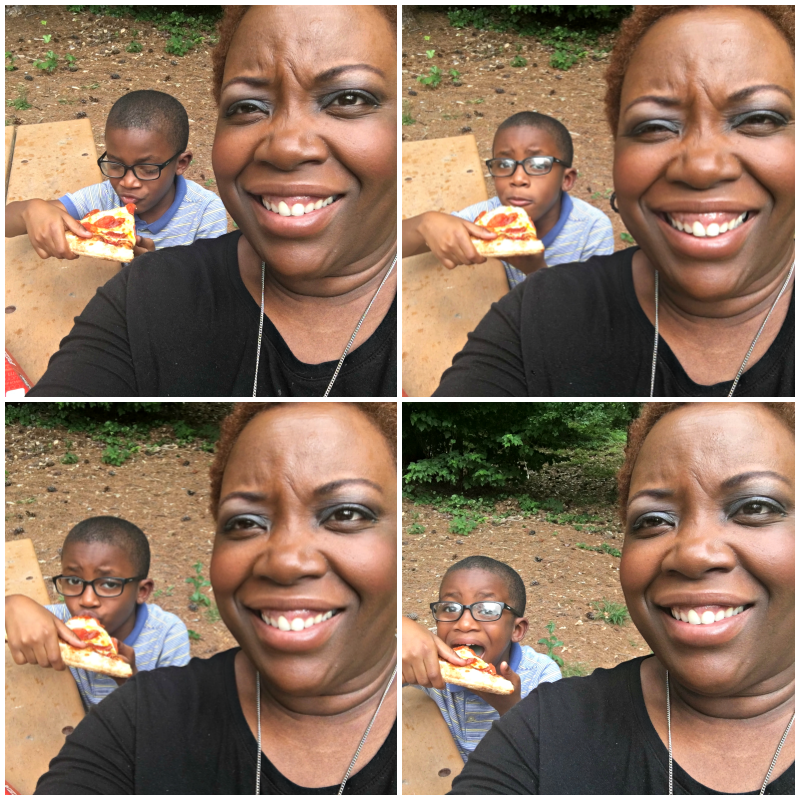 Imagine how handy these RaceTrac menu options will be this summer when you're running your children and their friends from activities or taking road trips around the state. Cool off at Swirl World, get an energy boost with "Crazy Good Coffee" or find a fresh salad that's perfect for your lighter tastes.
Comment below: What would your family like to eat on-the-go when you stop by RaceTrac? If you grab a slice of pizza, what else would you add for a quick after-school snack from RaceTrac?
Follow RaceTrac on Facebook | Tweet @RaceTrac your photos | Follow RaceTrac on Instagram