I've never fed A.J. a teething cookie, even though I've seen them in the grocery store near some of the typical snacks I buy for him. I was afraid he would choke on them. How ironic that I would hear from a mom and entrepreneur who created an all-natural cookie for babies and toddlers and she would ask me to review them? Cookies for Babies has a simple recipe that's as simple as its name. They're heard-shaped since they're made with a mom's love and just the right size for little hands.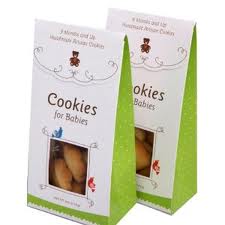 You can also purchase
Cookies for Babies
from trusted retailer, Amazon.com:
*Disclaimer: Complimentary samples of
Cookies for Babies
were provided to Mommy Talk Show.