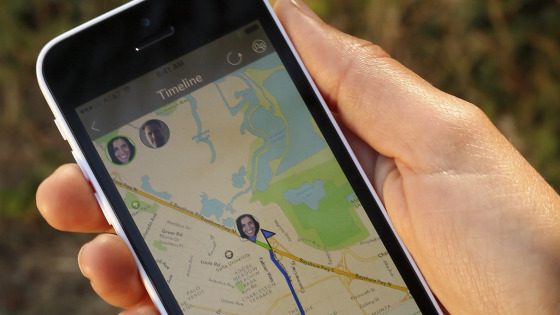 UPDATE: This app is no longer available 🙁 I'm perpetually an on-time person. I hate being late and it annoys me when others do the same. To me, it's disrespectful of our time.  I'm learning more about the PlaceUs app through a sponsored campaign. It allows you to track where your friends and loved ones are – once they've downloaded the app and you agree to be connected.  No need to send text messages along the way. Privacy settings allow you to control who sees where you are.  Don't worry about your battery life because the app is optimized for that. So next time you're running late or your friend is – the app can keep you in the know!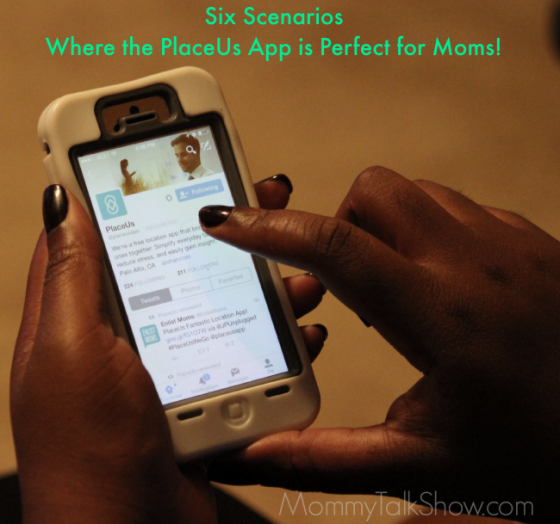 Here are my six scenarios where I think the PlaceUs App is perfect for moms.
1. Play dates
It's happened to us all and it's especially true here in Atlanta where a traffic accident can throw off your planned 15 minute drive to a playdate and turn it into an hour long drive.
If you can see your friend is running late, you have dinner in the oven and hungry children to feed you can
Option 1- cancel the play date
Option 2 – tell your friend to take their time and invite them to enjoy dinner with your family
Option 3 – tell your friend to pull over and the nearest park or restaurant and offer to go meet her.
2. Double dates
The couple you're supposed to meet for a double date lives the same distance as you from the theater or restaurant. You can synchronize when you leave and arrive, plus track them on the PlaceUs App.
3. Airport pickups
Instead of waiting outside the airport for your ride to pick you up, use the PlaceUs app to track how close they are. Walk outside at the exact moment they pull into the airport.
4. Nanny & Babysitter tracking
You may not realize how much your babysitter or nanny drives each week shuttling your children around while you're away. After you take a look at her mileage on the PlaceUs App, you may consider upgrading her gas budget and grabbing her a gas station gift card as a thank you.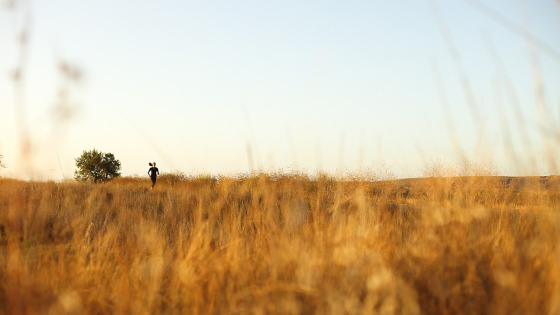 5. Girl's Trip
Imagine you're traveling out of state or our of country with one of your girlfriends. But you decide to go in different directions while you explore your new city. Keep up with each other and even get text updates when your friend's location changes thanks to the PlaceUs App.
6. Grocery store runs
This is perfect for the preggo moms. Imagine your partner makes a run to the grocery store for your late night craving. Thanks to the PlaceUs app you'll know exactly when they arrive at the store and how much longer you'll have to change your mind or add to the shopping list.
I've tested the app a bit with help from my husband on our respective iPhones. I could see his commute to Midtown Atlanta thanks to the app. If I'd heard about a traffic accident along the way I could have called him with an update or alternative route suggestion.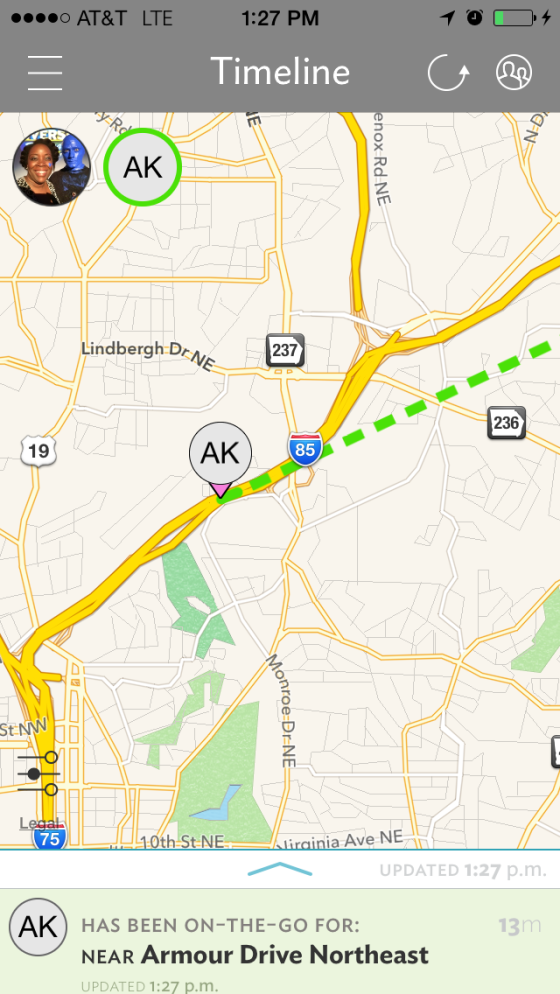 How could you see yourself using the PlaceUs App? Download it, set up your profile, then use it to send a text to your friends and family via text to download it.