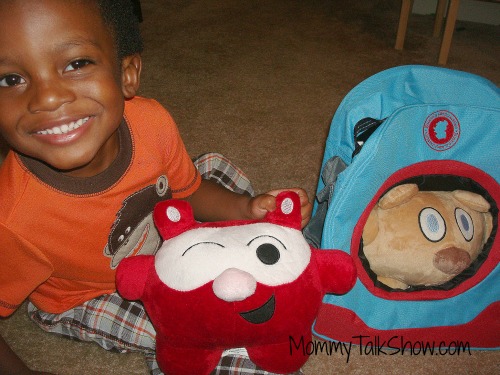 Update: Patch Buddies backpacks are no longer for sale or in business. You can read our Patch Buddies Review below. You're welcome to shop similar products through our affiliate links:


One of the cool toys I heard about this month at the Parents Palooza Expo in Atlanta is Bubele's Patch Buddies. The owners had an exhibit booth near mine so I had a clear view of the the bright colored backpacks and plush toys they sold. Patch Buddies caught a lot of attention from the parents who stopped by, so I asked if I could review them for the 2012 Holiday Gift Guide with help from my 2 1/2 year old son.
What are Patch Buddies?
Bubele's Patch Buddies are an adorable combination of a plush toy and a custom backpack that has a built-in carrying case. Each of the ten playful animals and four unique characters in the Bubele's Patch Buddies collection has a unique personality that will provide endless hours of entertainment and comfort, both at home or on the go.
A.J. got to try the Blue & Yellow Backpack with "Bear" and "Kevin Mao" plush toys.
I showed him how the toy has a zipper in the back that reveals a soft blanket he can hold.
I like how Patch Buddies does "double duty" as a carrying case and toy. None of us need any more "stuff" around the house. But since the backpack holds the toy inside you don't get that feeling that you're adding to your child's toy collection.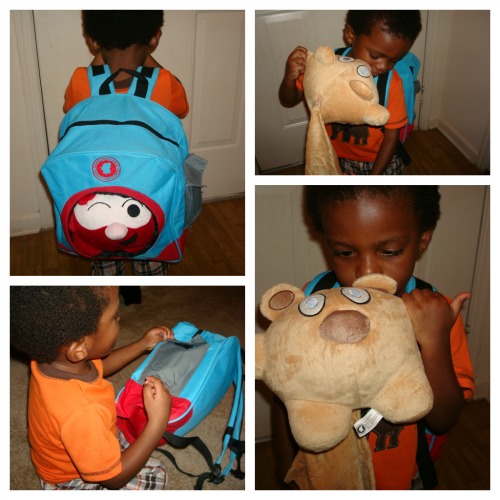 Patch Buddies are ideal for
Travel – whether you're flying or getting ready for a long drive, there's plenty of room in the backpack for your children's toys, etc. When they're tired, they've got a soft blanket they can hold on to inside the toy.
Sleepovers – send your child to a friend's house with the backpack and all their overnight needs. You can also buy an additional plush toy for the host as a gift.
Rewards – if your child is struggling in an area (grades, shyness, etc) you can reward them with a new plush toy for their backpack when they achieve a goal.