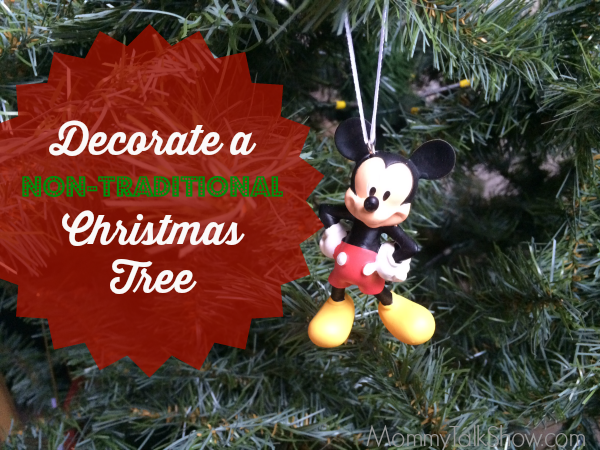 Although I used my same old Christmas tree that I bought for my first apartment back in 1995, this year I decided to update things just a bit. As a Sears blogger I got the opportunity to create a non-traditional Christmas tree theme thanks to a holiday shopping opportunity. Our four-year-old, A.J., got to weigh in and offer his opinions.  There's still time for you to shop for your holiday decorations and win an amazing sweepstakes thanks to Kmart and Sears. Here is some of the great décor I got—such a great value!
Non-Traditional Christmas Tree
Color
Instead of the mix-and-match color Christmas ornaments I see, I took a different twist. I stuck with everything red.  You'll see more of that a little later. Since A.J. is old enough now not to mess around with the tree, I selected red glass ornaments by Donner and Blitzen.
If you're anything like me, you get frustrated when string lights go out. The new DieHard LED holiday lights at Sears come with a 5 year warranty, stay cool to the touch and never flicker. If one light goes out, the others stay lit.
Turns out I have a lot in common with Americans surveyed in a Kmart/Sears Survey: "41 percent of Americans defined their signature design as "classic," followed by "colorful" (37 percent) and "vintage" (12 percent)."
The rest of my Christmas tree style is mix of class and character. Nothing vintage!
Character
This is where A.J. got to make his suggestions for the Christmas tree. Two of his favorite things are Spiderman and Disney, so they're both represented on our tree. The Spiderman features Peter Parker in costime hanging upside down and protecting our Christmas tree corner. Mickey got in on the fun too!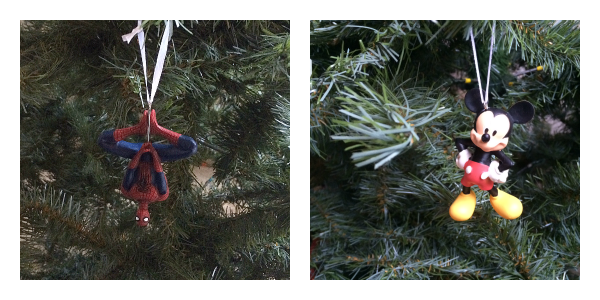 Find plenty of more Disney options for ornaments and decor in your home at Kmart.
The same Kmart/Sears survey showed: "More than half (58 percent) of participants felt the most essential decoration for the holidays was the Christmas tree."
Do you decorate other parts of your home for the holidays like the mantel, front door or yard? You can create a miniature Christmas village in your home with collections from Lemax, Department 56 and Coventry Cove. Your house will be the jolliest on the block with a wide selection of lawn ornaments, inflatables and more. Your house will be the jolliest on the block with a wide selection of lawn ornaments, inflatables and more.
Tree Topper
I didn't have time to dig in the back of our garage looking for my lovely Black angel in her glittery silver dress. So I decided to be a little non traditional and top our tree with a bow, not an angel. The 24 inch Red Lighted Tinsel Bow from Sears is designed to go on your front door (as displayed on the box). But I attached it to our tree instead.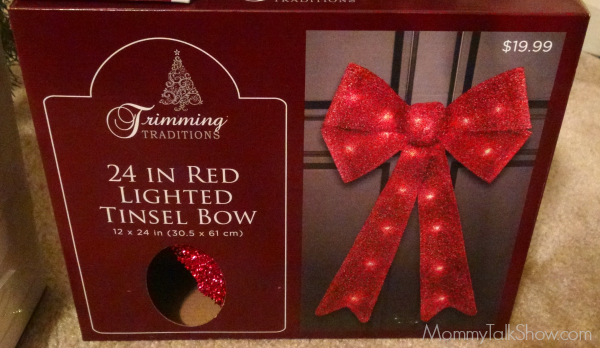 From trees and ornaments to wreaths and garlands, Sandra Lee and Jaclyn Smith have two fabulous holiday décor collections that will bring style to your home
Best Dressed Sweeps
By December 26, 2014 visit http://bit.ly/BestDressedHomeSweeps answer the poll questions and upload a photo of your home decked out for the holidays for a chance to win Shop Your Way points.
60 people will instantly win $50 in Shop Your Way points—you can enter daily
1 grand prize winner will win 1 million Shop Your Way points