Join me Tuesday, December 17th at a fundraiser for A.J.'s preschool in the Edgewood section of Atlanta. Mention New Morning Community Preschool (or NMCP) for your lunch or dinner all day and 20% of your meal price at Uncle Maddio's Pizza Joint in the Edgewood Shopping Center will be donated to the school.
We're also hosting a Spirit Night event from 5:30-7:30 p.m. where you can join parents and supporters for a family-friendly night. Who wants to cook anyway? I don't!  Uncle Maddio's is also one of my favorite Atlanta pizza spots because of the fresh ingredients and goat cheese option for A.J.'s pizza since he's allergic to milk.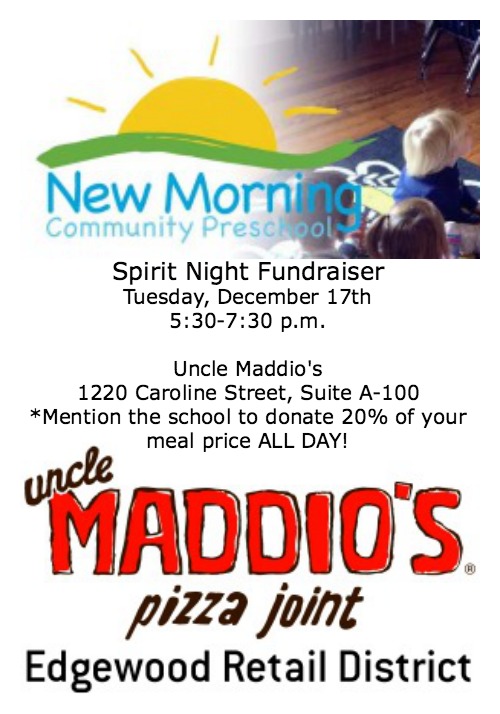 Event: New Morning Community Preschool Spirit Night Fundraiser
When: Tuesday, December 17 from 5:30-7:30 p.m.
Where: Uncle Maddio's Edgewood Retail District, 1220 Caroline Street, Suite A-100 (Just south of Little 5 Points)
RSVP: New Morning Community Preschool Facebook Page
New Morning Community Preschool
If you can't make it to the Spirit Night Fundraiser, you can still support the school.
Use the social tools to share this story on Facebook, Twitter and Pinterest so your Atlanta friends see it.
Buy your lunch or dinner at Uncle Maddio's Edgewood Shopping Center and mention the school.
Join us for the Spirit Night event from 5:30-7:30 pm. Purchase a raffle ticket for one of the amazing prizes.
Recommend experienced preschool teachers for job openings at NMCP.
Read how to pick the perfect summer camp for your preschooler by NMCP co-director, Christina Lane.

Preschool Yoga
NMCP is a cooperative preschool where parents give their time towards the enrichment of the school. I've learned so much from volunteering there, including more Spanish and yoga poses.

Share this event on Twitter
New Morning Community Preschool Fundraiser 12/17 in Atlanta http://t.co/vxSi4vZq7O pic.twitter.com/0zH7ufrz5J #ATL #preschool #decaturga

— Joyce Brewer (@MommyTalkShow) December 5, 2013