I'm proud to say my husband is among the elite group of guys who cook and do it well. I've shared some of his amazing Sunday brunch dishes on the Mommy Talk Show Instagram feed (scroll down a for a look). With a little prodding, Antoine Sr. unleashes his inner Bobby Flay to make me shrimp & grits, omelettes and french toast. To keep those delicious meals coming, I'm checking out these holiday gift ideas for him. In fact, we're reviewing a Flirty Apron for him that's personalized with "BBQ King" since he loves to grill. Read and share the gift ideas below, as well as enter to win a Flirty Apron for the man in your life by December 12, 2013.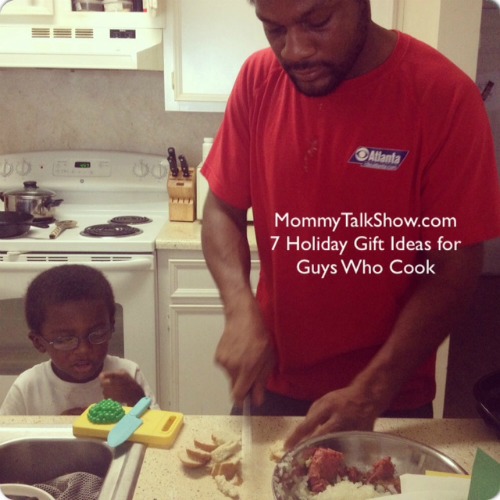 Guys Who Cook
Here's a look at 7 Holiday Gift Ideas for Guys Who Cook.
1.  Gas Grill. My husband can't wait until we move and have more space in the yard so he can get a gas grill. There's something that revs a man's engine when he gets to prepare a meal over an open fire! This Char-Broil grill is less than $300, has a side burner to cook other foods at different temperatures and is easy to assemble.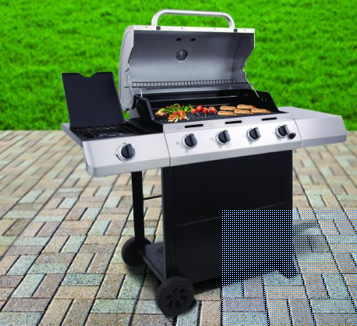 2.  Manly apron. Cooking can get messy when grease pops out of a pan or sauces get hot when they simmer. I can't tell you how many times my husband walked out of the kitchen and I say, "What happened to your shirt?" To keep his clothes clean and add a little style, he now owns a BBQ King Flirty Apron (value: $29.95). Through 12/11 at midnight MST get 50% off holiday aprons with the code:  HOLIDAY50
I chose BBQ because it's his favorite thing to do and I'm halfway convinced that BBQ sauce runs through his veins! What do you think of how he looks in it?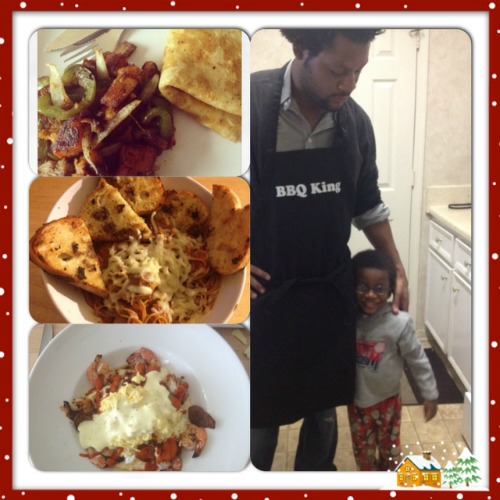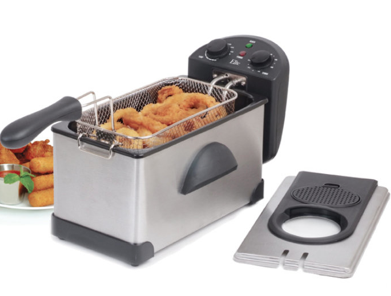 3. Deep fryer.  My husband loves fried foods and has talked about how much he'd like a deep dryer. Brookstone offers a 3.5 quart deep dryer with a thermostat for $64.99. "A splatter-proof lid with a built-in viewing window lets you monitor the cooking process without removing the lid. The enamel-coated interior is easy to clean and the adjustable thermostat control provides safer operation." Use the code SAVE15 at checkout for $15 off any purchase of $49 or more, along with an array of gift ideas under $100.
4.iPad or tablet stand. Online recipes and cooking videos are everywhere. I've noticed more people using their tablets and iPads in the kitchen. But it can be a dangerous situation if the expensive tablets are dropped, get water on them or grease. Check out this Thought Out Stabile 2.0 iPad Stand in silver that's sturdy and stylish for guys who cook.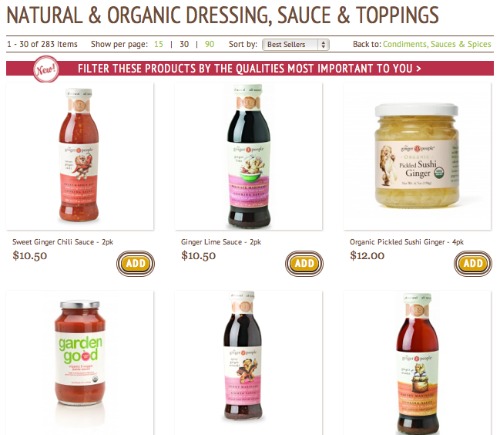 5. BBQ sauce and condiments. Whether it's wing, their favorite meat or a hearty sandwich, guys who cook are known to like a hearty sauce. For my husband it's BBQ sauce, usually something with a hickory smoke flavor base. Abe's Market is an online gourmet shop offering free shipping on orders over $49.
6.
Kitchen gadgets
. Give a man a shiny, new slicer or dicer and he'll never leave the kitchen.
Slice is an innovative company with modern gadgets.
"Slice collaborates with some of the most innovative engineers and designers on the planet. They take everyday objects – scissors, safety knives, letter openers, safety cutters – and rethink them."  Founder T.J. Simmon's son is autistic so at least one percent of sales go to autism research.
7. Cooking classes. Guys who cook like to stay on top of their game. Check out their favorite restaurant to see if there are demos, utensil shops like Cooking Warehouse or grab Living Social deal for a spot close to home or work where they can hang out and learn.
Flirty Aprons Giveaway
Enter to win one (1) adult Flirty Apron valued at $29.95. All of the guidelines below are mandatory and must be completed by December 12, 2013. The winner will be announced on the Mommy Talk Show Facebook page.
Disclosure: I received the Flirty Aprons to review and share my honest opinion on how it would fit into my family's lifestyle got the 2013 holiday gift guide featuring tech and toys.