I've met some wonderful moms, bloggers and business owners in the short time since I started Mommy Talk Show. I've had the pleasure of meeting a few of them at events, expos and workshops. But sometimes we only interact on social media, like Facebook.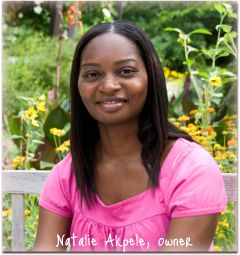 Natalie Akpele runs Slumberosity (formerly Cuddlebuggs), an Atlanta company designed to help parents with some of their toughest challenges:
Newborn care
Finding a nanny they can trust
Natalie and me haven't met in person but we chat quite a bit on Facebook. So she asked if we could have a blog conversation, a back and forth conversation on our blogs. We'll start with her  questions for me, then I'll answer below, then I'll ask Natalie a question.
"Hi Joyce,
We have been talking here and there about what we both do but we really
haven't had to chance to really get to get to know one another. So, I
hope you don't mind if I ask you a few questions about Mommy Talk Show.
I've spent a little bit of time of your site. I know that you have
focused on creating a place for mommies to find family friendly places
in the Atlanta,GA area.
What made you go in this direction? I have also been wondering if you
tape at all of the locations that you find that ARE family friendly?"
Natalie, I decided to tape the show at family-friendly locations to benefit me and small businesses. First of all, when you tape a talk show you usually do it in a studio. But I've spent the last seven years of my career as a TV news anchor "stuck" in a studio and I wanted to do something different. So I thought about taping the show on-location at businesses who would benefit from the promotion on my blog, on YouTube and other social media. Plus the guests are the moms I've met in Atlanta who are running their own businesses.  These savvy ladies get to visit a place they may not have heard about before and help me "build buzz" about the studio, gallery or medical practice that's sponsoring the show.
Even though we tape the show in Atlanta, the parenting topics we discuss are universal. So a mom or dad in Portland, Maine will still learn and relate to the guests who share their stories of breastfeeding, balancing home and work, etc.
So far, we've taped Mommy Talk Show at two locations: Cafe of Life Chiropractic Care in Grant Park and 5Continents Gallery  in Buckhead. Dr. April Warhola treats families and she even treated me when I was pregnant with A.J. Jennifer Saade of  5Continents is not only a gallery owner, she's also an artist. Jennifer makes and decorates children's picture frames. Her fair trade gallery also features an array of handmade children's clothes, decorations and toys from around the world.
I don't tape at every place I think is family-friendly. The business must agree to a paid sponsorship for appearing on Mommy Talk Show and for the professionally produced marketing videos I create for them.
Hi Natalie.  CuddleBuggs (now Slumberosity) sounds like a service lots of new parents would use.
You've watched the Mommy Talk Show webisodes where me and some guests talked about our "fear" of hiring nannies and babysitters. How do you overcome this fear with the parents who come to you? What's the most common question parents have for nannies?
Is it possible to sleep train infants or do children reach sleeping "milestones" when they're good and ready? A.J.'s sleep pattern seems to be in a constant state of flux. As soon as I get used to him sleeping a certain way (naps, wake up time, etc.) it seems it changes. Even my OB/GYN said it's pretty normal for things to keep changing.
On a funny note, aren't newborns just the most cutest, cuddliest things God ever created? You must love getting to work with them.