The pains from pregnancy, childbirth and postpartum are well documented in any book or magazine designed to prepare you for motherhood. But if there was a section on severe neck pain and stiffness, I missed it.  So I was excited to review the Wahl Hot/Cold Therapy Massaging Gel Pack (www.wahlmassagers.com) provided by Mom Spark Media to relieve my sore neck.  Keep reading for guidelines on how to enter to win one of your own.

Motherhood is a Pain in the Neck
For the first six months of motherhood, I had neck pain from breastfeeding. With my nursing pillow strapped around me, I'd look down at my newborn son making sure he was latched and positioned correctly. Once he got bigger and latching wasn't an issue, the pain went away because we got into a groove.
My latest neck pain is work related. As a work at home mom, I do the bulk of my work when our son is asleep. Once he's in bed, I turn in my laptop in bed to write stories and edit videos. Although I have a laptop tray and sometimes position it on a snack table next to my bed it's still causing a sore neck.
I'm not alone when it comes to aches and pains. A Wahl survey about muscle and joint pain included 300 moms with kids under 18. "Eight of 10 moms experienced muscle or joint pain in 3 ore more places in the past 12 months."
Here's some information on the Wahl Hot/Cold Therapy Massaging Gel Pack that sells for $24.99 retail:
"This one-part massager, one-part hot/cold pack is the latest in a series of new pain management products from Wahl. Unlike conventional hot/cold packs, this first-of-its-kind product combines two of the most common treatments–temperature therapy and massage– to offer a new level of pain relief. It also offers Velcro straps for hands-free use."
Is the Wahl Hot/Cold Therapy Massaging Gel Pack worth talking about?
Since I'm suffering from neck stiffness and pain, I warmed the massaging pack in the microwave for 45 seconds two times. (Read the directions on how to use based on your microwave's wattage). I inserted it in the cover, turned on the massager and wrapped it around my neck with Velcro strap. I sat still for about 10 minutes which was a struggle, so I walked around a bit and let the warm and massaging effects work.
I can see myself using this at least twice a week even while I'm working on my laptop since the Velcro strap makes it hands free. The warmth and massage are comforting.
My only issue is that the massaging disk does not come with AAA batteries included.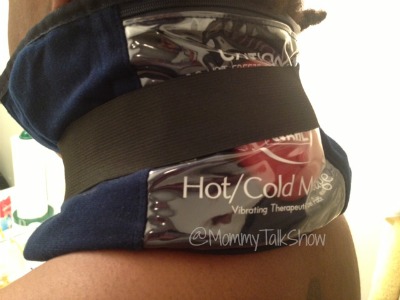 Wahl Hot/Cold Therapy Massaging Gel Pack giveaway
Enter by 5/25/13.
a Rafflecopter giveaway

I received a complimentary Wahl Hold/Cold Therapy Massaging Gel Pack to review and share my honest opinion through Mom Spark Media. All thoughts and opinions are my own.