Disclosure: I received Marco's Pizza Coupons and a prize pack to facilitate this review of Marco's Pizza through the Niche Parent Network.
All thoughts and opinions are my own.
We eat pizza at least one a week in our home and A.J. is a huge fan, especially since we've been slowly introducing him to milk and cheese to see if he's still allergic (so far, so good). When we went to another Marco's Pizza Atlanta location with friends last month, he liked it and he was excited to try to the new pizza toppings. You can now order fresh spinach as a topping at Marco's Pizza. Did you know March is National Spinach month?
Marco's Pizza Atlanta 
We found the closest Marco's Pizza location to us in Atlanta was on Shallowford Road and decided to eat in, plus take a to-go-Grilled Chicken Florentine pizza since my husband eats a late night dinner.  A.J. & I shared the medium cheese pizza with spinach. Even though A.J. is usually fine with eating green stuff like broccoli (which he calls trees), I like the idea of sneaking veggies into his diet.
A.J., who weighs only 32 pounds, ate four slices of a medium pizza by himself! That's how much he loved it.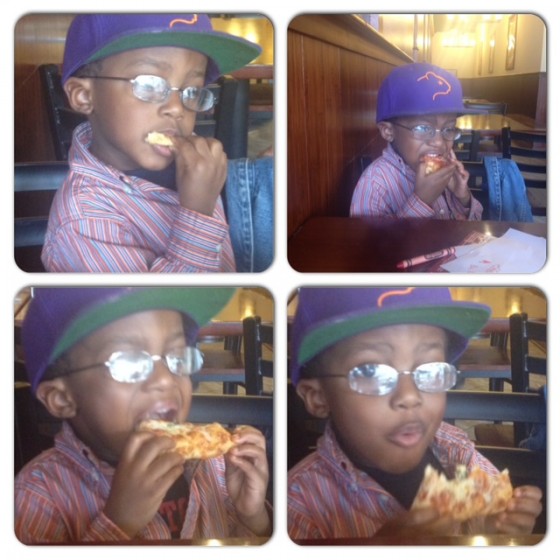 As a New York native, I'm pretty picky about my pizza since I grew up tasting some of the best pizza around. I was impressed with the taste of Marco's cheese. I learned it's "an exclusive blend of three fresh cheeses (never frozen, unlike many pizza chains)."
Once we got home and put A.J. to bed, I tasted a few slices of the Chicken Florentine pizza and it was equally delicious. The chicken was juicy and seasoned well.  The Marco's Pizza website describes the specialty pizza: "Tender grilled chicken, Parmesan garlic sauce, four cheeses including Feta with fresh spinach, sliced red onions and fresh sliced tomatoes."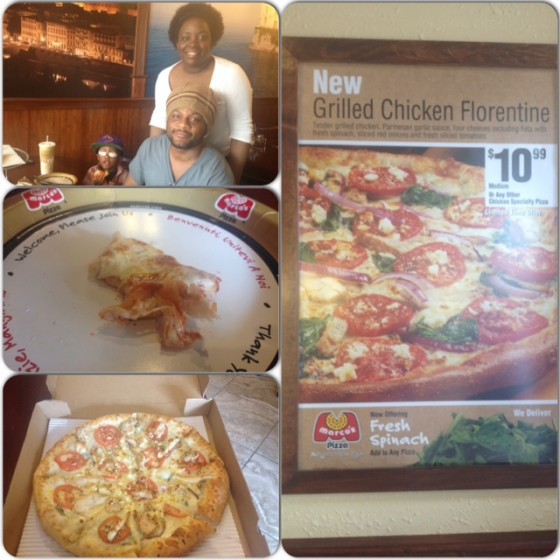 Connect with Marco's Pizza
In case Marco's Pizza is new to your town, you should know its dough is fresh, never frozen; its secret recipe sauce has vine ripened tomatoes; the cheese is amazing! You can order Marco's Pizza online for delivery or pickup.
Follow @MarcosPizzaCorp on Twitter, like Marco's Pizza on Facebook and check out all the behind the scenes pizza magic when you follow Marco's Pizza Corp on Instagram.