As morbid as it sounds, I have a life insurance policy for our three year old son. I pray we never have to use it. For about $20 a month, I know we have enough to cover funeral expenses if something every happened to him. When you ask people about life insurance for kids, you've get a range of opinions. Some think it's a waste of time. Others, like me, would rather have the policy than be faced with the worst tragedy in my life and struggle to pay for a funeral.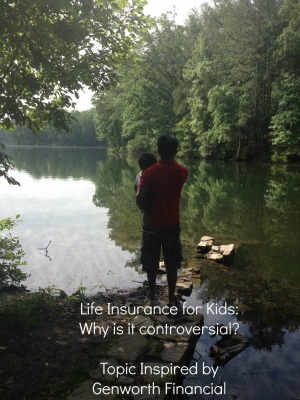 I think life insurance for kids is important because I can think of three classmates and family friends who died before they turned 20. In high school, a star soccer player who played in the band with me died in his sleep. When I was in college, a church member /co-worker was murdered by her boyfriend. A church member died of the west nile virus. I was too young to understand what was going on, besides the fact that my friends were gone. The Newtown, CT school shootings were another horrible wake up call about how vulnerable even kindergarteners are.
Do your children have life insurance?
Do you know any parents who lost their children and struggled with the funeral costs? 
I don't know how their parents handled the cost of their burial or cremation. Genworth Financial has a guide to help you learn more about what life insurance is and what it's designed to do. It's useful to evaluate all of your family's insurance needs.
Parents should evaluate your life insurance coverage first, so your family will be prepared if something happens to you. If you're a stay at home parent without an employer provided insurance policy, you can purchase a private policy.
There's a lot of news and research about life insurance, especially for women. For instance, did you know that 100 years ago women couldn't buy life insurance? Thank goodness things have changed. One consideration if you don't want to purchase a separate insurance policy for your child is to add a rider to your current life insurance policy that covers them.
Disclosure: This post in inspired by Genworth Financial. All thoughts and opinions are my own.